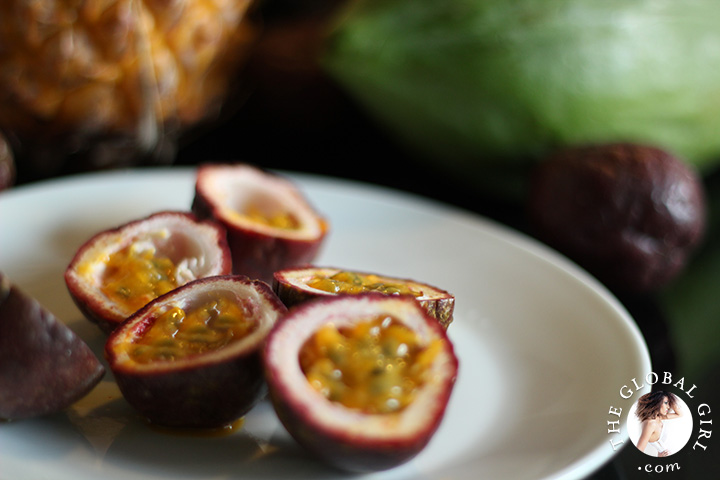 Photography by Ndoema
As you may know, I've been on a Bangkok health break for the last few days after my body expressed much distress over the travel-induced stress I've put it under over the last two months while country-hopping incessantly throughout Southeast Asia.
While traveling is absolutely exhilarating, unfortunately it can be quite challenging from a nutritional standpoint especially for us clean-eating raw vegans. I'll share in detail – in another post – my experiences as a traveling raw foodie in Southeast Asia but I'll say that much, there's an unexpected paradox between the abundance of fresh produce and the scarcity of vegan (talking about sneaky fish and oyster sauces), healthy (meaning not deep-fried or dripping in oils) and sanitary (no need to go into details with that one) on-the-go dining options. So I've decided to tame my traveling appetite for a while and nurse myself back to health in a lovely serviced apartment here in Bangkok where I can load up my fridge and kitchen with fresh goodies.
I'm taking this opportunity to finally give my body's well-being my undivided attention (ok almost undivided cause the speedy Bangkok wifi has been tempting me to crank myself up enough to get some work done …). With of course the goal being to get back on my feet and resume my world explorations as quickly as possible.
I was busy unloading my daily farmer's market stash (the sprawling Khlong Toey market is only 10 short minutes away) when my eye caught my camera gear lying around nearby so I thought I'd take a few shots and share with you some of my Thai kitchen essentials.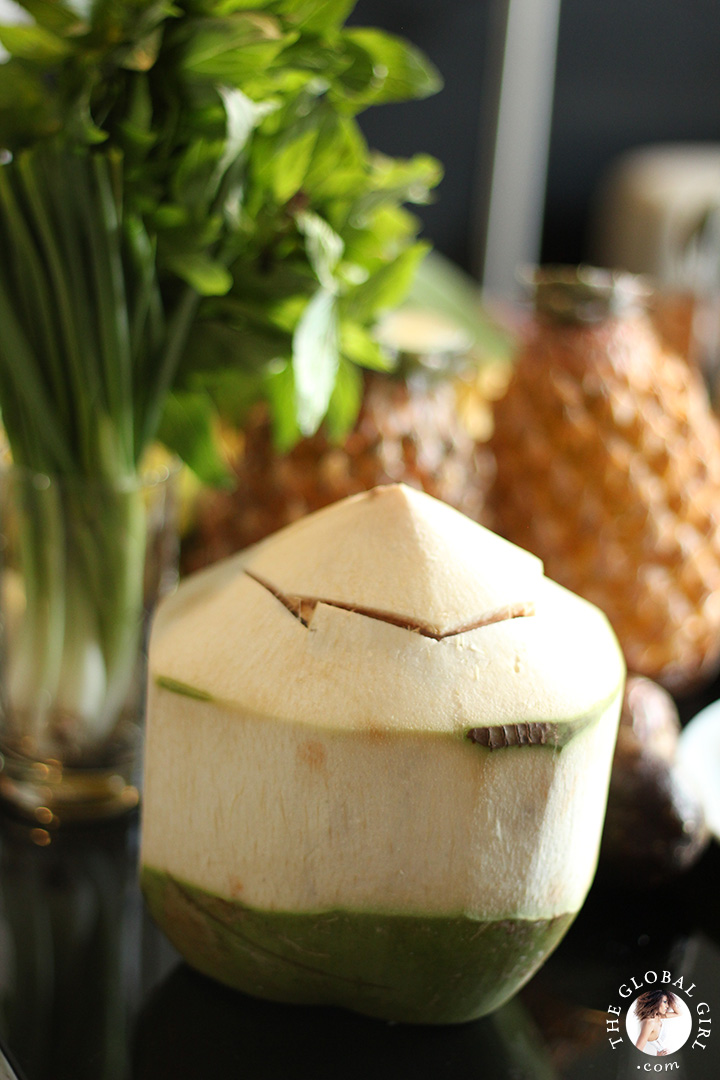 Young Thai coconuts have proven to be a godsend during this trip (I've been assiduously hunting them at every corner of Thailand and beyond). Young Thai coconut water is not only super nutritious, loaded with electrolytes and amazing at warding off dehydration (a serial traveler's health's worst enemy) but it's also anti-bacterial, anti-fungal and rich in antioxidants, so it's become my number one health promoting weapon. The flesh shares the same awesome properties as the water plus it's delicious added to smoothies (it's one of the key ingredients in my popular raw vegan pineapple/strawberry parfait). I love the extra dose of creaminess, makes me feel even more satisfied.
While we're on the coconut topic, I'm also big on coconut oil which is super abundant here as well. I use it both internally (for oil pulling especially) as well as on my face and hair. It's one of my fave and most versatile health and beauty "products".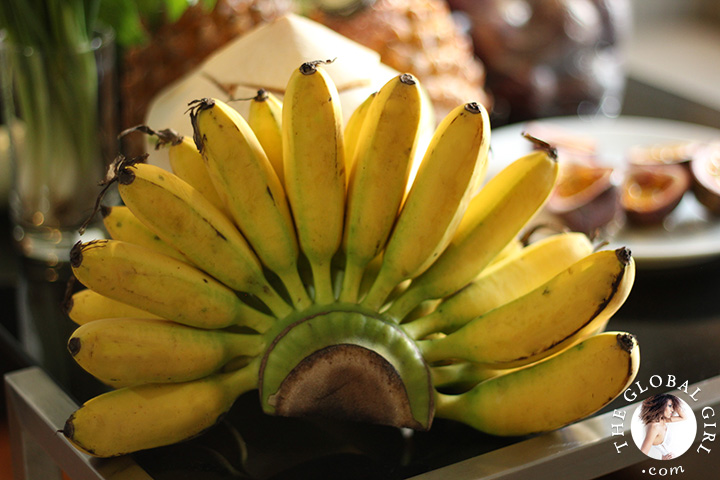 To my surprise, bananas have become a staple. I've never been big on them but I have to say the local type is not as sweet as the typical ones you get in the States or Europe and I've actually found them more enjoyable. Doesn't hurt that they're some of the easiest and safest fruits to eat on the road because of the peel and don't require you to have a knife in hand (super handy to conquer hunger pangs on planes and in airports during long layovers). They're also a key ingredient in my daily smoothies (yes I never travel without my own Hamilton Beach portable blender).
I literally flipped at the sight of these mile-long super duper green beans cropping up at every other market stand. I'm seriously obsessed with green beans so they're feeling like a major perk. They're super meaty but also a tad thicker than the regular type so you need to slice them really thin and let them marinate a bit to eat them raw.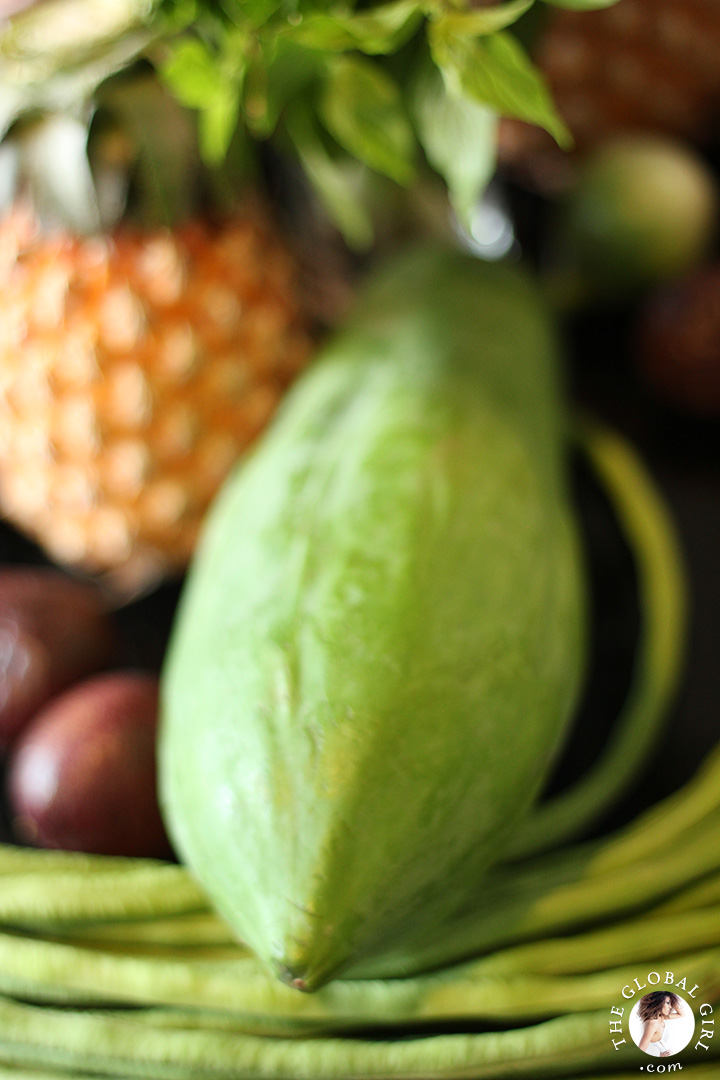 Green papaya salad is a staple of Thai cuisine so green papayas are literally everywhere you look in Bangkok. As a general rule ripe fruits are always best from a nutrition stand point with papayas being perhaps the only exception. Green papayas actually contain a lot more digestive enzymes (especially papain) than ripened ones so I've been adding them to my daily homemade salads as well.
Thai herbs are truly amazing. I've been enjoying super aromatic lemongrass, kaffir lime and Thai basil (pictured above) on a daily basis. My popular raw vegan cashew dip (with garlic and lime) has become one of the most comforting on-the-go raw snacks on this trip. I've whipped it pretty much in every single hotel room in Southeast Asia from Siem Reap to Hanoi. Here in Bangkok, I like to add a few Thai basil leaves and some vitamin-c loaded dragon peppers for a local touch.
Ok, time to get some rest…
I'll remember to grab my camera gear on my next farmer's market excursion so you can get a feel for Khlong Toey. It's a really cool peek into Thai culture (and I'm sure you'll enjoy a little fruit gazing ;).