I had a serious case of hair envy a couple weeks ago when Phillip introduced me to a gorge work pal with the most dazzling head of purple feathered locks. My jaw literally dropped. I mean, she looked fabulously fierce and fanciful thoughts of rocking my mane in fun statement-making hues started dancing in my mind. After all, I'm a statement kinda girl and never afraid to take a bold stance but in the hair department, as you guys know, I tend to stick to my no-fuss, low maintenance ways. Not that I don't dream of fun, artsy hair-explorations! But whenever I do, that good ol' reality check invariably sets in, and I'm light years away from committing to any of my radical hair color make-over fantasies.
Call it the law of attraction or a fun coincidence but a few days later, I received an invitation to partner up with Garnier for the release of the Garnier Color Styler, a new line of temporary hair color available in five bold shades: Pink Pop, Blue Burst, Bronze Attitude, Red Temptation and … Purple Mania! Now how wild is that!? I could hardly hold back a giggle and of course jumped at the opportunity to indulge my purple fantasy in the best possible non-committal way.
I started my fun purple locks adventure with a good shampoo and a head of fully dry and untangled curls.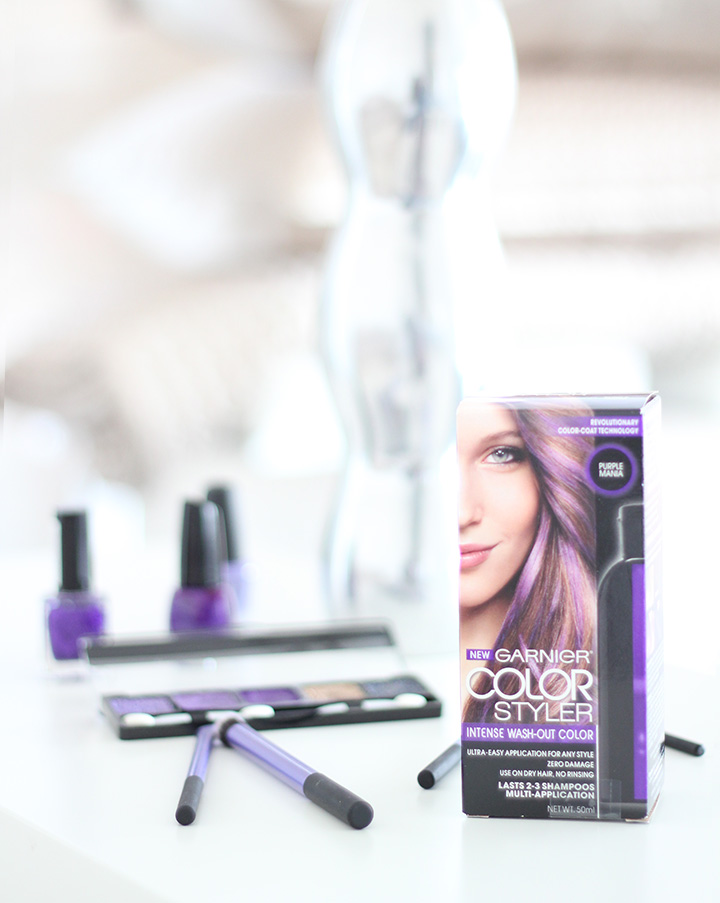 Then I gave the bottle a good shake to make sure the color was properly mixed and I was ready to go. There's no need to make any adjustment before applying.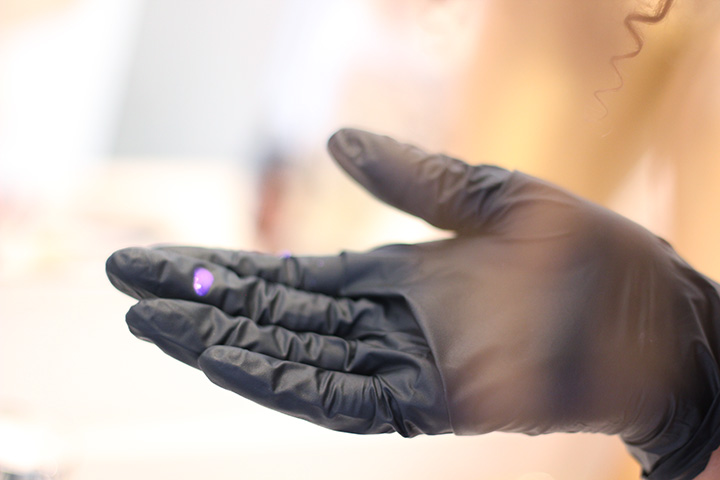 I gently squeezed out a few drops on the gloves included in the box and rubbed my fingers together before starting the application process.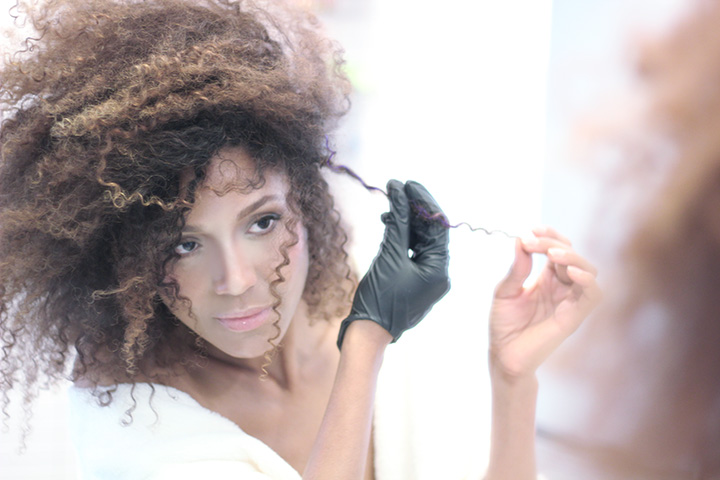 I sectioned off the curls I wanted to color and applied a thin coat of product starting at the base and moving in a downward motion while smoothing the hair. I repeated the application by putting a couple more drops onto the gloves, rubbing my fingers together to spread out the color and re-applying a little more to my curls until I had achieved a nice and even coverage. I made sure not to use too much product on my curls (your hair texture may start feeling rough otherwise), but the nice thing is making a mistake is easily corrected by applying a little hair oil to help remove the color quickly.
Once the purple looked vibrant and the product was completely dry (you can speed things up by using a blow dryer), I styled my hair as usual. I personally use my hands to set my curls but of course you can use a brush or a wide tooth comb depending on your hair texture and preference.
While I was at it, I thought I'd take my temporary case of purple mania to the next level with a purple everything extravaganza! Starting with some smokey-hot purple eyes (with a touch of gold glitter to boot ;)…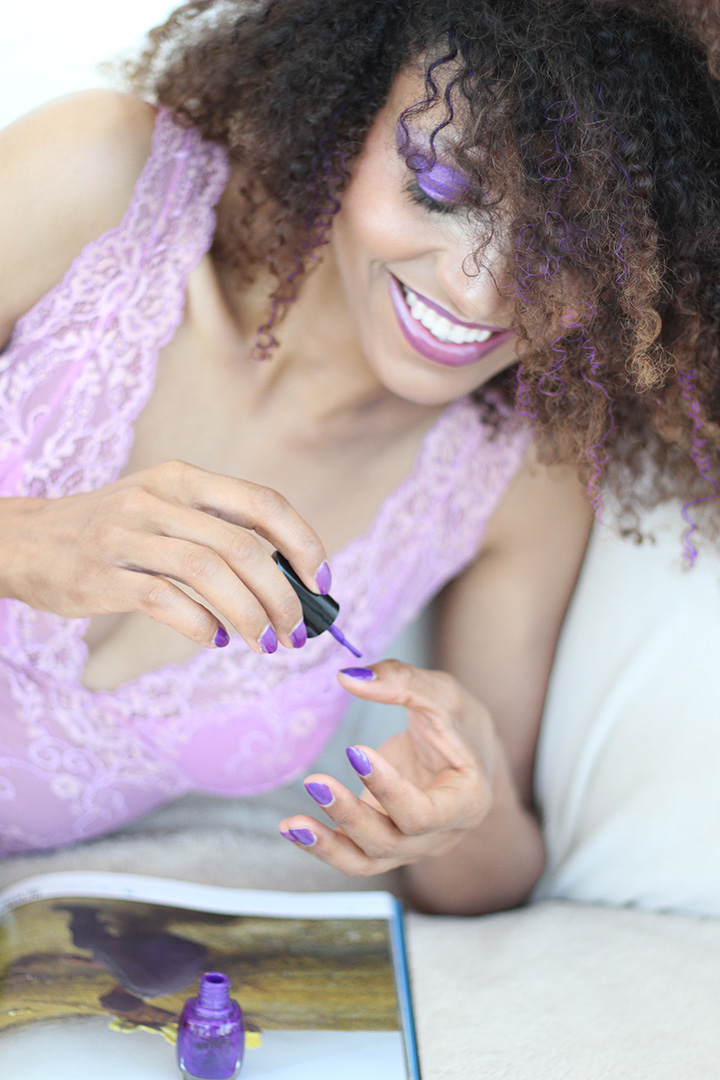 … Followed by a bold purple pout and color coordinated nail polish.
I put the finishing touch with my trademark hair tousle and I was ready to boldly and proudly rock my new purple locks. Easy does it!
Want to join in the fun? To celebrate the release of the new Garnier Color Styler, every 3 days Garnier will choose a lucky girl to become the Color Styler spokesmodel for 72 hours. Visit garnierusa.com/funnestgirl and you could be the next #FunnestGirl to be featured on the Color Styler website and across social media for the 3 days of your reign.
Entering is super simple. Snap a selfie, post it to Instagram and tell us why you're the #FunnestGirl in the caption.
Good luck and have fun!
Garnier Color Styler in Purple Mania c/o Garnier. Thank you Garnier and Style Coalition for sponsoring this post.