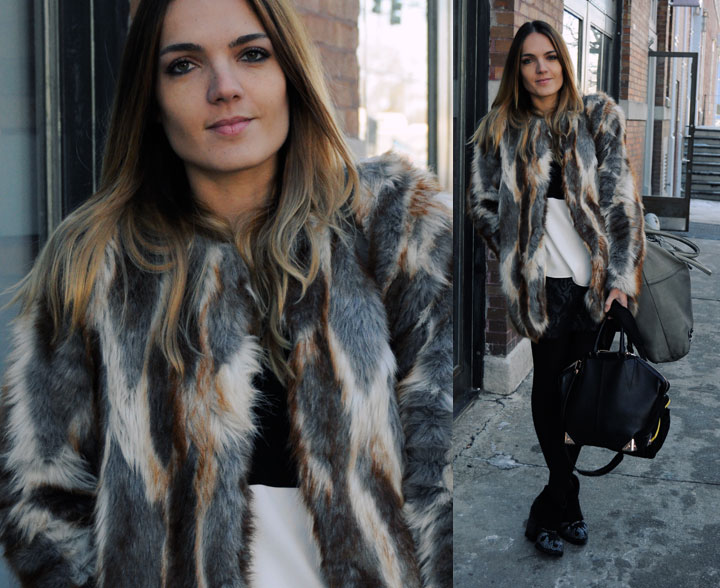 Hard to believe but Fashion Week is just around the corner! Seems like it was only yesterday when I was frolicking in the snow, braving stormy weather and ice skipping my way towards Lincoln Plaza to attend the amazing roster of shows I'm beyond lucky to get invited to. Historic blizzard or not, the Fashion Week Magic always lives on but let's face it, last season had its share of challenges… But I wasn't facing them alone, far from it. And I'm so grateful to the incredible team that worked hard by my side on these stormy days (and nights) to make my stay smooth sailing. And filled my heart with some of the most wonderful Fashion Week memories to date.
My most amazing Fashion Week gift came in the form of Dream Girl, Verena Zannantoni (pictured above, elegantly poised outside the Catherine Malandrino Fall 2013 Show). In one word: Pure awesomeness! She landed on my team like a gift from The Heavens. Verena is not only one of the very best assistants I've ever had, hands down, she's also one of these rare beings you're grateful to be sharing a little bit of earth time with. Brilliant, resourceful, gorgeous (inside and out), with astonishing work ethics (I mean systematically showing up at 9:59 am for a 10:00 am call time. Hello!? Ready for a phone meeting past midnight… need I say more !?) and simply a joy to be around. She single-handedly manned our team of interns (she could do it in her sleep, I swear) and faced every unforeseen challenge with the utmost efficiency, grace and that heartwarming smile on her face.
Funny enough, Verena and I grew up not very far from one another. She in Northern Italy and I in a small town on the French/Swiss border. The fact that she's also the globetrotting kind (she's lived in Germany, Australia, Brazil and toured Japan with MTV) and speaks French fluently (German and Italian as well) may have something to do with the fact that I instantly felt inexplicably at home with this fabulous lady.
I know greatness when I see it and Iet me tell you, this girl is going to go far.
Pictured alongside the beautiful Verena is our fab Fashion Week Squad: UCM Fashion grad and multitasking wonder woman Leah Hoffman (who's heading to London for graduate school. Congratulations!). Our social media maven and fave fiery redhead, Megan Burns and our field photographer and techno wiz kid, Kegan Barber.
So, that concludes another peek behind-the-scenes to meet some of the wonderful folks I'm lucky to be working with and whose hard work, enthusiasm, dedication and shear goodness of heart is to me, a constant source of inspiration.