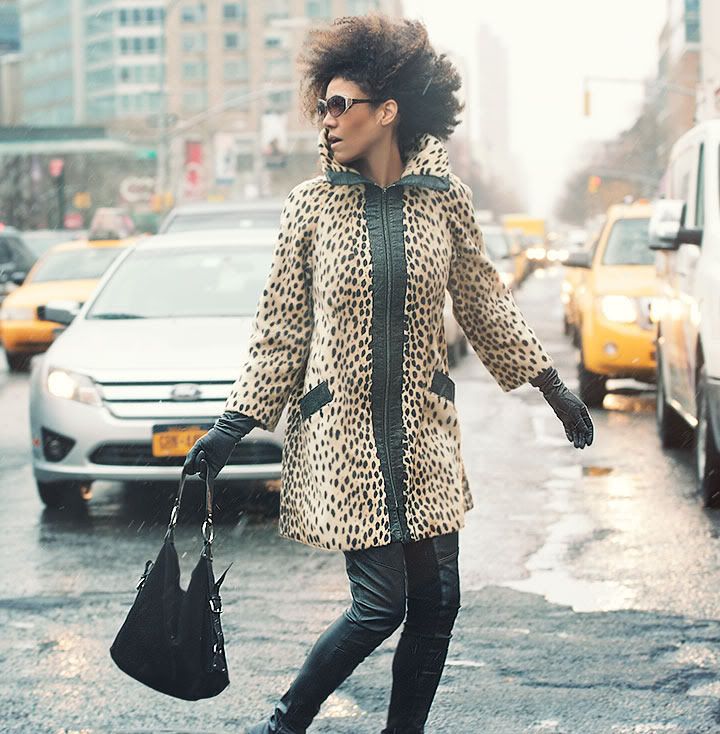 Photography by Kamel Lahmadi

We amped up the drama a few notches for this fashion editorial by Paris-based photographer Kamel Lahmadi of Style & The City (take a look at our first creative collaboration here). It was shot during New York Fashion Week, amidst blizzard "Nemo" with a high drama backdrop of ice, snow and glaring headlights courtesy of New York City. And a real life photographer chasing me for an added dose of edgy realism (check out that hooded guy in blue).
There's a Nouvelle Vague (French New Wave) kinda feel to these photos I totally fell in love with (may have something to do with the fact that they were taken by an Frenchman with a cinematic flair). Looking at them, you can almost hear the haunting Miles Davis like soundtrack. The grungy, gritty and grainy photo quality has a very textured, pre-digital kinda patina which is simply gorgeous.
Vintage leopard coat, Dolce & Gabbana suede bag, Diesel leather leggings, Betsey Johnson leopard stilettos and vintage Paloma Picasso sunglasses from The Guise Archives.