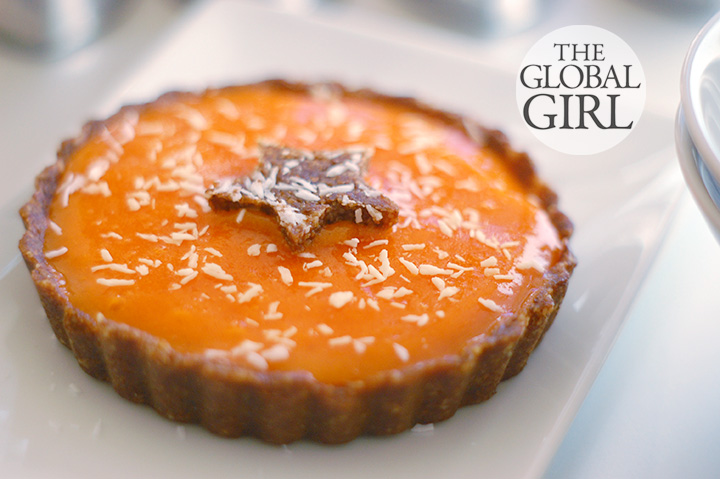 Recipe and Photography by Ndoema

Good-bye Fashion Week, Hello The Global Girl kitchen!
As a kid growing up in Europe, each year around this time I'd suffer from acute attacks of winter blues. I swore to myself that as a grown up I'd live in a "summer year-around paradise". I would dream about it, not really thinking such a place existed… that is until I landed in Southern California! The City of Angels was the answer to my childhood prayers. I must admit that it wasn't exactly love at first sight. After many years spent on the Old Continent in ancient European cities with a rich historical and cultural heritage, it was a bit of a cultural shock 😉 But Tinseltown cast its weather spell on me and I have to say, I've never been happier. The year around abundance of locally grown produce is also tailor-made for my fruit and veggie-loving raw food lifestyle. What more can a plant-powered girl ask for?
Now fall and winter have their unique treats too. Super delicious seasonal fruits that give the transition into the cold winter months its special kind of flavor. Persimmons are one of these seasonal delicacies that always make me winter happy so, in a spirit of celebration, I thought I'd share with you this delicious raw food dessert recipe, I know you will adore. It's super easy, wonderfully tasty, oil-free, sugar-free and gluten-free too. Yay!
Raw Persimmon & Carob Tart
Ingredients
INGREDIENTS

Crust:

1 cup of raw unsalted walnuts
1 cup of medjool dates
1 tablespoon of raw (not roasted) carob powder
1 tablespoon of unsweetened shredded coconut

Filling:

3 or 4 ripe Hachiya persimmons
Instructions
INSTRUCTIONS

Place the walnuts, dates, carob and shredded coconut in a food processor.
Pulse until you get a nice fine texture.
Place the mixture in a non-stick pan and start working it until it shapes into a nice dense crust.
Place in the freezer or refrigerator while you move on to the filling.
Peel the persimmons (they are perfect when super ripe) and place them in a blender (or food processor) and process until you obtain a smooth, creamy consistency.
Pour the mixture on the crust, sprinkle a few coconut flakes on top.
Enjoy!