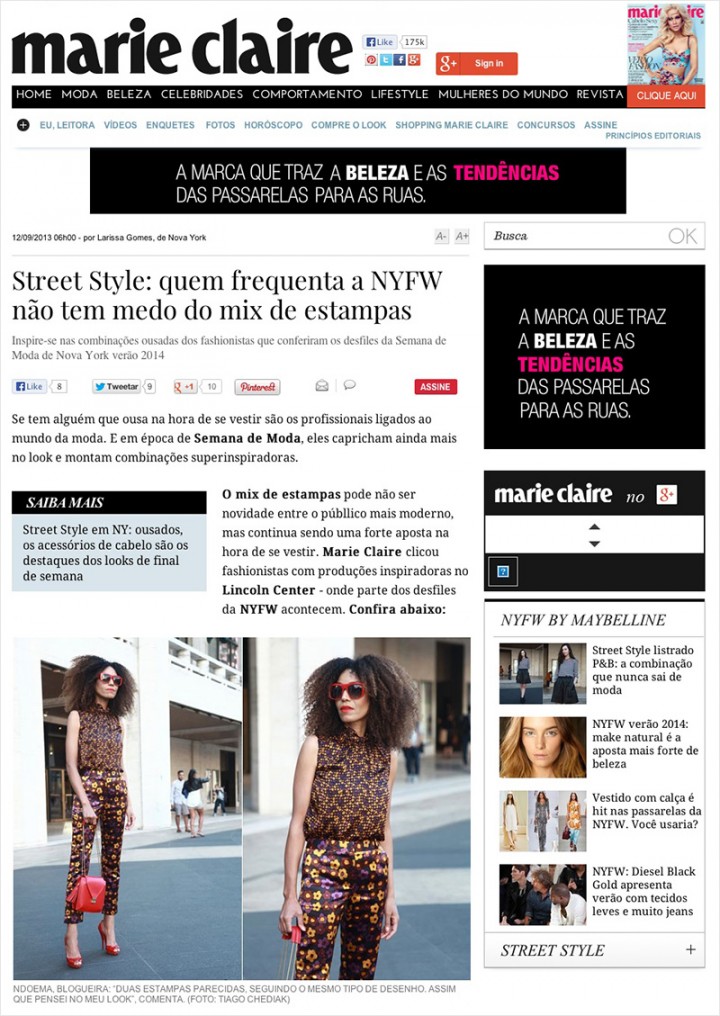 Photographer: Tiago Chediak
Publication: Marie Claire Brasil
I've stopped counting how many times a day folks ask me if I'm Brazilian. I take it as the utmost compliment to be embraced by such an awesome culture! The land of Samba, Bossa Nova (I'm totally entranced), legendary Pele and some of the most gorge people on earth 😉 So I feel quite at home (and honored) to land my very first Marie Claire Brazil feature.
I was hastily making my way through Lincoln Plaza to catch the Art Institute show when the talented Tiago Chediak asked me to hold a sec in front of his lens. I was psyched. Though it was the end of a busy day and the action had mellowed out a bit at the tents, I'd decided to have a fierce moment in head-to-toe floral print from Hong Kong Designer Michelle Lee for S.I.L.K. New York (I featured favorites from her fabulous Fall 2013 Collection, including this very look, in an earlier post which you can check out here). As you know by now 😉 I'm not afraid to go bold so I spiced up this floral pants and top ensemble with accents of bright red: a pair Miu Miu patent leather shoes, Guise by Benjamin oversized red sunglasses and Onna Ehrlich Andy box clutch with gold chain in red.