Photography by Ndoema
Khlong Toey is one of Bangkok's largest (and least touristic) fresh markets and one of my favorite shopping spots. It's massive. Authentic (I'm routinely the only "farang" in sight). The produce is super fresh. And it's a short 10-minute ride from my Bangkok apartment, so I've been making daily visits to keep my Thai kitchen stocked up with truckloads of yummy tropical fruits and veggies.
Tamarind (makahm in Thai) is a staple of Thai cuisine but this sweet and tangy tropical fruit is also packed with collagen-boosting Vitamin C and naturally rich in alpha-hydroxy acids so it's a fab ingredient for DIY skincare recipes.
Thai Khao Lam is a local delicacy that's super popular too. It's traditionally made of sweet sticky rice and black sesame, mixed with sugar, coconut cream and cooked in bamboo sticks.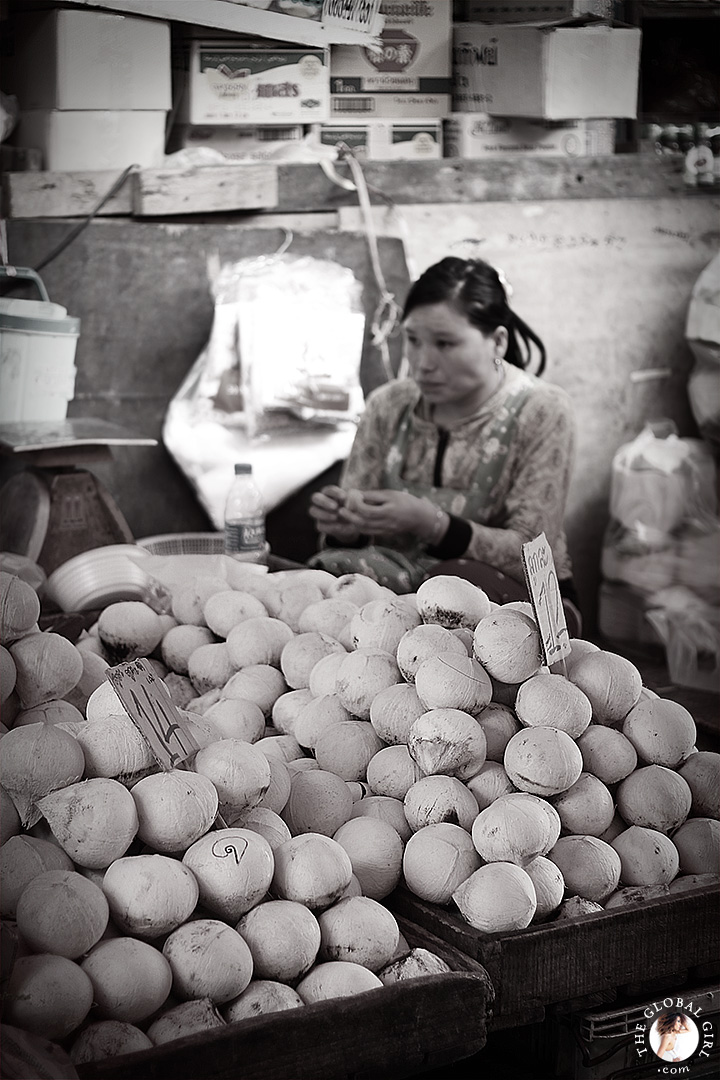 Coconuts a gogo!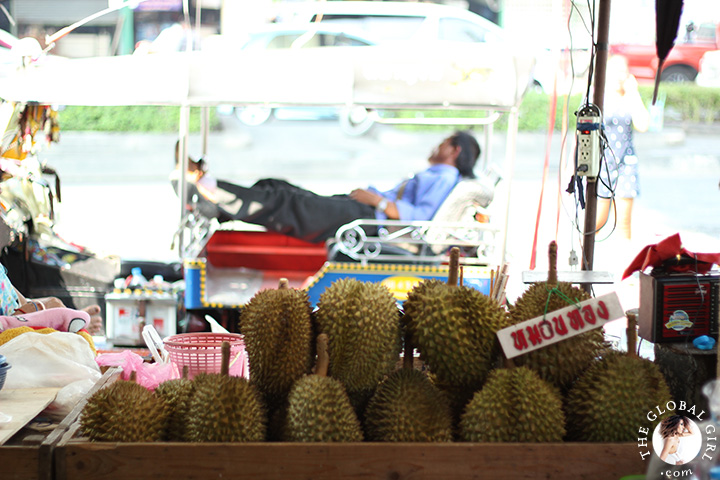 Perfect spot for a nap 😉 This prehistorical looking fruit in foreground is the infamous Durian. It's infamous because of its unusual smell (I personally rather like it) and it's actually banned from most public places throughout Southeast Asia. Eating it in public can get rather costly in fines (I actually wrote a fun piece for Condé Nast Traveler about this "forbidden fruit").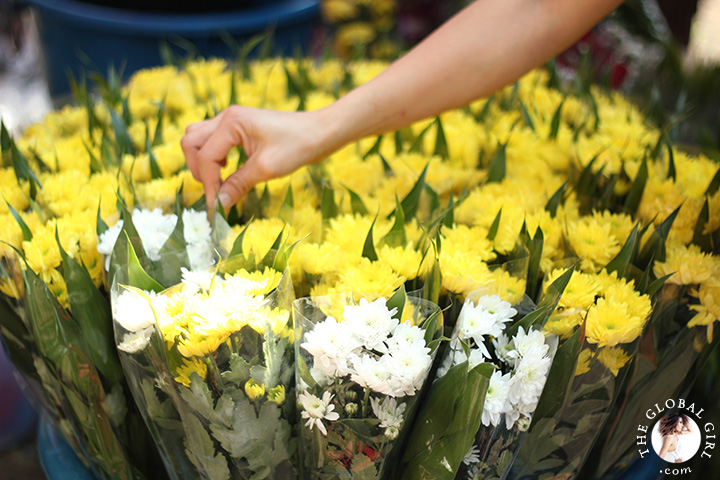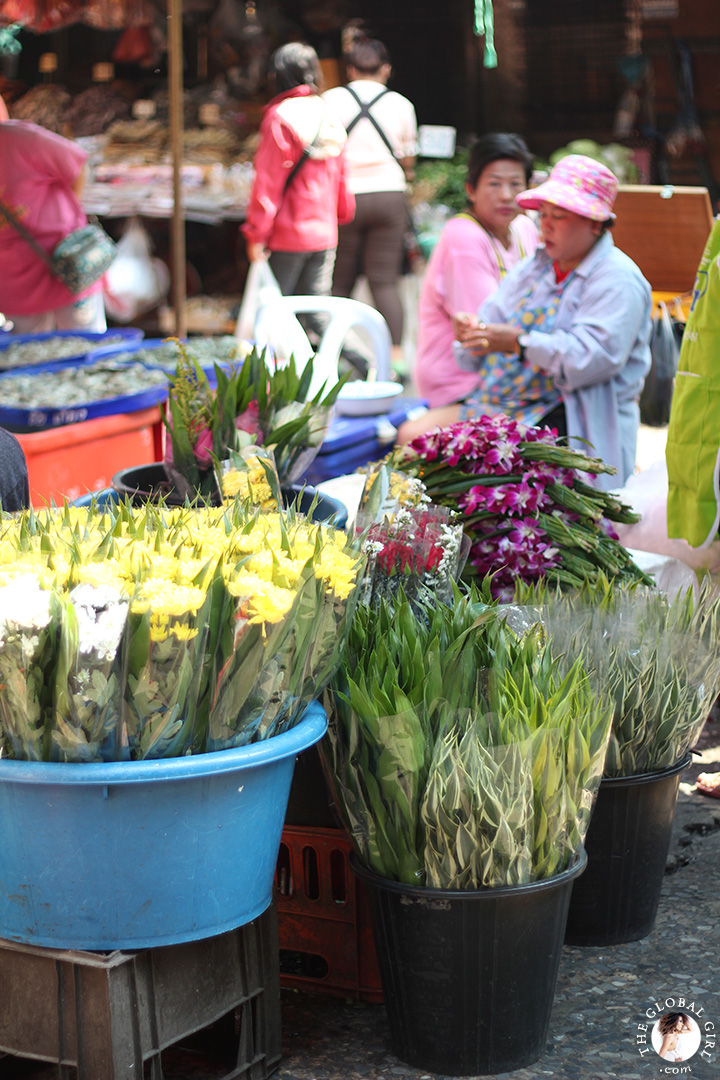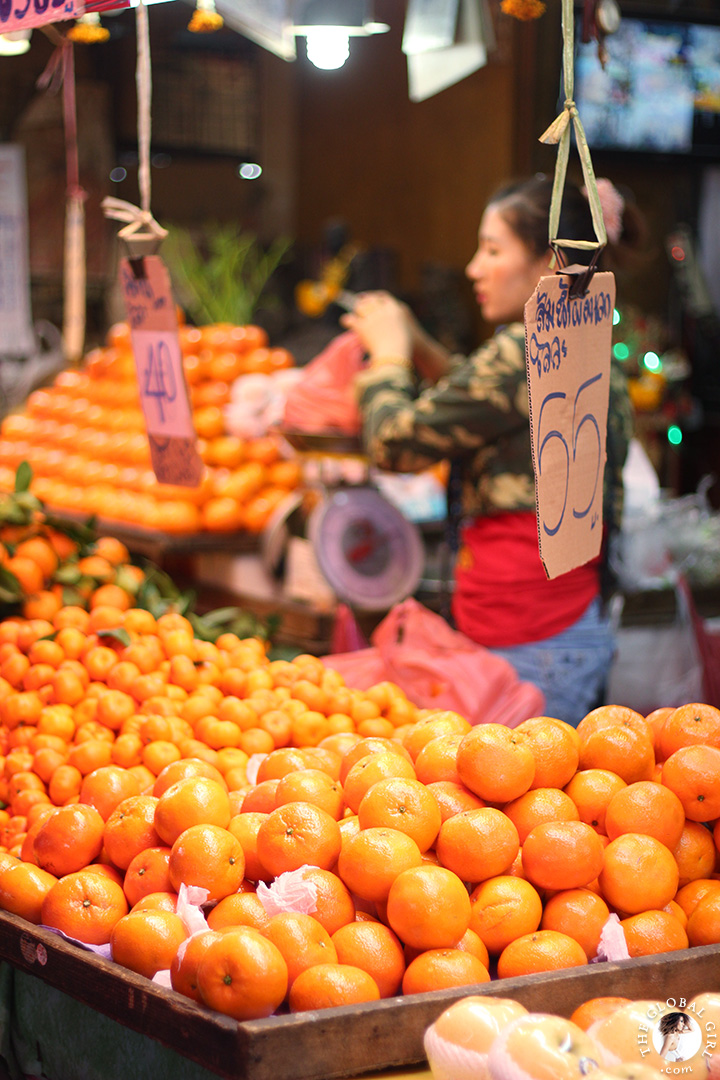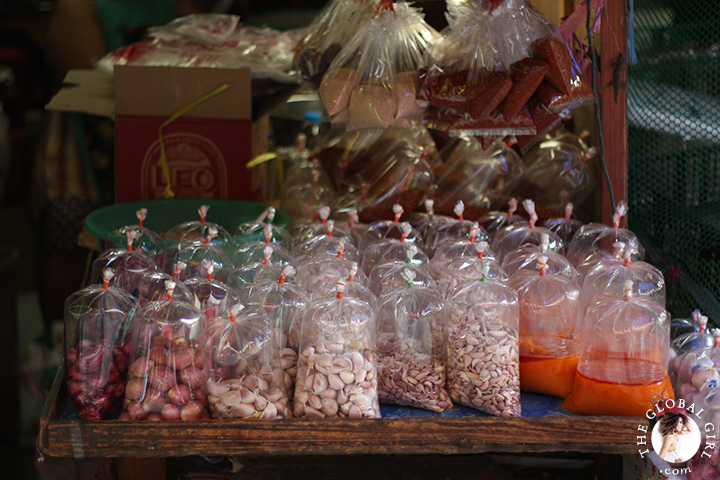 Everything is wrapped up in tiny plastic bags in Thailand, from dried goods to soup and even salads.
Donations Thai style. Such a festive and lovely way to make offerings.
Street food in Thailand is made with super fresh produce on the spot. Lemongrass is an amazing aromatic and therapeutic herb. It has powerful anti-microbial and antibacterial properties and is one of the key ingredients in the traditional tom kha soup. I personally adore it in tea form.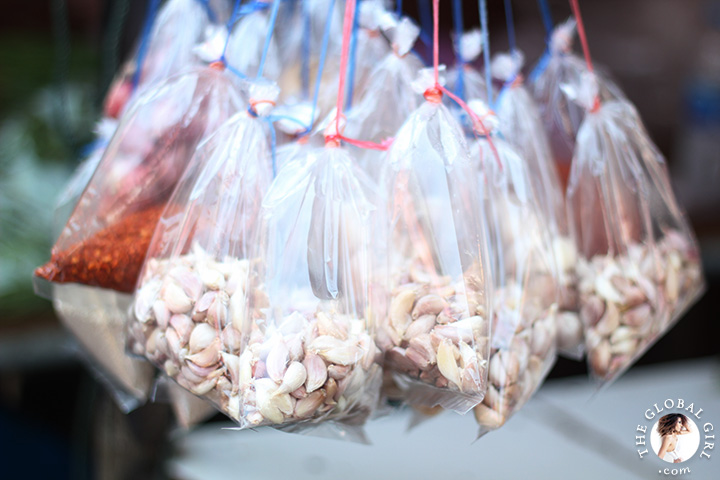 3 pineapples for a dollar? A rawfoodie's paradise!
Thai ladies are seriously glam, especially in Bangkok. Having another case of hair envy 😉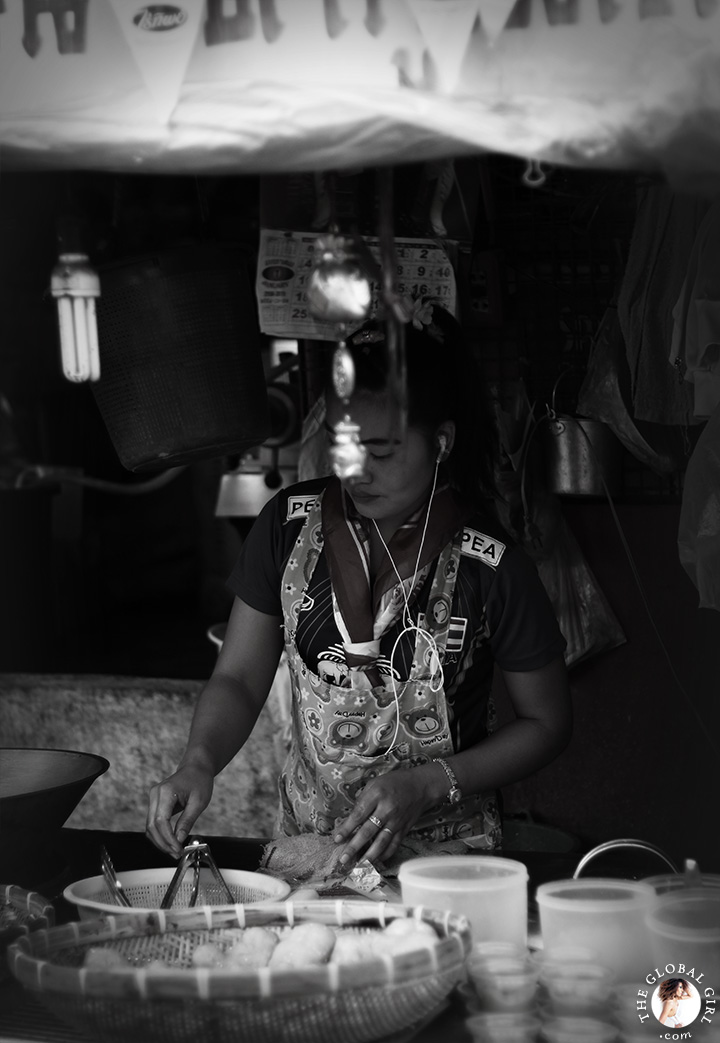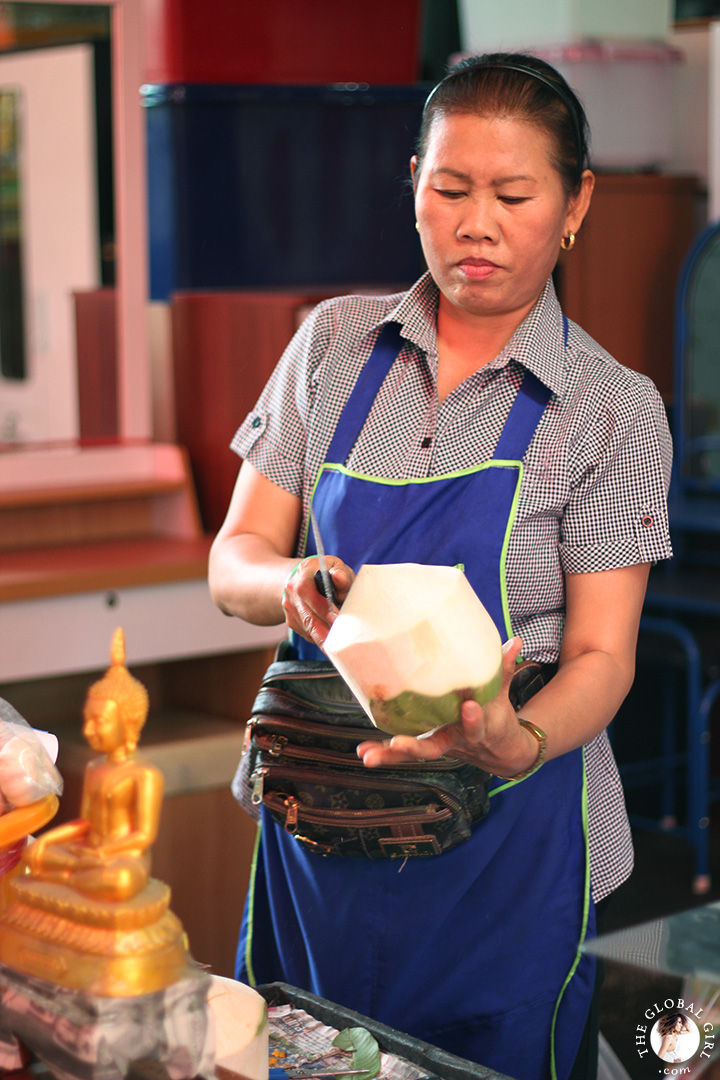 My favorite daily treat…
Let's go home and eat!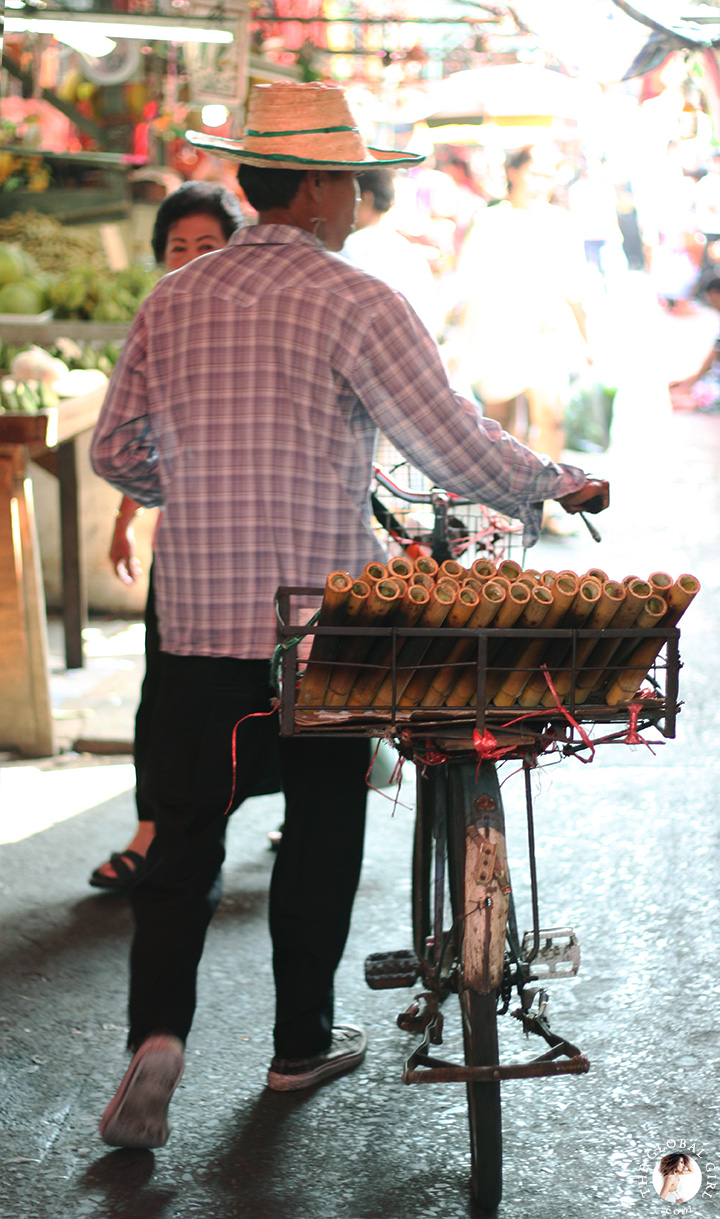 For more Southeast Asia adventures: Escape on a Magical Getaway in Bali's Canggu Beach | Veggie shop at Khlong Toey Market | Explore this Javanese green oasis in Yogyakarta | Catch the sunset at Tanah Lot