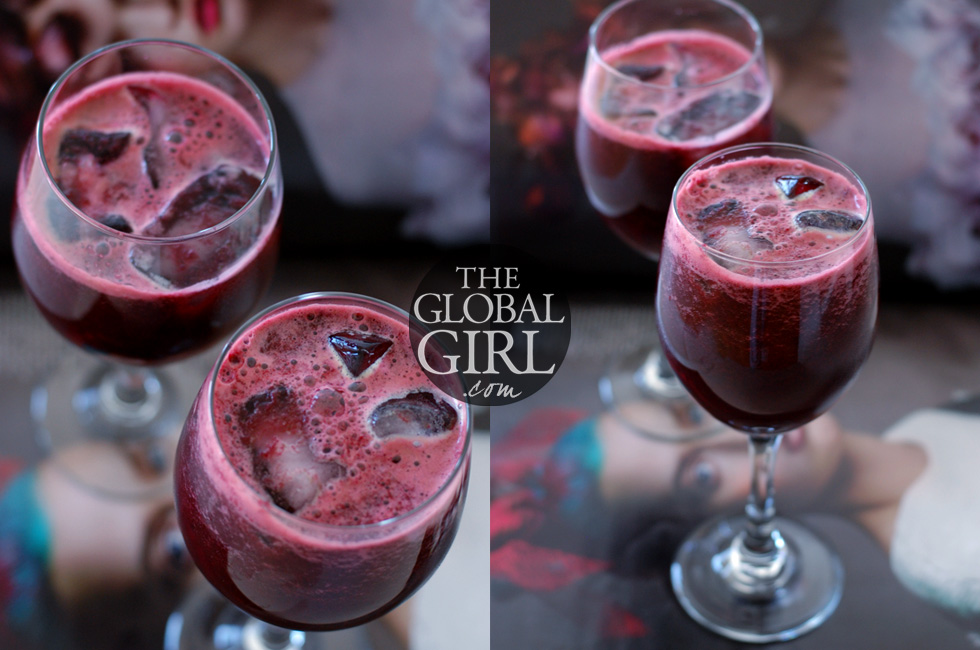 This delicious concoction is a beautifying powerhouse! It combines three of my all-time favorite beauty weapons plus my super duper secret ingredient.
Beauty booster #1
Beets! Ok, you all know it by now… I'm a huge beet juice fan and I've talked at great length about its many health and beauty benefits. Essentially, It's one powerful liver detox food and in my experience liver detox is the key to effortless and permanent weight loss (not starving oneself to death). Quite honestly, liver and colon cleansing are my top two heath and beauty boosting weapons. They've been truly the biggest game changers in my health and overall wellness journey. So I'm always keen on enjoying liver friendly fruits and veggies daily, many of which happen to be personal favorites: besides beets I'm also crazy about dandelion, burdock root, avocado (oh my!), kale, spinach and sprouts (I loooove them and chlorophyll happens to be a fab liver cleanser). Last but not least, beets contain betanin and chlorine which are both fat flushing substances.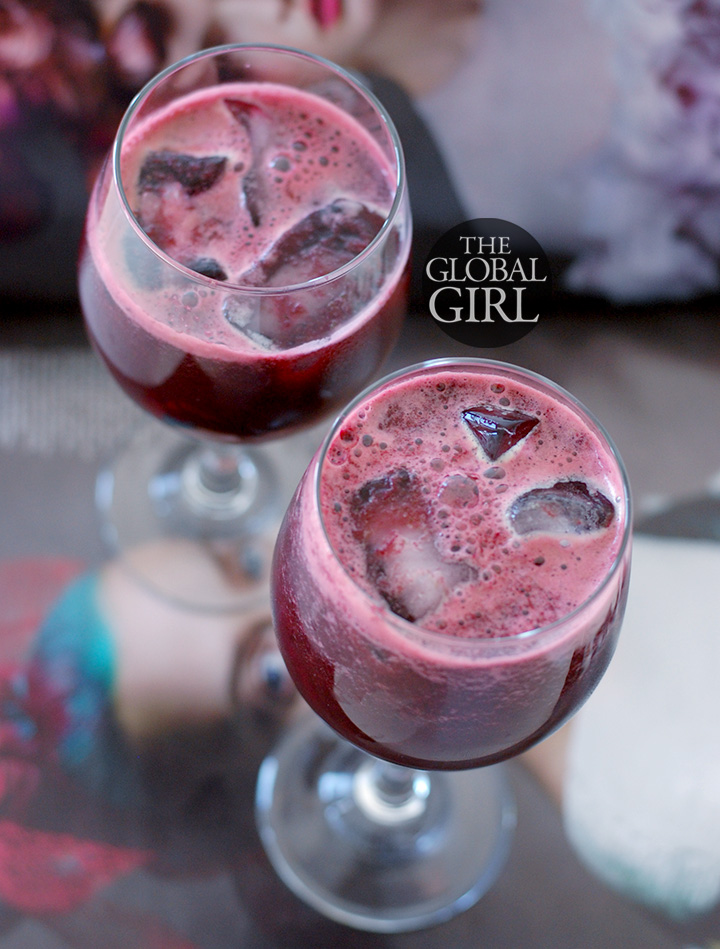 Beauty booster #2
Cucumber! It's a powerful diuretic (helps the body flush out toxins which alleviates water retention and puffiness). It's also loaded with skin-friendly minerals: magnesium, potassium, silicon. And it's rich in Silica which makes it a fab hair and nail beautifier.
Beauty booster #3
Pineapple is sooo amazing and delicious! I've shared before that with all three of my 92-day juice fasts the biggest challenges I've encountered haven't really been the fasts themselves but the aftermaths. The massive release of toxins causes me to experience the most challenging bouts of healing crisis and pineapple has saved the day on many occasions (it's amazing for reducing swelling). There's nothing like it for flushing out toxins from the liver and kidneys and releasing excess water from the body thanks to bromelain, a fab enzyme and natural antioxidant that's plentiful in this delish fruit. Plus, it's rich in Vitamin C which helps to synthesize collagen. Hello gorgeous skin!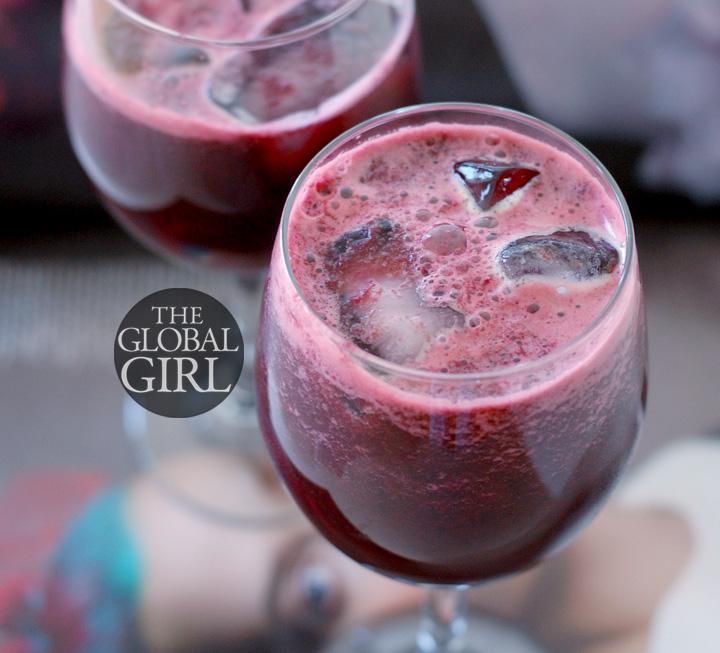 Beauty booster #4
My secret beauty ingredient: Turmeric! A ginger-like looking root with bright orange flesh from my beloved India. Bromelain, from Pineapple, combined with turmeric root help the body break down proteins and facilitate digestion (hello flat tummy ;). And turmeric is also a natural liver detoxifier and aids in fat metabolism.
Now, I'm sure you just can't wait to give this fabulous elixir a shot 😉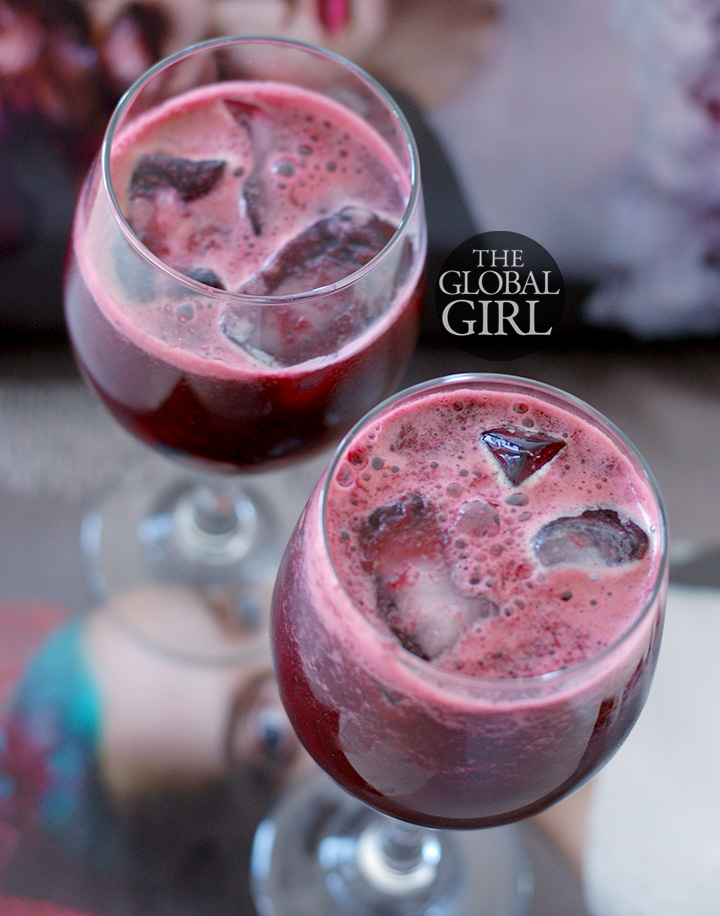 Photography and Recipe by Ndoema
Pineapple, Beet & Turmeric Juice
Ingredients
INGREDIENTS

2 Beets (peeled)
3 Cucumbers (unpeeled if organic and not waxed)
1/2 Pineapple
1 small inch of fresh turmeric (peeled)
Instructions
INSTRUCTIONS

Wash the beets with a veggie brush (or peel if your prefer)
Peel the pineapple
Peel the turmeric
Peel the cucumbers if they are store bought (They're likely to be waxed even if organic)
Throw everything into your juicer and voilà!
Enjoy!