I love eggplant. As a matter of fact, I've always loved eggplant! To me it's the flavor of the South of France and Italy of course! Both conjure wonderful memories of my time there and that probably adds an extra dose of yumminess to this delicious Mediterranean veggie.
I shared another Italian-inspired and crowd-pleasing appetizer a few days ago, I guess I'm in the mood for party food!
Traditionally bruschetta is made of grilled bread which isn't ideal for those of us who are gluten intolerant or (like yours truly) don't do bread any longer. Ditching grains has really been a health enhancing decision for me so bread and grain alternatives are always on the menu.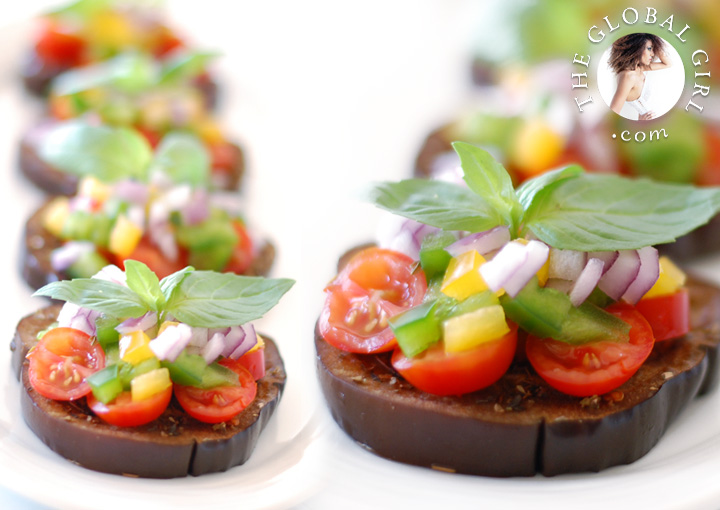 This delicious no-bread bruschetta is all raw, vegan, gluten-free, wheat free and dairy free.

Photography and Recipe by Ndoema
Raw Eggplant Bruschetta (vegan & gluten-free)
Ingredients
INGREDIENTS

1 large eggplant
1 cup of chopped cherry tomatoes
1 tablespoon of olive oil
1 tablespoon of gluten-free soy sauce or coconut aminos
1/2 tablespoon of Italian herbs (oregano, thyme, marjoram, rosemary)
1 tablespoon of minced red onion
1 cup of loosely packed fresh basil
1/4 cup of yellow bell pepper
1/4 cup of green bell pepper
2 garlic cloves
Instructions
INSTRUCTIONS

Cut the eggplant in 1/2 inch wide slices and freeze it.
I typically put the eggplant in the freezer the night before I'm planning on serving the bruschetta.
Thaw the eggplant slices. Then rub them with crushed garlic and pour the olive oil and soy sauce/coconut aminos on top.
Finish off with the Italian herbs and mix everything nicely so the eggplant absorbs all the seasoning.
Place the eggplant slices in your dehydrator and dehydrate for 3 to 4 hours.
When ready to serve, sprinkle the cherry tomatoes, red onion, bell pepper and basil leaves on top. And voilà!
Buon Appetito!