---
The ultimate under 5-minute superfood raw vegan dip you'll enjoy all summer long
---
This delicious raw vegan turmeric dip and purple cauliflower recipe is super quick, easy and incredibly healthy.
What makes this recipe especially amazing in the health and beauty department is curcumin (or curcuma), a naturally occurring chemical compound found in turmeric, the golden Indian spice that gives curry its beautiful color. It has been found to have spectacular anti-inflammatory effects and it's loaded with powerful antioxidants.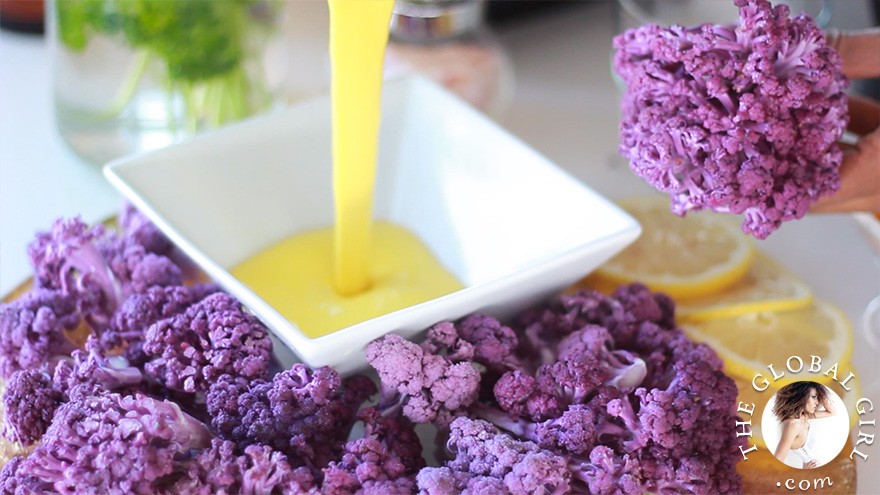 Look at this glorious golden color! I really adore turmeric.
I love to use it fresh in my juices as much as I can (especially my 'Super Beautifier'). Of course fresh is best but it's not always easy to find fresh turmeric root in the US so turmeric powder is totally awesome too. In contrast, this superfood rhizome is plentiful in Southeast Asia so when I'm in the region I feel like a kid in a candy store chasing exotic health-promoting veggies at local markets.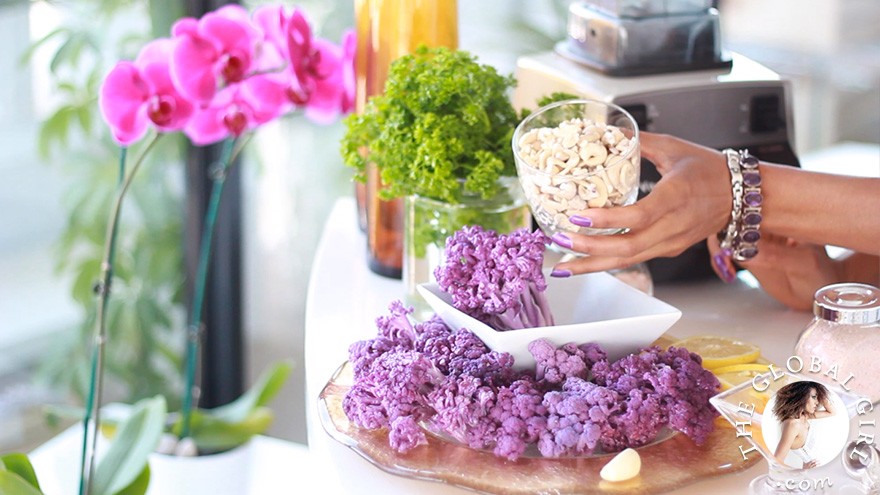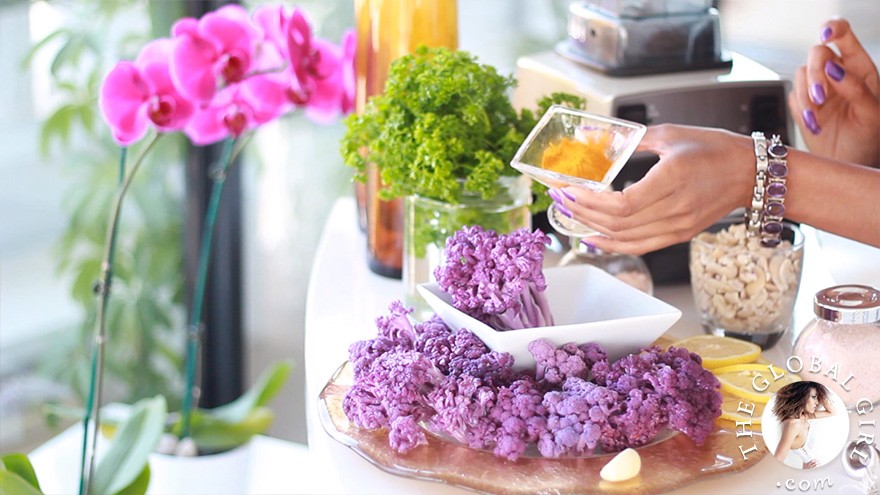 Turmeric has been used for thousands of years in both Ayurvedic and Chinese medicines as an anti-inflammatory as well as to treat digestive, liver and skin problems.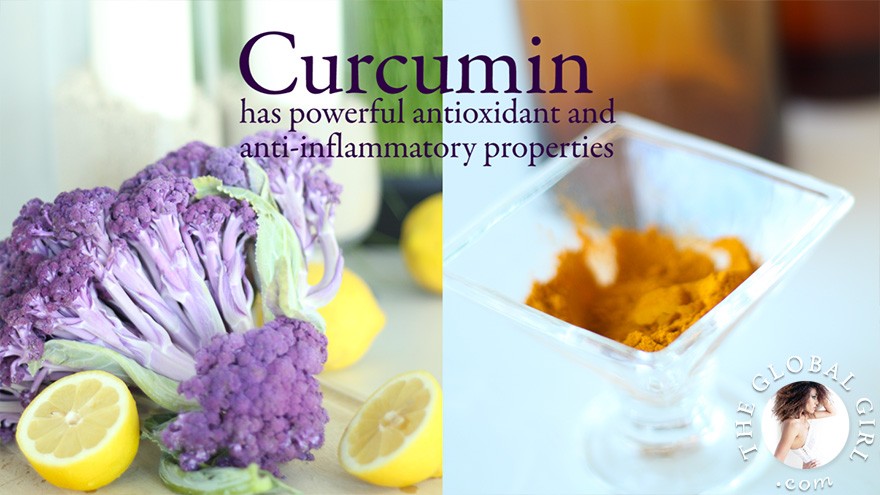 Curcumin is a fabulous detox ally because it stimulates the gallbladder to produce bile.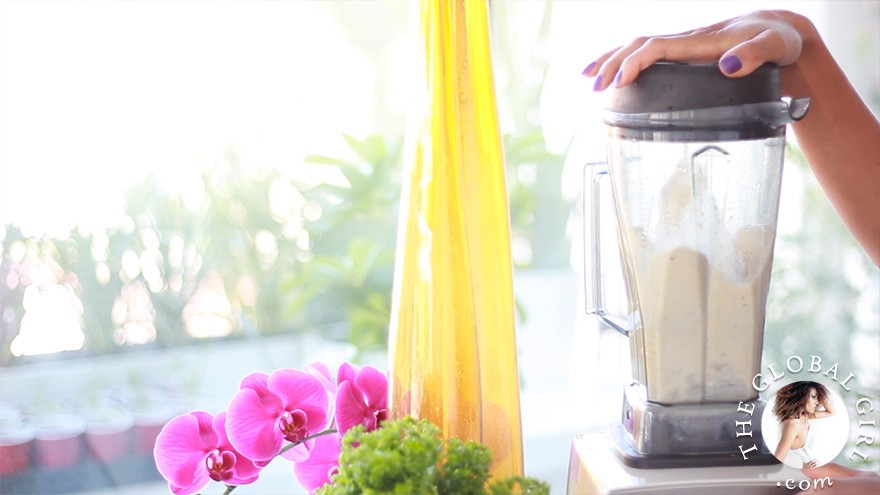 Bile production is not only essential to proper digestion but I've also shared the importance of liver health and its key role in detoxification which is, in my experience, the cornerstone to radiant and vibrant health.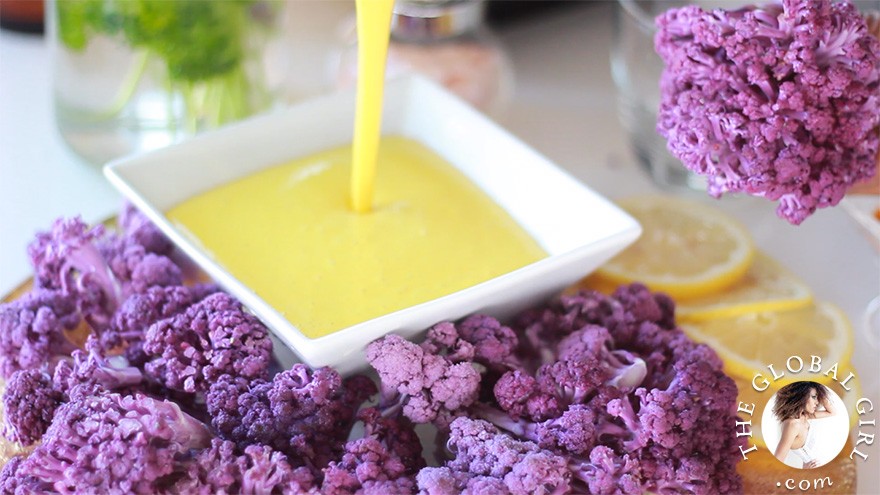 Purple cauliflower is my latest culinary obsession. These vibrant violet hues are so festive! The ultimate healthy party food!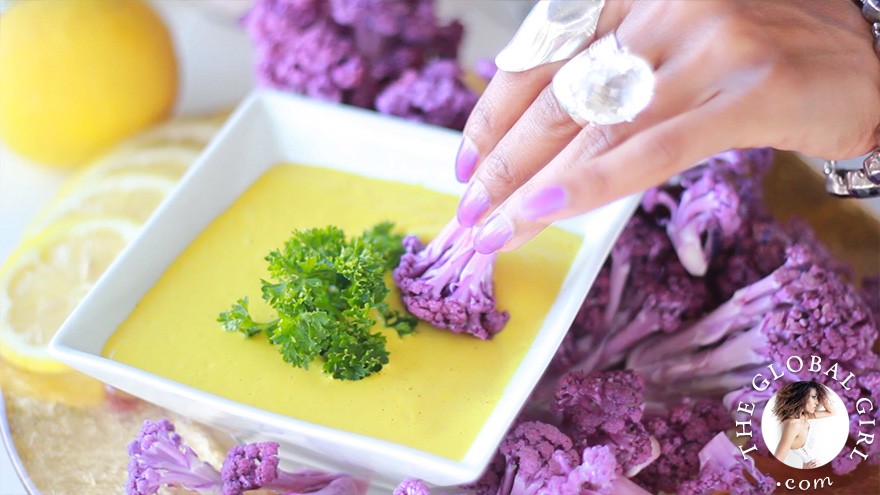 Purple cauliflower is not only super pretty but its gorge purple color is due to the presence of flavonoid compounds called anthocyanins, which have been found to regulate blood lipid, sugar levels and body weight. Talk about a win-win! A deliciously healthy raw vegan snack your taste buds and body will love!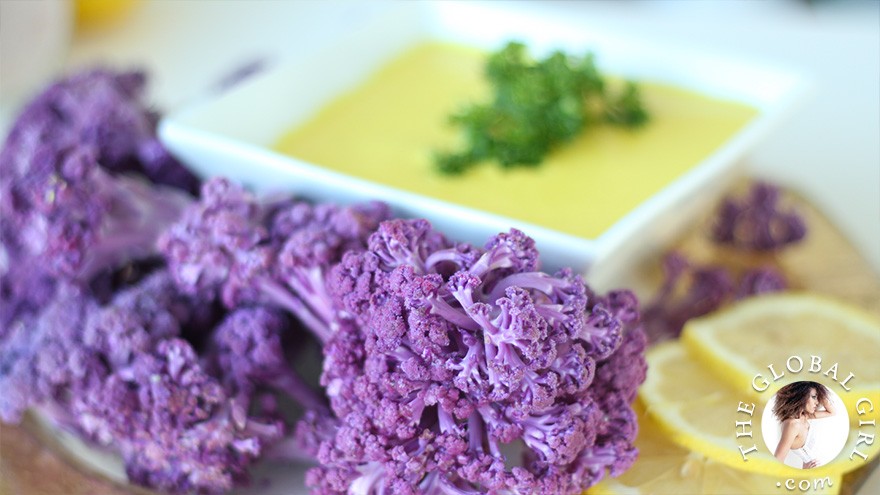 Antioxidant Rich Turmeric Dip with Purple Cauliflower
Ingredients
INGREDIENTS

1 cup of raw cashews or raw macadamia nuts
Juice of half a lemon
1 garlic clove
1 teaspoon of ground turmeric
1/2 cup of water
Pinch of pink himalayan salt
Instructions
INSTRUCTIONS

Place all the ingredients in the Vitamix (or a high speed blender) and blend until super smooth and creamy.
Et voila! You have the ultimate under 5-minute superfood dip you'll enjoy all summer long 😉