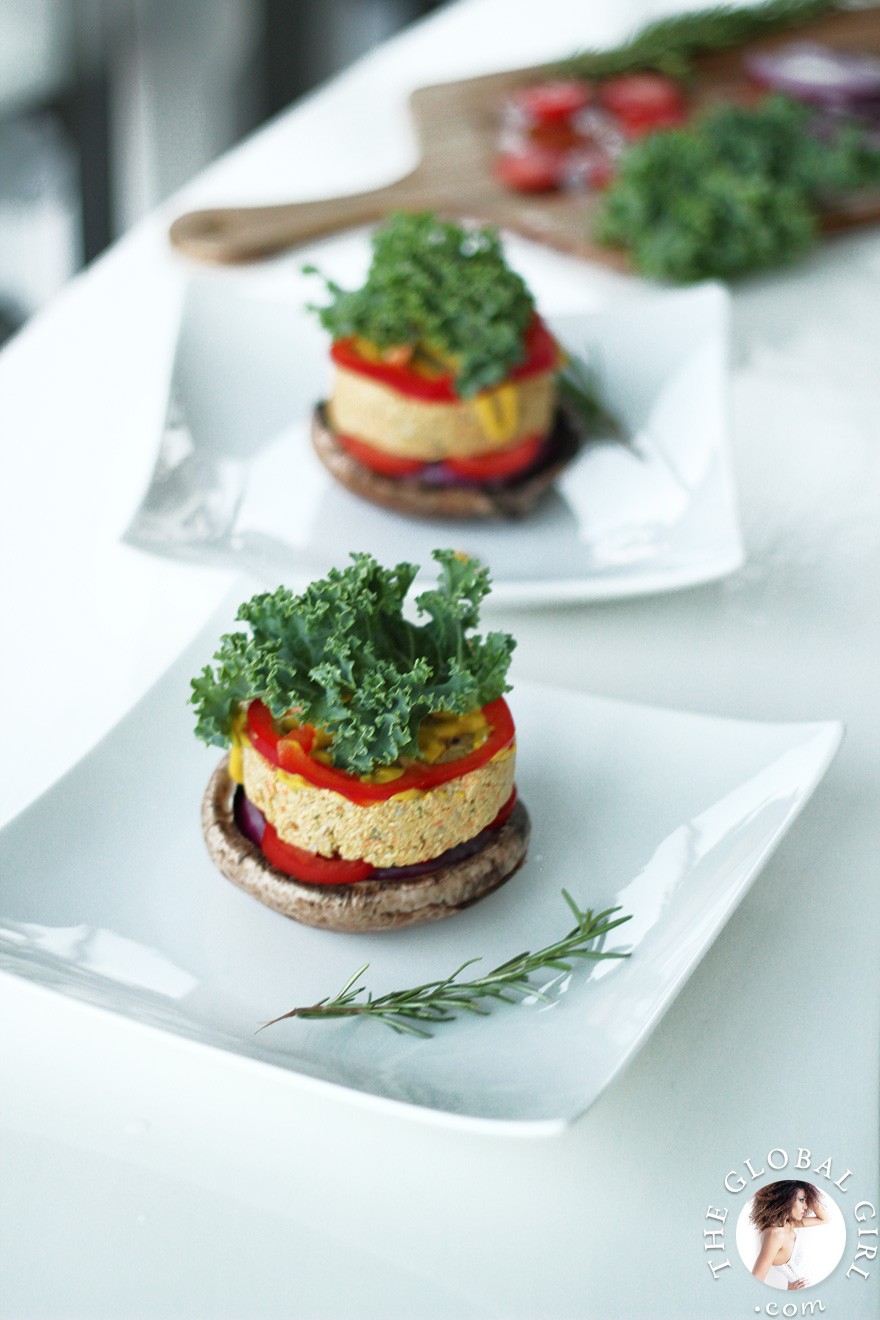 Photography and Recipe by Ndoema
Here's a hearty, tasty and healthy recipe for mushroom lovers and juicy burger aficionados.
This "no-bun" burger is so delish, you won't miss the gluten-laden bread and other health-harming standard burger trimmings. I swear.
It's not only gluten-free, it's also totally raw, vegan (of course) and deliciously oil-free. This is as clean cuisine as it gets. But bien sûr, you can easily amp up the decadence with a generous serving of raw vegan mayo (get the amazing recipe in A Week's Worth of Raw Dressings). What's particularly awesome about this veggie burger, besides the wonderful flavor, is that it requires no dehydration. Perfect for instant gratification!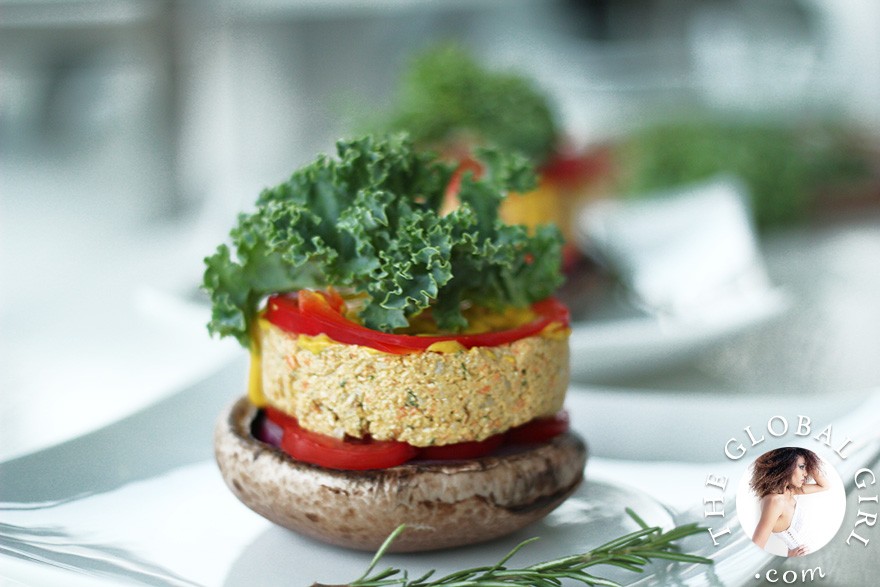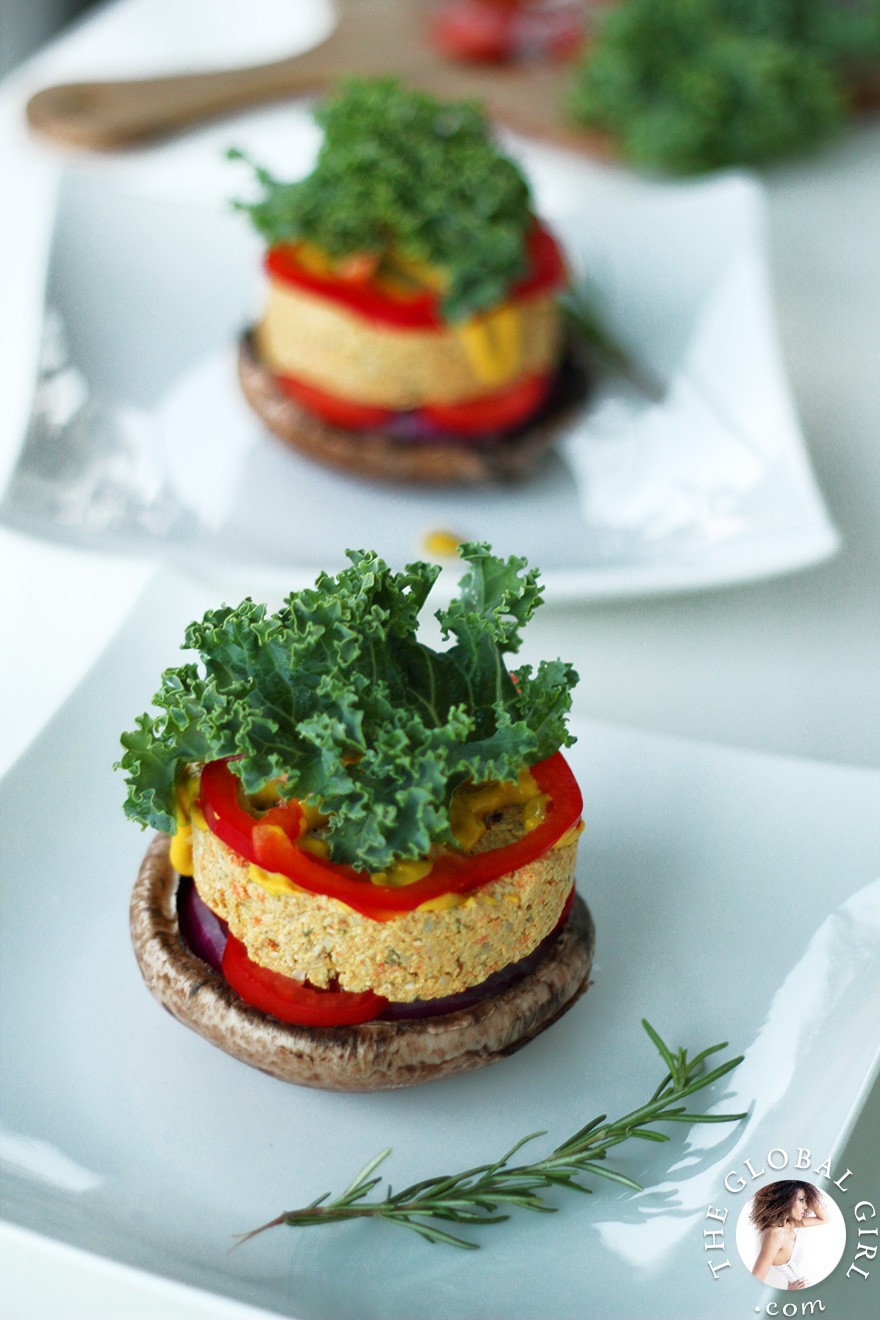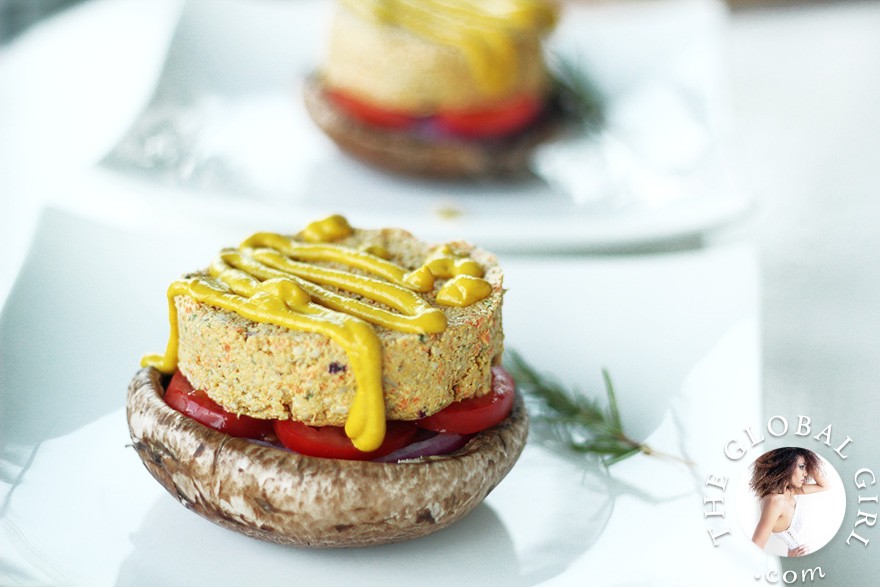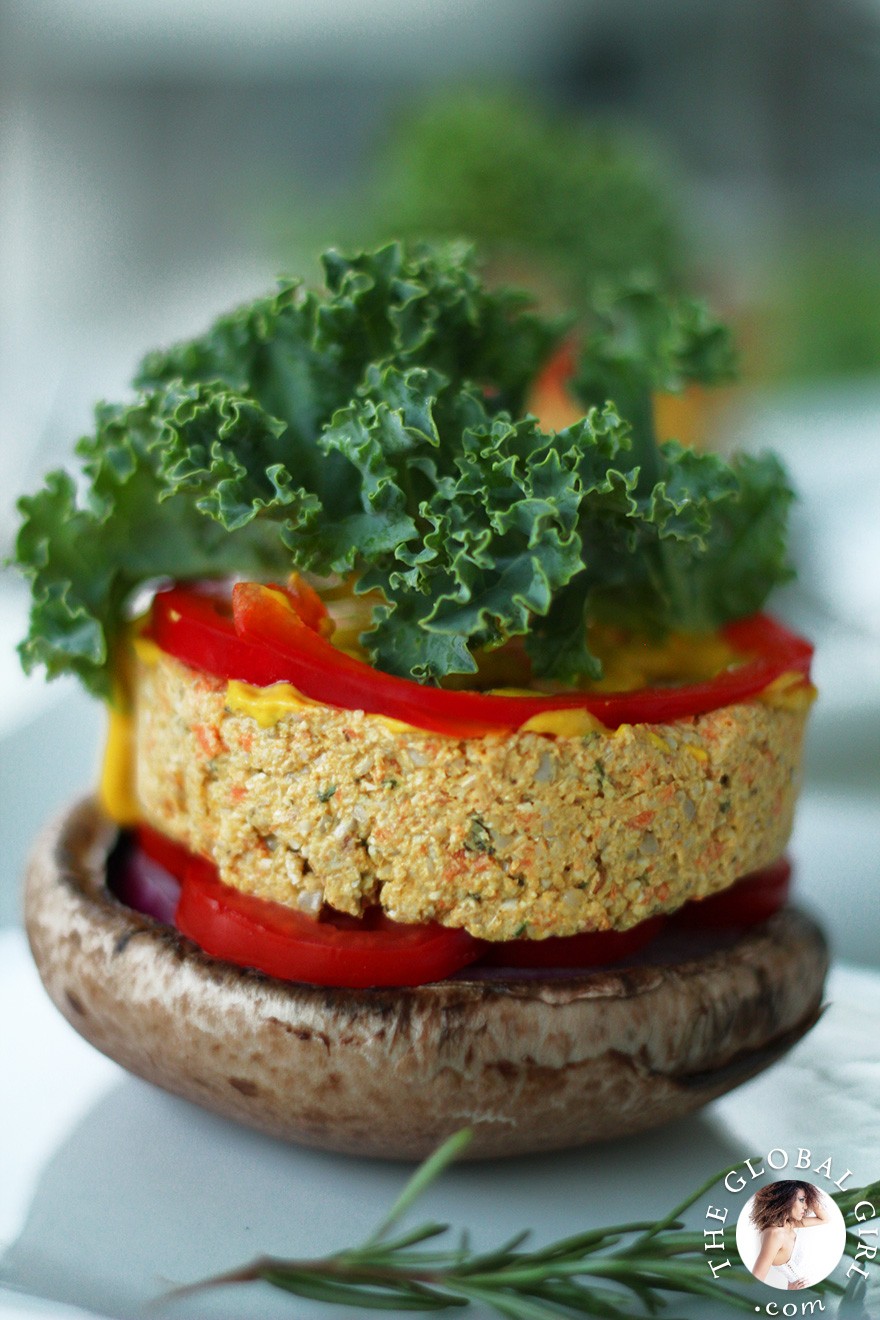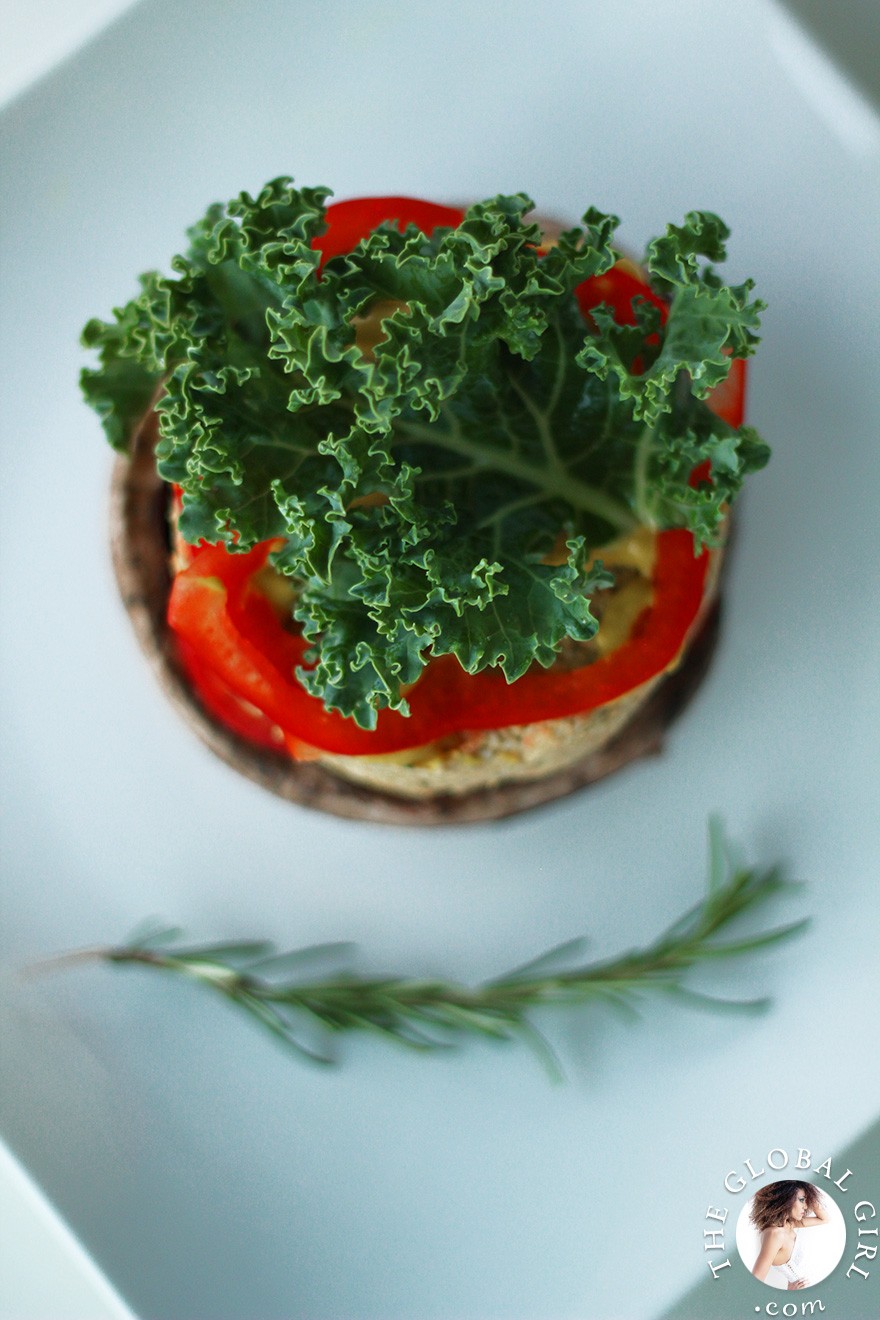 Raw Vegan Portobello Mushroom Burgers
Ingredients
INGREDIENTS

2 cups of raw sunflower seeds (soaked overnight and drained)
1/2 cup of chopped red bell pepper
1/2 cup of chopped carrots
Juice of half a lemon
Pinch of Celtic Salt
1/2 cup of sundried tomatoes (oil free and salt free)
1/2 teaspoon of Italian seasoning
1/4 cup of minced red onion
1 spring of fresh rosemary (optional)
1 garlic clove
2 portobello mushrooms (marinated for thirty minutes in raw coconut aminos or wheat-free soy sauce with crushed garlic and dried thyme and marjoram)
2 roma tomatoes
2 slices of red onion
2 slices of red bell pepper
2 leaves of curly kale or romaine lettuce
Dijon mustard
Instructions
INSTRUCTIONS

First place the Portobello mushrooms in a glass pyrex and add the raw coconut aminos or wheat-free soy sauce, the garlic and the herbs. Let the mushrooms marinate while you make the veggie burger patties.
Place the sunflower seeds, chopped bell pepper, carrots, sundried tomatoes, minced onion, garlic, lemon, salt and herbs in a food processor using the "S" blade. Pulse until you achieve a thick and sticky consistency.
I like to use stainless steel round food molds to shape my veggie burger patties. Refrigerate your veggie burgers until you're ready to serve.
When you're ready for your feast, assemble your mushroom burgers.
Layer your mushroom buns with a slice of red onion, four slices of Roma tomatoes and a slice of red bell pepper. Add your veggie burger patty and finish up with some Dijon mustard and some leafy greens.
Bon Appétit!