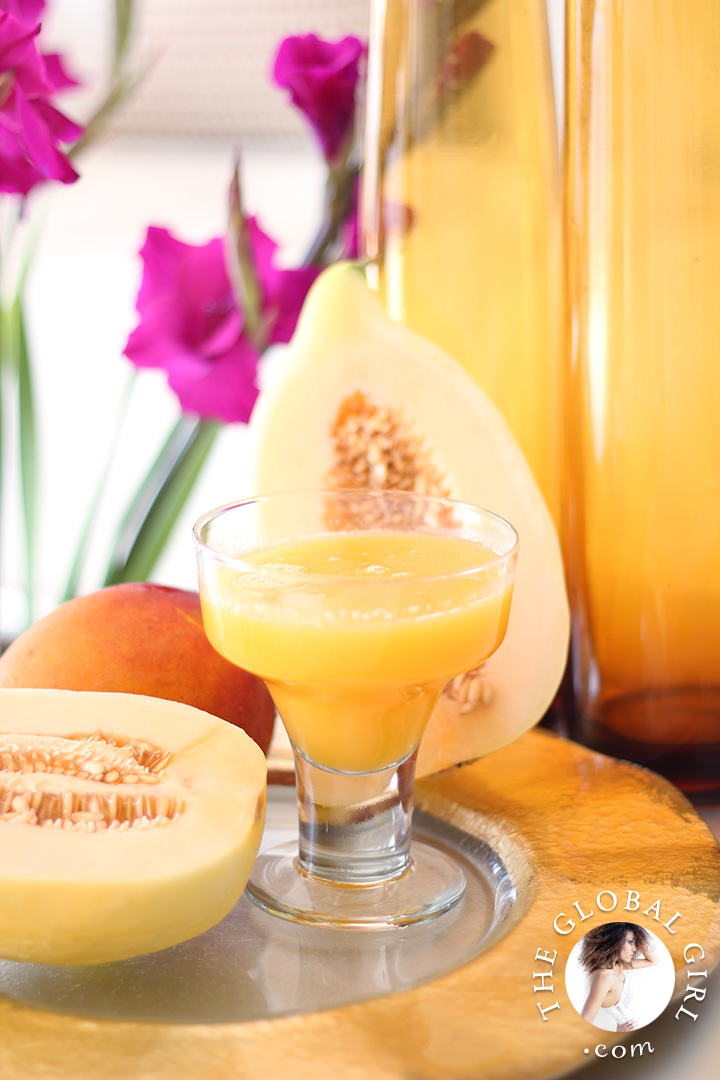 At times I need to take a sec and truly appreciate how glorious the raw, living foods lifestyle is. To be surrounded with nature's exquisite beauty, its enchanting colors, fragrances and flavors is truly a divine way of life. It's hardly the joyless life of deprivation most think it is!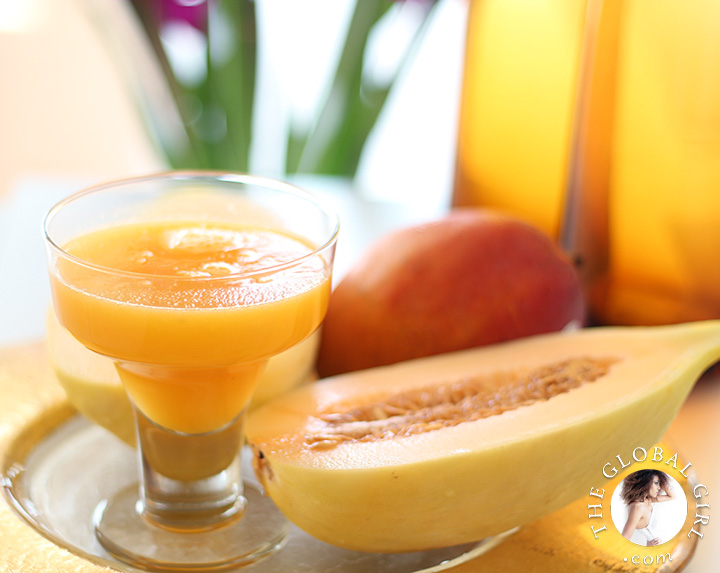 Talking about nature's wondrous gifts, melons are fruits I truly cherish. They've been a staple of every one of my three 92-day juice fasts. I've found them to be truly powerful in the detox department, especially combined with citrus. Not in the same juice, rather as individual mono-fruit juices throughout the day. For me citrus in the morning and melons in the later part of the day works wonders, it puts my body into detox overdrive.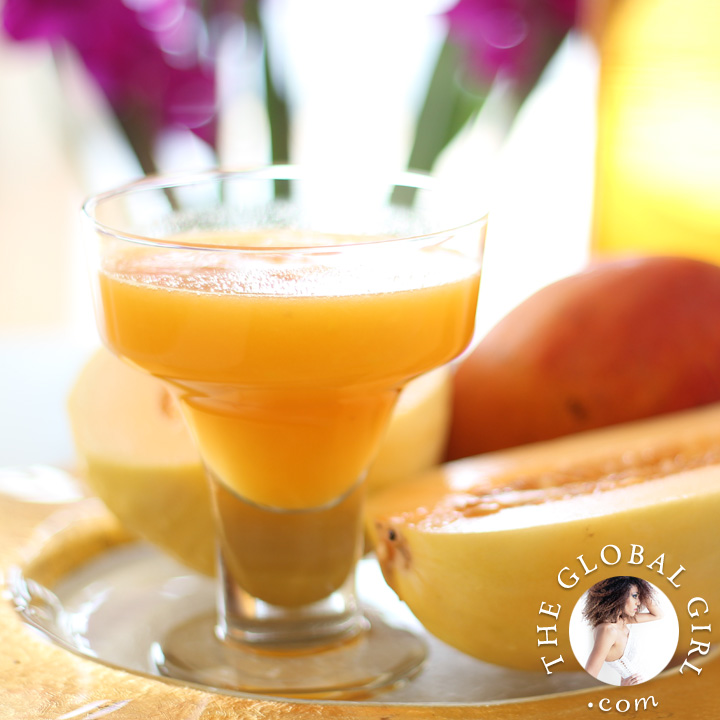 In my experience, single fruit juices are the most powerful as far as detoxification is concerned. Juice combinations of three fruits or more do tend to slow down things a bit for me and the same goes for sophisticated green juice combinations. There's nothing wrong with slowing things down a bit at times, especially when the detox symptoms get a little too intense. And on extended juice fasts, it's especially important to "re-ward" oneself with extra fancy and celebratory concoctions! Enjoyment is one of the key secrets to success in my humble opinion.
Melons owe their detox-power in great part to the fact that they contain powerful antioxidants. Detox boosting fruits (and veggies) are great skin allies because more often than not skin problems are symptomatic of toxic overload. Melons are also abundant in vitamin C which promotes collagen production. And so are mangoes.
Mangoes are also super loaded with Vitamin A as well as flavonoids like beta-carotene, alpha-carotene, and beta-cryptoxanthin that are great for the skin (and the eyes). So they're not only super delicious and incredibly beneficial as well.
Growing up in Africa, I've been a mango (and avocado 😉 lover for as far as I can remember. After long spells on the European continent where this tropical wonder is scarce, I got it enjoy it again while living in India and Panama where it's plentiful (and I treated myself to ecstatic mangoes parties during my recent trip to Mexico!).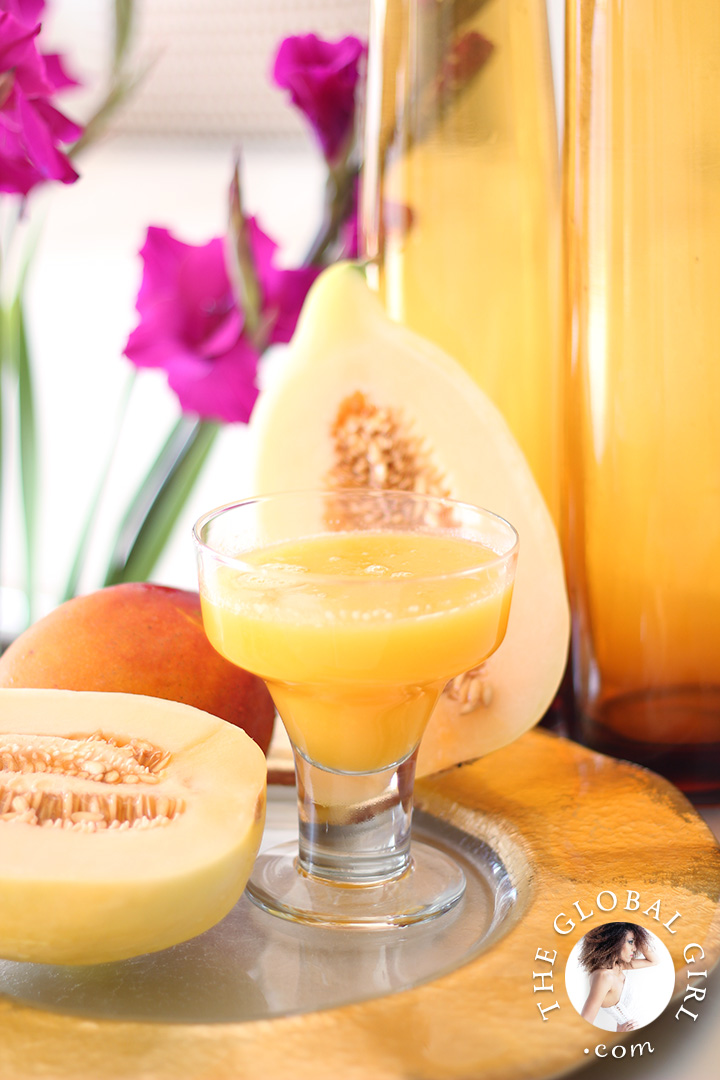 Photography and Recipe by Ndoema
Mango & Crenshaw Melon Juice
Ingredients
INGREDIENTS

2 ripe crenshaw melons
3 ripe mangoes
Instructions
INSTRUCTIONS

Carefully wash and peel the melons before juicing them.
I always peel my melons, even though I only buy organic produce, because melons grow directly on the soil and are prone to bacterial infection (unfortunately our organic standards are not as stringent as they ought to).
If you use a hurom like I do, you don't need to peel the mangoes (given of course you've washed them thoroughly). I've found that it extracts mango juice even better with the peel! It's not only super convenient but also add to the nutritional value of this delish juice. Mango peel is also rich in phytonutrients like carotenoids and polyphenols that are fabulous for the prevention of cardiovascular diseases, cancers and osteoporosis.
Combine both juices, add a couple of ice cubes and enjoy!