Another easy and healthy raw snack.
I love cucumber and I've come up with a myriad of ways to enjoy it from the simplest to the fanciest.
These tasty appetizers are a take on the classic Japanese cucumber maki but without rice and with sesame seed "breading" in lieu of nori sheets.
The richness of the cashew cheese balances out nicely the lightness of the cucumber, and the addition of the calcium-rich black sesame seeds is an unexpected flavor combo that's actually delish.
This treat is 100% raw, vegan, dairy free and gluten free.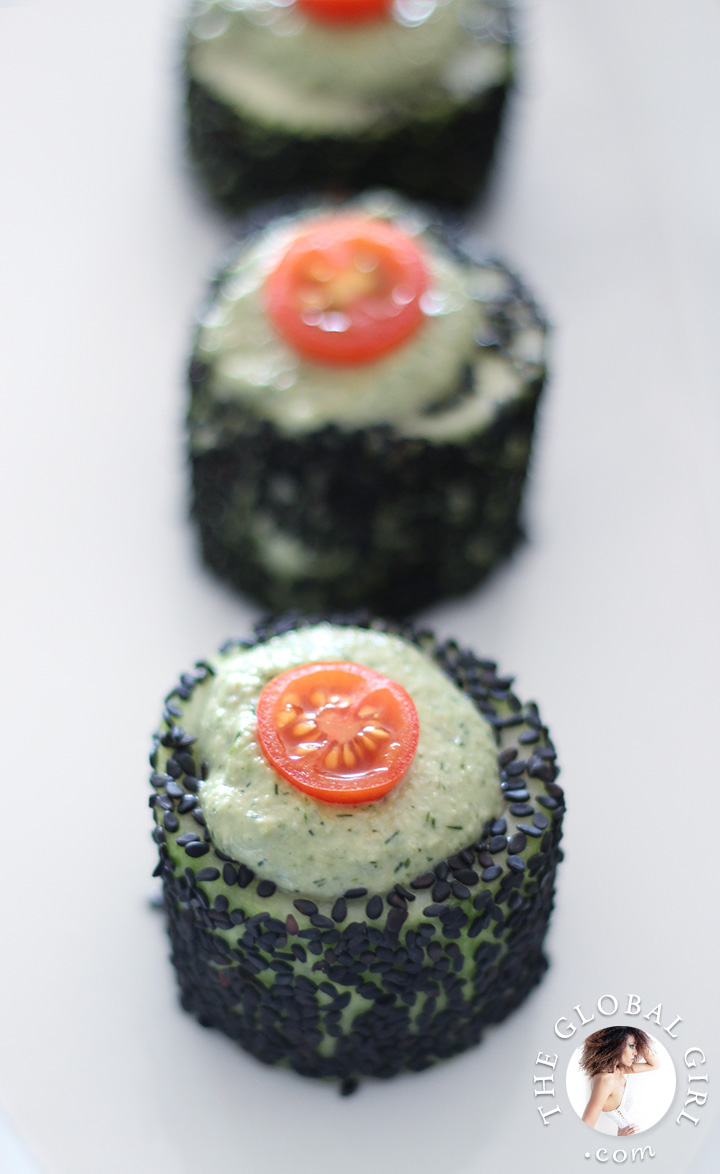 Photography and Recipe by Ndoema
Cucumber Rolls with Herbed Cashew Cheese
Ingredients
INGREDIENTS

2 large cucumbers
1/2 cup of raw unsalted cashews
1/2 cup of raw and unsalted sunflower seeds
1/4 cup of spring water
Juice of half a lemon
1 teaspoon of olive oil
1 garlic clove
Pinch of Celtic salt
1 cup of loosely packed fresh dill
1/2 cup of raw black sesame seeds
Handful of cherry tomatoes
Instructions
INGREDIENTS

Peel and cut the cucumbers into 2 inch wide slices.
Core the cucumbers. I know it's unorthodox but I use a cookie cutter! You can use a knife of course.
Brush the outer part of the cucumber slices with a tiny bit of olive oil and roll in the black sesame seeds.
Place the sunflower seeds, cashew, lemon, garlic, salt, dill and water in the Vitamix and blend until you achieve a creamy consistency.
Fill the cucumber rolls with the raw cashew cheese and garnish with a slice of cherry tomato.
Refrigerate until ready to serve.
Enjoy!