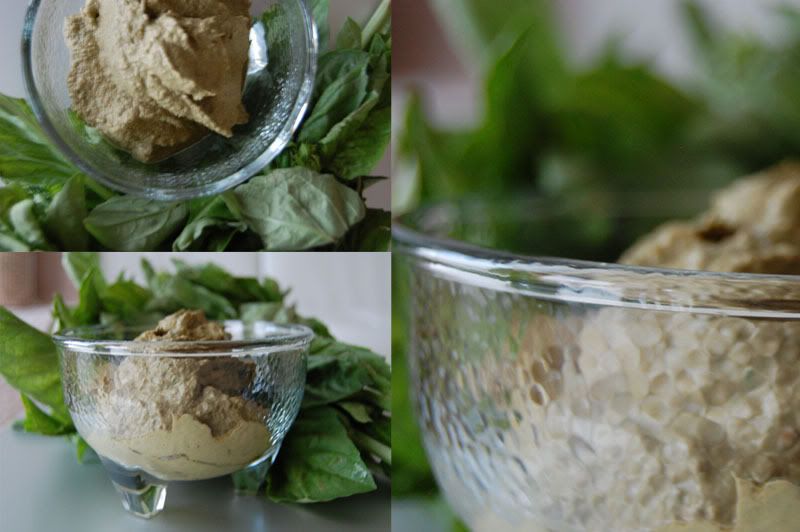 Photography and Recipe by Ndoema
This mouth-watering pesto is also a liver-friendly and hair-boosting food. I'd much rather savor this than swallow supplement pills, wouldn't you?
It's essentially made of raw walnuts and basil. Walnuts are super rich in zinc, copper and vitamin B9 (folate) which makes them fantastic hair food. Plus they're liver-friendly and we know a healthy liver is crucial for an all around gorgeous bod. I like to keep ready-made servings of this tasty spread in my fridge at all times (except when I'm on a juice fast or I wouldn't last a day!). It's not as dense as your typical nut cheese because of all the added goodies: the leafy basil and juicy tomato and bell pepper. They give it a smoother, more spreadable texture without the need to add any oil.
This raw walnut and basil pesto is also the best pizza topping ever! It's absolutely scrumptious on my all-time fave gluten-free pizza crust (get the recipe here). I typically serve it with a raw – and dairy-free – sunflower ricotta (super delish too!) but I like having options and double good reasons to eat raw pizza!
Love Italian comfort food as much as I do? Bite into my most popular (and super healthy) raw Italian creations. I share them in my new eBook, A Week's Worth of Raw Italian!
A Week's Worth Of RAW ITALIAN
Enjoy a week's worth of

Raw Italian for less than $1 a day

! Who doesn't love Italian comfort food! Pizza, lasagna, ravioli, cannelloni, spaghetti. So tasty! But not exactly screaming healthy, right? Wrong. Gluten-free, daiy-free, pasta-free but oh so yummy! Ndoema's re-mastered Italian classics are insanely delish and a healthy foodie's dream. Enjoy with no moderation ;)
Recipes included in this eBook
Sunflower Ricotta Pizza On Gluten-Free Seed Crust
Antioxidant-Rich Ravioli with No-Oil Basil Filling
Gluten-free Cannelloni with Cauliflower Béchamel
Skin Boosting Lasagna with Hearty Pumpkin Seed Pesto
Super Slimming Zucchini Carpaccio
No-Wheat Spaghetti with No-Meat Balls & Salsa Marinara
Crunch n' Glow Stuffed Bell Peppers with Sunflower "Rice"
Hungry for more delicious raw recipes? Enjoy A Week's Worth of Raw Italian!