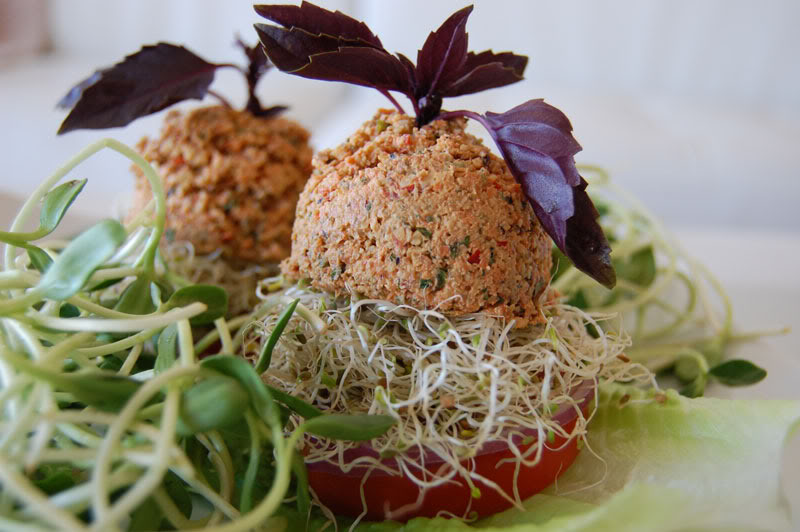 Photography and Recipe by Ndoema
---
Burger time!
You may have noticed my culinary adventures have been on a hiatus. I've been slightly distracted by Fashion Week. But I'm back with a vengeance and an appetite to match!
Funny but my acquired taste for burgers coincided with my transition to a raw vegan diet.
I know it may sound rather unorthodox but growing up between Africa and Europe (not exactly burger cultures) might have something to do with that…
Juicy Raw Vegan Burger
Ingredients
INGREDIENTS

4 large ripe tomatoes
1/2 red onion (thinly sliced)
1 cup of clover sprouts
2 cups of sunflower sprouts
1/2 bell pepper (thinly sliced)
1 avocado sliced

Walnut Burger Patty

2 cups of raw unsalted walnuts
1 cup of shredded carrots (or half a medium size carrot)
1 garlic clove
1 bunch of basil
1 small red bell pepper
1 pinch of celtic salt
Instructions
INSTRUCTIONS

Put all the burger patty ingredients in a food processor and pulse until the consistency is slightly sticky.
Raw walnuts are the perfect base for the patty. They have the ideal consistency and can be easily formed by hand or with an ice cream scoop.
Slice your tomatoes in half and start piling up the goodies! Add a tablespoon of spicy cashew sauce (The sauce is the same I'm using in my no-rice raw vegan sushi recipe).
Then add a slice of red onion, avocado, the burger patty and finish up with a generous serving of sprouts.
I like to eat my burger open faced with a lettuce leaf or for a sloppier effect sandwiched between two tomato halves.
Bon Appétit!