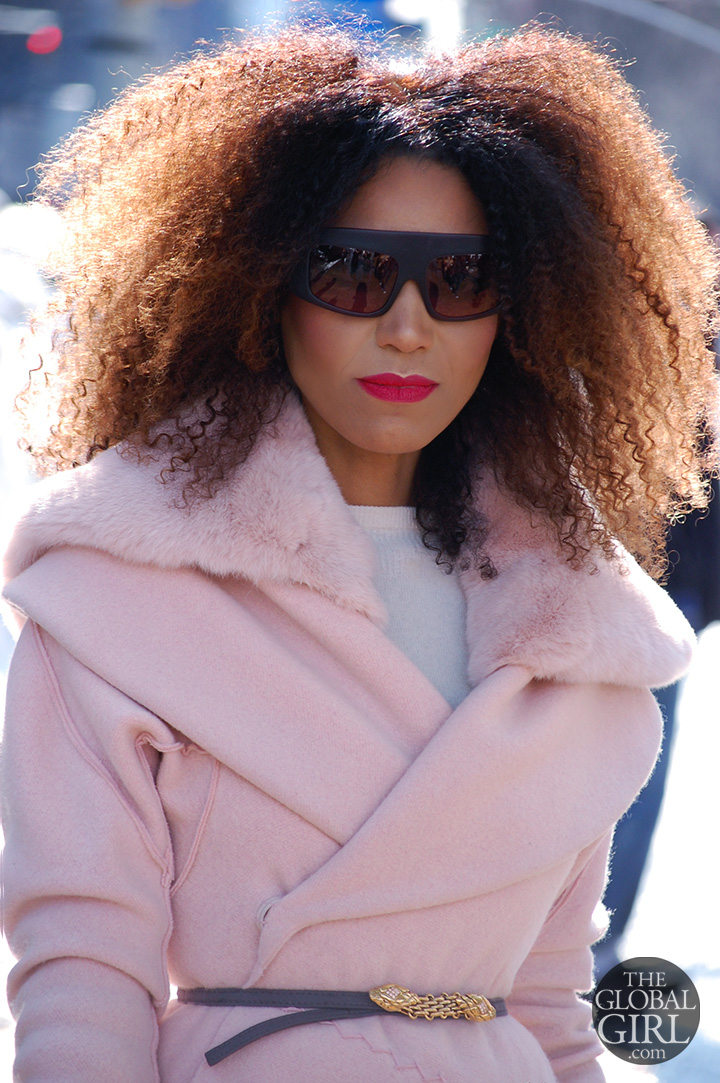 I don't do pink very often (let alone the all pink look). In fact, correct me if I'm wrong, but I've only rocked pink once on theglobalgirl.com (in a summer Versace mini dress). This has a very different feel but both pink-scapades share one thing in common… These oversized Phillip Lim sunnies!
Ok, so back to pink… Yeah, the Disney princess thing is so totally not me … So I tend to shun the color entirely (unfairly I concede) but when I saw this gorge deconstructed power suit at the Son Jung Wan Fall 2013 runway show, I thought to myself "this is really killer"! And that was reason enough to make me break my own rules.
As you can tell, it was cold as hell in NYC and I used every styling trick in the book to build up my body heat in the most camera-friendly way possible, which is de rigueur during Fashion Week. I was actually snapped by the legendary Bill Cunningham on my way to the Angel Sanchez show that morning! The man is kindness personified. Every time I run into him, it makes my day! I digress again… Well, turns out suede thigh-high boots are the best leg-warming weapon, so I dug out of my suitcase this fabulous Nicholas Kirkwood specimen. I've sported them before (proof here and here), and I promise you I will again. I adore these boots. I had to walk several blocks from the tents to The Hudson hotel for the Alon Livne presentation that morning and these babies kept me warm and safe as I trekked up and down "iced out" Columbus Avenue.
As the final touch to this pink and lavender themed look, I chose this color-coordinated hologram clutch. Isn't it rad? I picked it at Gotham Decay, a new eco-friendly accessory line from nyc-based designer Ted Rossi. Funny thing is Ted shipped it to the studio in LA (along with a few other personal faves) and I ended up taking it right out of the box and packing it up again in my suitcase back to The Big Apple… and back to LA. This "rockstar" envelope clutch (that's what it's called. I swear) is already racking up some frequent-flyer mileage. Global Girl syndrome 😉
Pink deconstructed fur trimmed suit from Son Jung Wan Fall 2013 runway collection. Inquiries at sonjungwan.com. | Lavender thigh high suede boots by Nicholas Kirkwood | Eco-friendly hologram rockstar clutch by Gotham Decay | Vintage crystal-embellished double snake head belt | Oversized purple sunglasses by Phillip Lim