We already kicked off the Holiday season with a fantastic lineup of decadently healthy, raw vegan recipes for Thanksgiving. Today I'm thrilled to offer you a very special (and health-friendly of course) Christmas gift. I've asked 5 of my own favorite international raw vegan foodies to share some delectable and festive raw vegan holiday dessert recipes.
So here, from Nadia Petrova of Nature Insider, Emily von Euw of This Rawsome Vegan Life, Lisa Viger of Raw On $10 A Day, Barbara Shevkun of Rawfully Tempting and Eva Rawpoosa of Uncooking 101 are some wonderful treats to share with your family and friends this Christmas Eve and Day.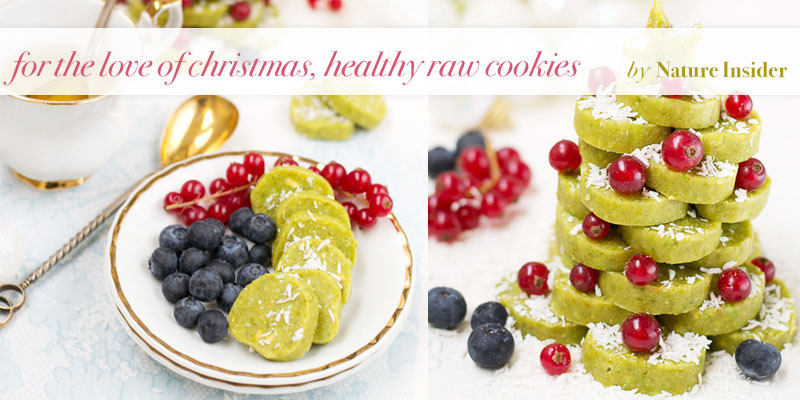 MORE DELICIOUS RAW VEGAN RECIPES: NATURE INSIDER
I decided to make some little cookie Christmas trees! They are incredibly delicious, they melt in your mouth and they are healthy too, how about that? 🙂
RAW CHRISTMAS COOKIES
1 1/4 cup raw pistachios
2 tablespoon coconut flakes
1/3 cup melted coconut oil
1/3 cup honey or agave
1/4 teaspoon salt
INSTRUCTIONS:
1. Clean the pistachios from their outer shell and blend them into flour.
2. Mix everything in a big bowl using a spatula.
3. Roll into a salami form using some plastic foil and put in the fridge for 24 hours.
4. Using a sharp knife cut into small cookies. If you have some small cookie cutters you can also shape them differently.
5. Serve garnished with coconut flakes and fresh fruits.
BON APPÉTIT!
[divider top="1″]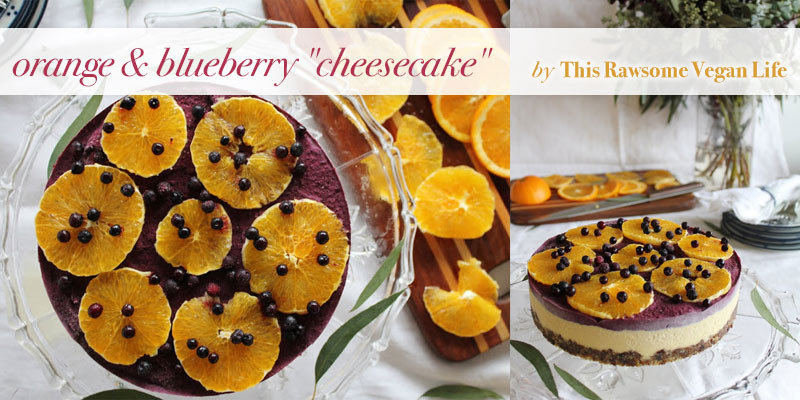 MORE DELICIOUS RAW VEGAN RECIPES: THIS RAWSOME VEGAN LIFE
This season surround yourself with positive energy, creatures of the earth whom you love (and who love you), and many plants. Find enlightenment in the small and beautiful moments, and finally peace in knowing you are a finite participant in this infinite galaxy.
Crust:
2 cups raw nuts
1 cup dates or raisins
pinch of salt
Orange cheesecake:
3 cups cashews
3/4 cup fresh orange juice
1/2 cup agave/maple syrup/raw honey
1/2 cup melted coconut oil
juice of one lemon
zest of all the oranges you juiced
pinch of salt
Blueberry layer:
2 cups organic blueberries (I used frozen)
1/4 cup of the orange cheesecake mixture
To make the crust: process the nuts and dates/raisins in your food processor until the nuts have become crumbs and the mixture sticks together when you press it. Press into the bottom of a springform pan and put in the fridge.
To make the orange cheesecake: blend all ingredients (except orange zest) in your high speed blender until very smooth, then add in the orange zest with a spoon. Reserve 1/4 cup of this mixture for the blueberry topping – pour the rest onto your crust and put in the freezer.
To make the blueberry layer: blend the blueberries and the 1/4 cup of cheesecake mixture in your food processor or blender until creamy but still with small pieces of blueberry for texture. spread this over your cheesecake and keep in the freezer or fridge overnight. if you can wait a day – this is best after 2 days (and not frozen, of course) enjoy with sliced oranges and blueberries!
[divider top="1″]
MORE DELICIOUS RAW VEGAN RECIPES: UNCOOKING 101
I'm constantly recommending and sharing this little treat. It is so easy. I don't know how it is possible that something so easy would come out tasting so very decadent. I really hope you will try this one!
INGREDIENTS:
4 cups walnuts
3 cups raisins
2 7-8″ vanilla beans
3/8 t sea salt
1/2 T cinnamon
INSTRUCTIONS:
1. Chop 1 cup walnuts in a food processor until well chopped but definitely not powdery! You want to keep some texture to them. Set aside in a bowl, then mix in the cinnamon.
2. Put the remainder of the walnuts and other ingredients into the food processor. Keep processing until it starts to form a wonderfully oily glob of a ball.
3. Hand roll this mixture into separate balls, about 20-25 of them. Roll the balls around in the chopped walnut mixture.
Share! And make sure when people are mmm-ing and hmmm-ing that you inform them this is actually a health food. (Yes!)
MORE DELICIOUS RAW VEGAN RECIPES: RAW ON $10 A DAY (OR LESS!)
Be open to creating new expectations and new traditions. We all grew up with certain Christmas traditions, whether it was the ham and turkey, or candy, chocolate, and cookies. But just because we grew up with those traditions, doesn't mean we can't change them. We can experience just as much joy and gratitude (or more) with a fresh and raw plant based dinner and treats. And if we do those things year after year, our healthier habits become our new traditions.
Crust:
1 cup walnuts ($3.00)
1 cup raisins ($1.00)
Filling
5 apples ($3.00)
1/2 cup raisins ($.50)
4 tablespoons agave ($.40)
4 tablespoons lemon juice ($.40)
1 teaspoon cinnamon
1/2 teaspoon pumpkin pie spice ($.10)
Caramel
4 tablespoons almond butter ($.80)
2 tablespoons agave ($.40)
2 tablespoons olive oil ($.20)
4 tablespoons water
Instructions:
1. Peel and slice the apples into pieces about 1/8 in thick.
2. In a lidded container (I used a zip lock box), toss the apples and 1/2 cup raisins with the agave, lemon juice, cinnamon, and pumpkin pie spice until well coated.
3. Spread out on a lined dehydrator sheet and dry for about 2 hours, stirring once or twice. This isn't meant to dry the apples, but to soften them and let the flavor intensify.
4. In a food processor fitted with the "S" blade, process the walnuts and one cup raisins until the mix starts to stick together. This takes a couple minutes.
5. Press the mix into the bottom and 2 inches up the sides of an 8 inch spring form pan. Put in the freezer for a half hour to firm.
6. In a bullet type blender, puree the almond butter, agave, olive oil, and water until very smooth.
7. Spoon the apple mixture from the dehydrator into the chilled pie crust and pour the caramel evenly on top.
8. Chill for at least 2 hours before serving.
For extra creamy goodness, serve with a scoop of vanilla banana ice cream.
[divider top="1″]
MORE DELICIOUS RAW VEGAN RECIPES: RAWFULLY TEMPTING
Who says we have to eat junk on the holiday? Spend time with your loved ones and warm up with these deep chocolate/spicy delights.
Ingredients:
3 Tablespoons cacao paste, chopped*
1/4 cup cacao butter, grated
1 teaspoon coconut oil
1 cup sunflower seeds
1 cup almonds (soaked overnight)
2 Tablespoons hemp seeds
2 Tablespoons ground flax seed
1/4 cup chia seeds
1 apple, peeled & roughly chopped
1 teaspoon lemon juice
1/8 teaspoon sea salt
1 cup Medjool dates, chopped
6 Tablespoons cacao powder
6 Tablespoons almond flour or pulp
6 Tablespoons maple syrup (or honey)
1 teaspoon almond extract
1/2 teaspoon mesquite powder (opt)
1/8 teaspoon cayenne powder
1/4 teaspoon cinnamon (to taste)
6 Tablespoons dried coconut
1/4 cups walnuts, soaked overnight
1/4 cup raisins
1/2 cup buckwheat, sprouted and dehydrated
Garnish
3 Tablespoons dried, unsweetened coconut, powdered
3 Tablespoons cacao powder
1 teaspoon cinnamon
Directions
1. Melt cacao paste, cacao butter and coconut oil in dehydrator or double-boiler and set aside.
2. In food processor, mix sunflower seeds, almonds, hemp, flax, chia, apple, lemon juice, salt, dates and cacao powder until well combined.
3. Add almond flour and sweetener, then add melted ingredients, extracts, mesquite, cayenne, cinnamon, and mix well.
4. Add coconut, walnuts, raisins, and buckwheat. Pulse chop, and do not pulverize.
5. Transfer to bowl and knead ingredients by hand. Taste and adjust sweetness or spiciness as desired.
6. Roll into 1″ balls or squares by hand or with molds.
Assembly
1. Roll in any of the following: dried coconut, (powdered in a coffee or nut grinder), chopped nuts, cacao powder and/or cinnamon.
2. Place on mesh dehydrator tray and dehydrate at 110 degrees F for 8 to 10 hours.
Options
When forming balls, press a single sliver of chopped dates in center.
When forming balls, press a bit of almond or nut butter into center.
Store in airtight container or freeze to extend shelf life.
Note: Instead of cacao paste, use ground cacao nibs.
[divider top="0″]
Enjoy and wishing all of you across the globe a Happy & Healthy Christmas Holiday!
Ndoema ♥♥♥