Sure 4th of July isn't the Met Gala red carpet or anything like that. It's definitely a more laid back thing. And of course it's got to be the time of year to proudly boast your patriotic pride. Though head-to-toe stars and stripes is de rigueur, I don't know about you but for me wrapping myself up in a flag isn't an option (oh yes, it's been done).
Because this patriotic holiday calls for a more laissez-faire approach to style doesn't mean you should throw your chic to the wind.
Here are my tips and styling ideas to glam up your stars and stripes garb.
[divider top="0″]
Edge it up
Edge up your classic stars and stripes tee with a sexy pair of body-hugging leather skinny jeans in black, red or blue. You can subtly accent your patriotic-themed look with star-detail accessories like this gorge star-bib necklace and worship-worthy Giuseppe Zanotti cage bootie-sandals.
Photo: Balmain Spring 2011 courtesy of Vogue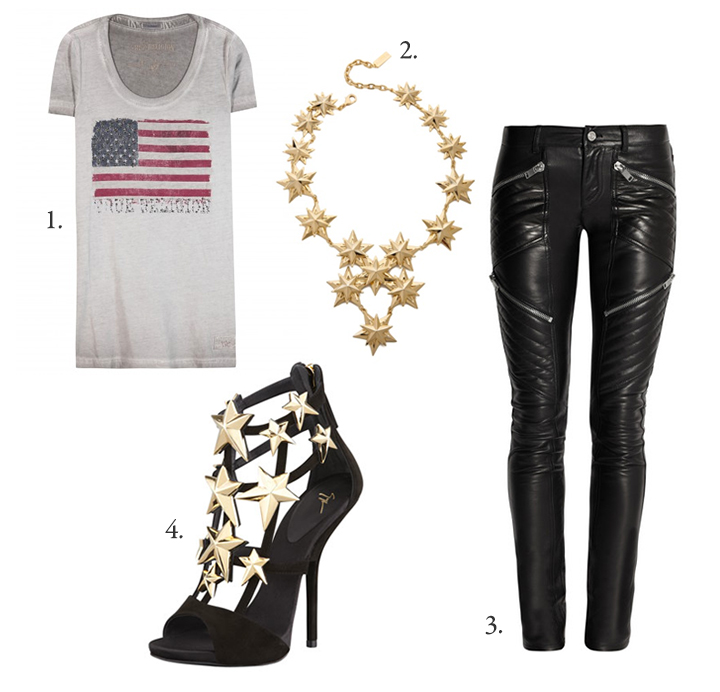 1. True Religion Embellished print T-shirt, $78 (on sale now!).
2. Auden star bib necklace, $678.
3. Saint Laurent leather skinny pants, $2,334 (on sale now!).
4.  Giuseppe Zanotti star-detail suede cage bootie-sandal, $1253.25 (on sale now!).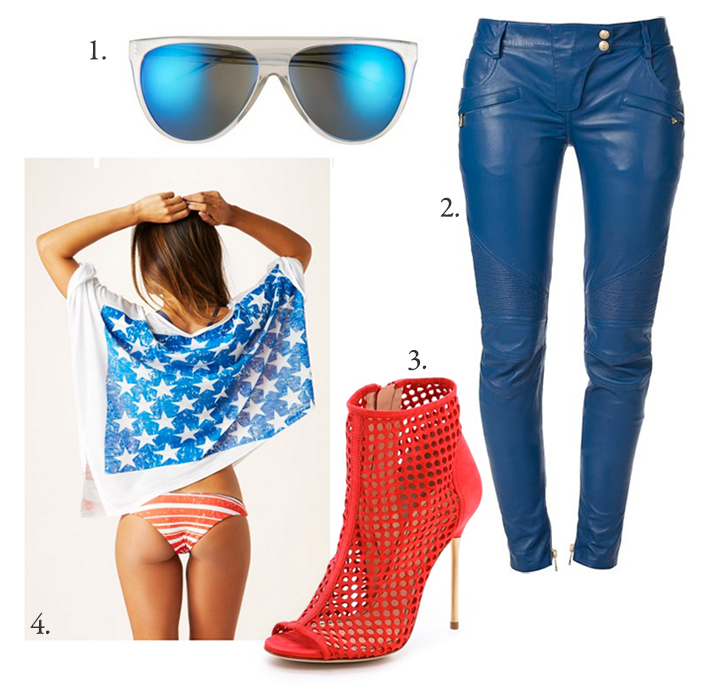 1. 3.1 Phillip Lim sunglasses in vapour/blue mirror, $280.
2. Balmain leather skinny trousers, $2,466.53 (on sale now!).
3. Jerome C. Rousseau addic perforated booties, $358.00 (on sale now!).
4. Blue Life flag phoenix tee, $92.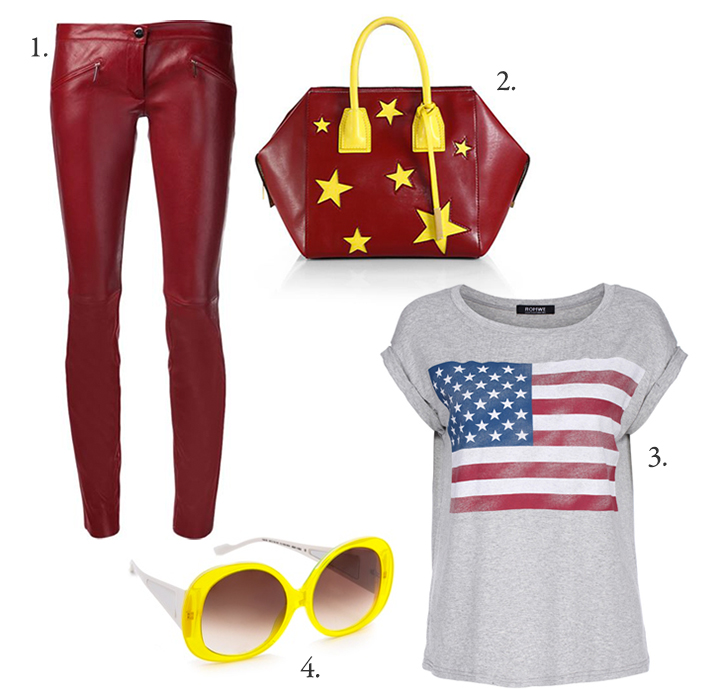 1. Barbara Bui leather trouser, $813.00 (on sale now!).
2. Stella McCartney star cavendish faux-leather Boston bag, $1595.00.
3. ROMWE American Flag print rolled grey T-shirt, $20.99.
4. Courreges glam oversized sunglasses, $455.
Go Bold and Graphic
Take a bold and graphic approach to the stars and stripes theme and give your look a punch with statement-making accessories like these out-of-this-world cat eye sunnies and hypnotic Desmo red stripe oversized clutch.
Photo: Moschino Spring 2011, courtesy of Vogue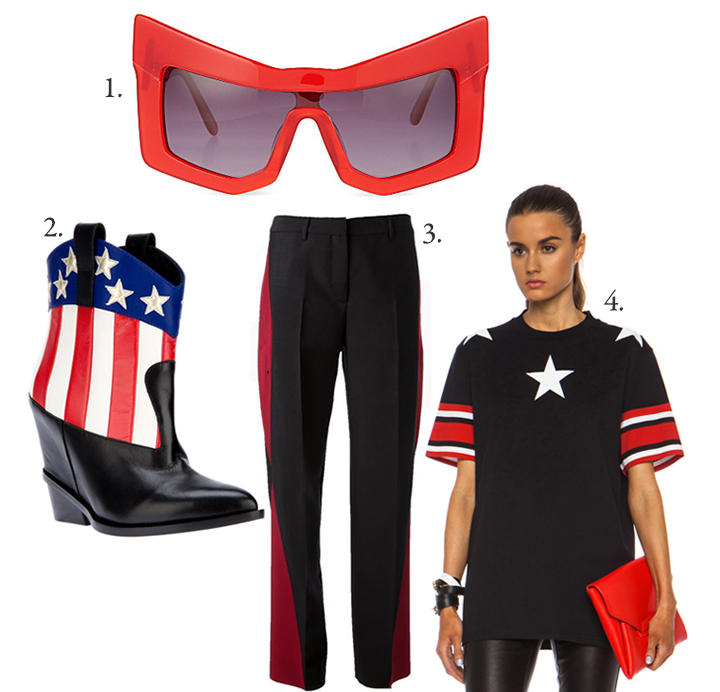 1. KTZ chunky cat-eye sunglasses, $305.83.
2. Giuseppe Zanotti stars & strips boot, $786.97 (on sale now!).
3. Maison Martin Margiela contrast stripe trouser, $826 (on sale now!).
4. Givenchy stars and stripes cotton tee in black, $690.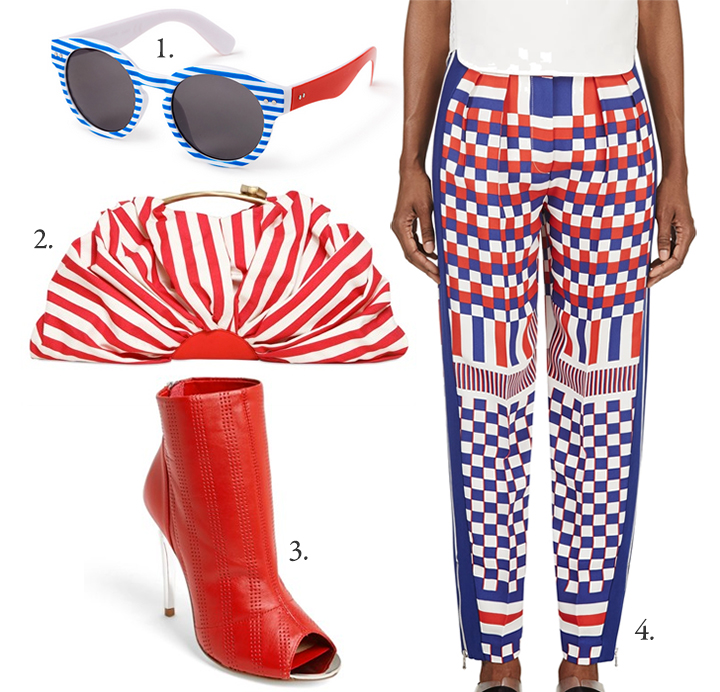 1. Forever 21 striped round sunglasses, $3.48 (on sale now!).
2. Desmo riviera cotton canvas oversized clutch, $438 (on sale now!).
3. Kristin Cavallari 'Leila' Bootie, $159.95.
4. Alexander McQueen blue check & stripe print trousers, $716 (on sale now!).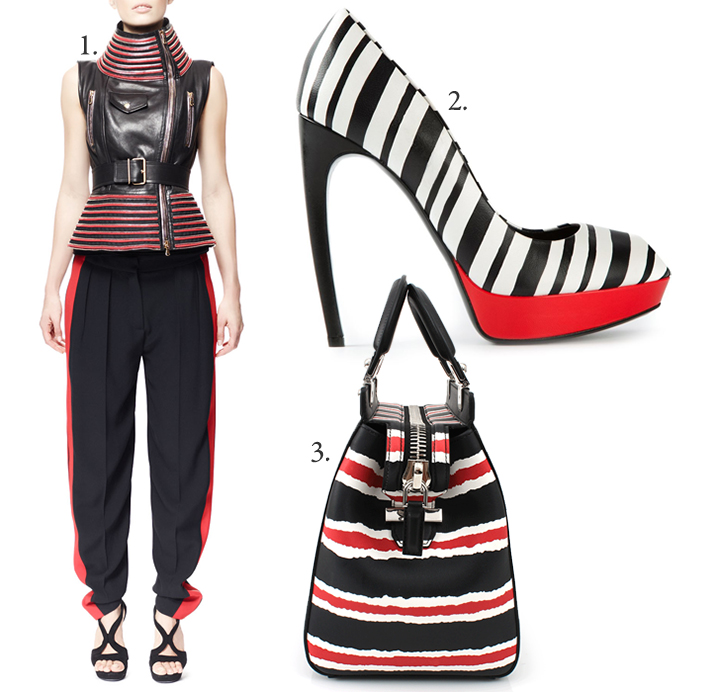 1. Alexander McQueen zip-trim motorcycle vest & side-stripe leaf crepe pant, $3,278 (on sale now!).
2. Alexander McQueen striped platform pumps, $481.39 (on sale now!).
3. Givenchy small top handle striped bag, $2,850.
Et voilà! Here you have it. Fabulous catwalk-chic ways to look fly in patriotic garb.
Shine on!