Carrots are an unsung beauty hero. The benefits of beta-carotene alone (that gorge red-orange pigment is a powerful antioxidant and a natural source of Vitamin A) make this veggie a fabulous health and beauty ally. In fact Norman Walker, my personal health and wellness hero, not only extolls the virtues of carrot juice and its healing properties in his book "Fresh Vegetable and Fruit Juices" but also points out the similarity between the carrot and human blood molecules. Pretty mind blowing!
Oddly enough, though I'm a juicing devotee, I'm not the kind who can guzzle a ton of pure raw carrot juice. But I make up for it by incorporating lots of carrots in my daily "diet". I'm a self-confessed shredded carrot fiend (I have to add a generous serving of shredded carrots to pretty much all my salads) but I also enjoy this sweet and tasty root in hearty raw vegan entrées like these super delish carrot and dill burgers.
As you know I'm big on greens so one of my fave ways to devour these nourishing and satisfying burgers is wrapped up in a huge collard green leaf with generous servings of veggies on the side. Today I'm going for some shredded carrots (de rigueur 😉 accompanied with some red cabbage, romaine lettuce, red onion and my latest purple sauce/dip obsession (recipe coming next!).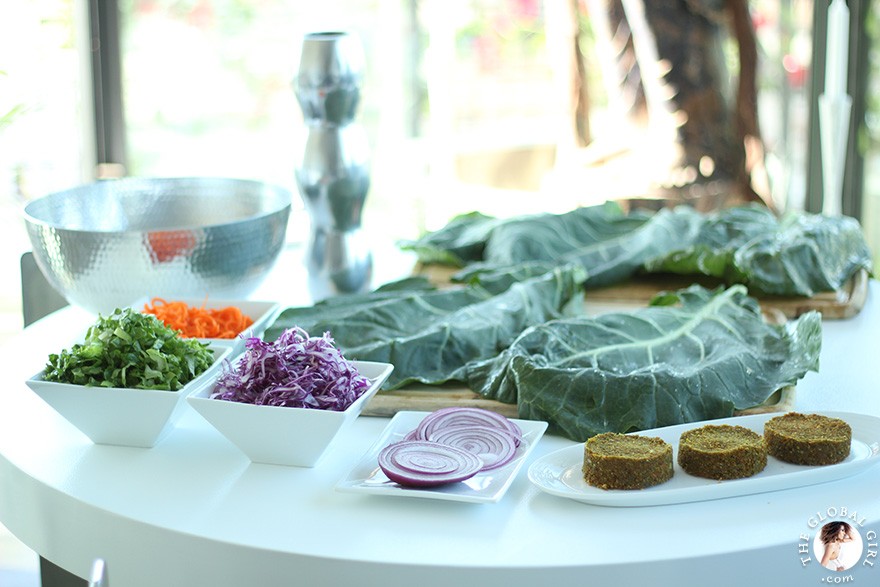 Raw Vegan Carrot & Dill Burgers
Prep Time
8 hours, 30 minutes
Total Time
8 hours, 30 minutes
Ingredients
INGREDIENTS

BURGERS
3 large carrots
2 cups of garbanzo beans (soaked overnight and drained)
1/2 cup of raw unsalted sunflower seeds (soaked overnight and drained)
Pinch of Celtic Salt (to taste)
1 teaspoon of curry
1 garlic clove
1 cup of tightly packed fresh dill
VEGGIE SIDES
4 large collard green leaves
1/2 head of medium size red cabbage
1/2 head of romaine lettuce
4 large carrots
1/2 red onion
Instructions
INSTRUCTIONS

Put all the burger ingredients in a food processor using the "s" blade and pulse until fine and sticky.
Shape the burgers using a three or four inch diameter stainless steel round cookie cutter.
Dehydrate for about 8 hours. If you don't have a dehydrator, you can eat the burgers as they are but they will be rather crumbly.
When your burgers are crispy, time to prep the side veggies.
Shred the red cabbage and slice the red onion (I love to use my mandoline slicer for that).
Shred or spiralize the carrots (they look extra pretty with a spiralizer 😉
Chop the romaine into super thin strips.
And serve on a large collard green leaf.
Enjoy!