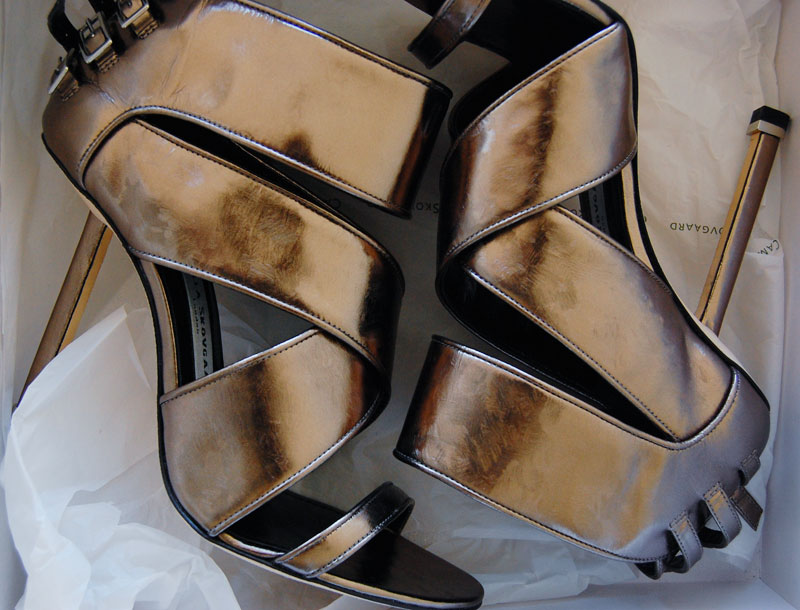 What's there not to love about these fabulous Camilla Skovgaard high heels! The amazing architectural construction. The brushed metal effect, the multi-buckle closure, the receded heel. Love, love, love! See how I wear them here.
J'aime chaque détail de ces talons hauts magnifiques Skovgaard Camilla! La construction architecturale. L'effet métal brossé, la fermeture multi-boucle, le talon reculé. J'aime, j'aime, j'aime! Voyez comment je les porte ici.
Me encanta cada detalle de estas sandalias hermosa de Camilla Skovgaard! Construcción arquitectónica. El efecto de metal pulido, el cierre de varios de bucle, el talón hacia abajo. Amo, amo, amo! Mira cómo me las pongo aquí.
Eu amo cada detalhe dessas lindas sandálias Camilla Skovgaard! Construção arquitetônica. O efeito de metal polido, o encerramento do loop de vários, o calcanhar para baixo. Amor, amor, amor! Olha como eu estou aqui.
Я люблю каждую деталь этих прекрасных сандалиях Camilla Skovgaard! Архитектурные конструкции. Эффект полированного металла, закрытие нескольких цикла, пятки вниз. Любовь, любовь, любовь! Посмотрите, как я здесь.
私はこれらの美しいサンダル Camilla Skovgaard の細部が大好き!建築建設。磨かれた金属の影響を、いくつかのループの閉鎖、ダウンヒール。愛、愛、愛!私がここにどのように見える。
我喜欢这些美丽的凉鞋 Camilla Skovgaard 的每一个细节!建筑施工。抛光金属效果,封闭的几个循环,脚跟向下。爱,爱,爱!看我在这里。