As I've shared, I've held a fascination for beautiful Upper Egypt for as far as I can remember. As a little girl, I remember avidly watching multi-part specials on French television documenting the historic relocation of the Abu Simbel and Philae temples, dreaming that I would one day embark on my own voyage deep into magical Nubia and explore its many sacred sites and archeological treasures. And so I did!
After landing in Aswan, settling in at the iconic Legend Old Cataract Hotel and strolling through mesmerizing Sharia el Souk, I set out to discover Abu Simbel. I decided to travel by car in hopes of taking in the scenery along the 186-mile road between Aswan and Abu Simbel. I excitedly woke up at the crack of dawn and embarked on a 3.5 hour road trip to the border with Sudan. This drive had to be done by convoy. The journey was smooth and comfy (unbeknownst to me the windows were blacked out so I couldn't catch sight of the landscape), so I gratefully took the opportunity to catch up on some sleep and get charged up for my upcoming adventure.
As I stepped foot in the little town of Abu Simbel, excitement was in the air. For most everyone Abu Simbel is a short 2-hour visit, but I'd chosen to spend the entire day at this amazing site and had booked the hotel closest to the archeological complex so I could sleep in the energy of the temples. After dropping my bags in my hotel room, I took a short and picturesque walk along Lake Nasser and headed straight for the famed massive rock temples, expecting to be blown away… And I was.
Abu Simbel with its magnificence and power left me totally awed, speechless and grateful beyond words. A magical childhood dream come true…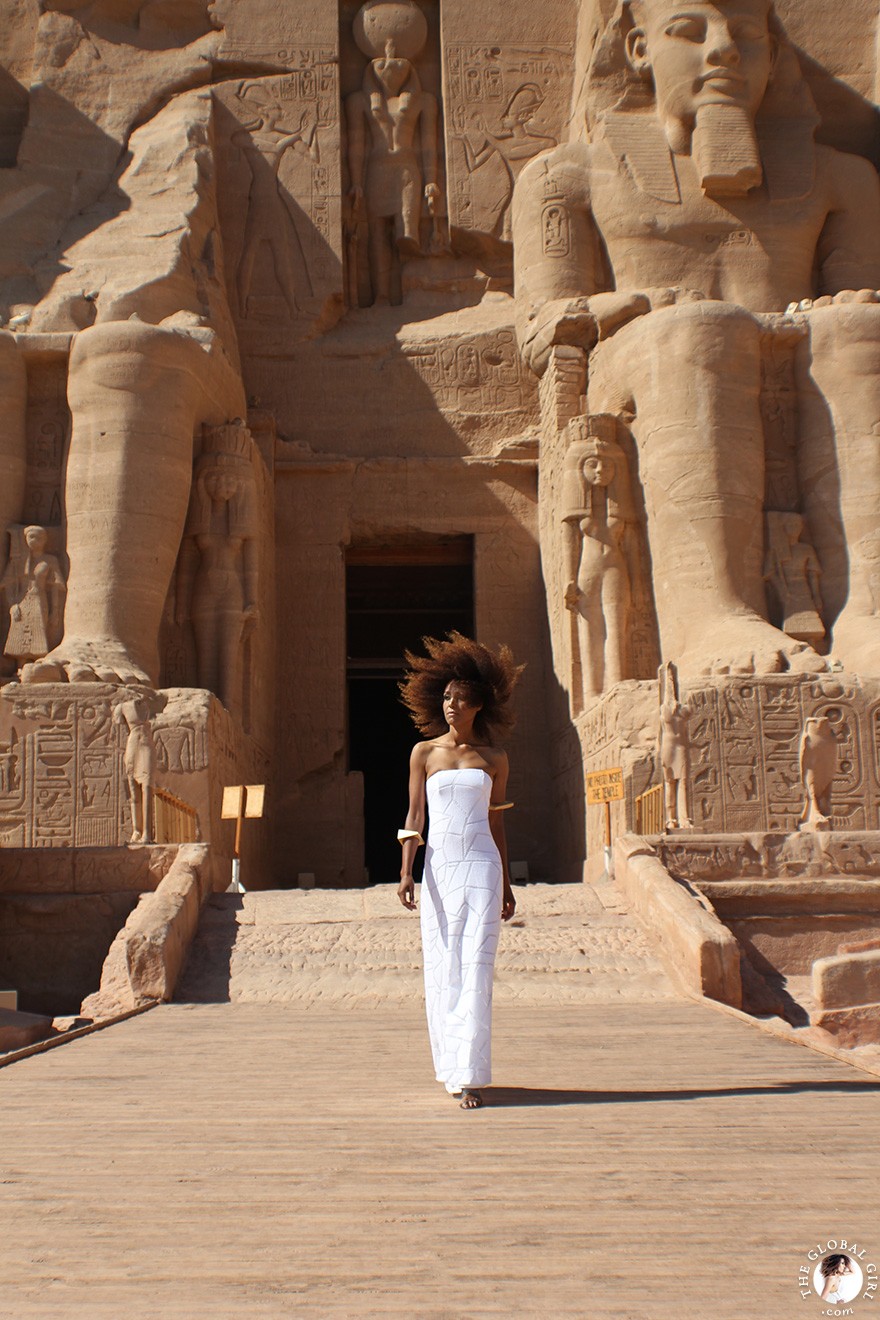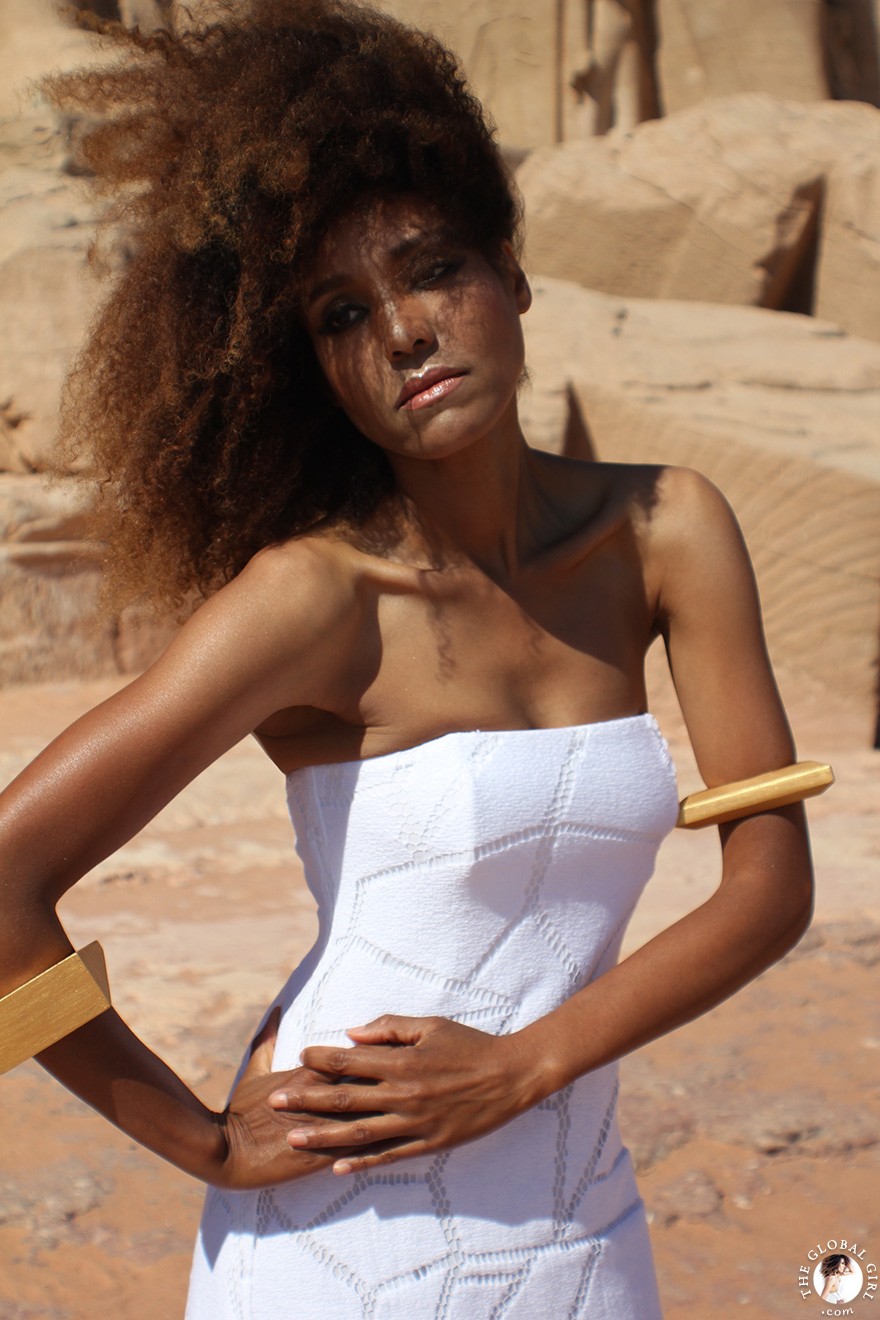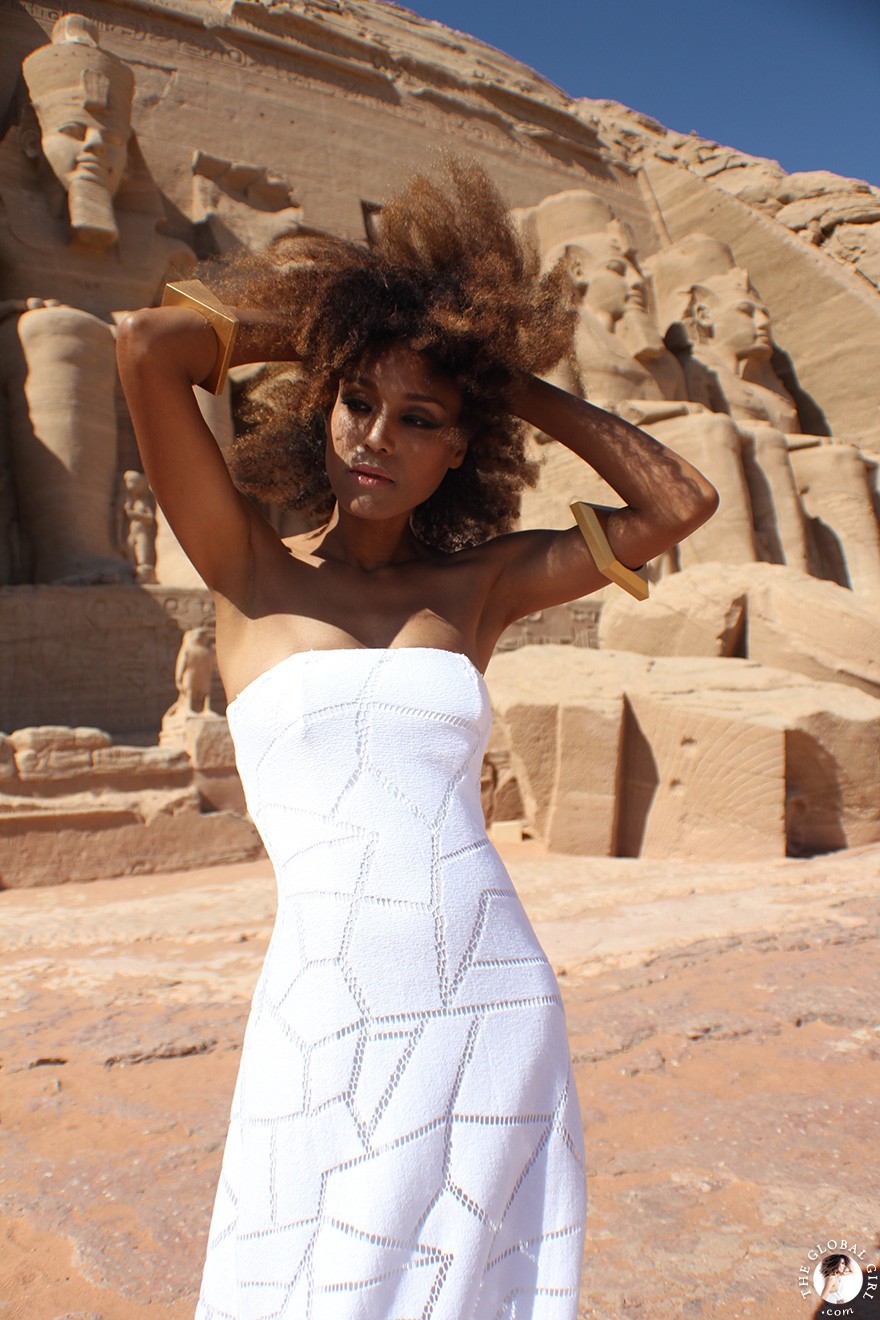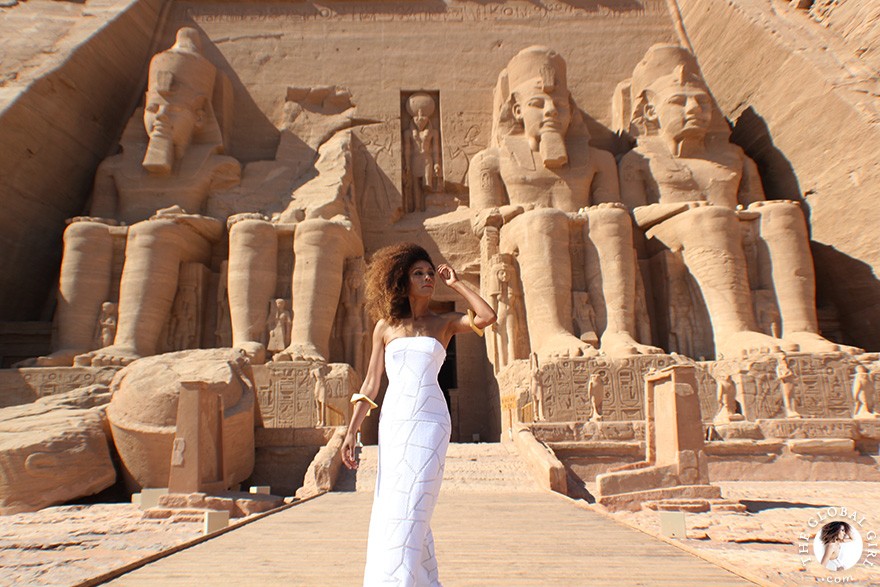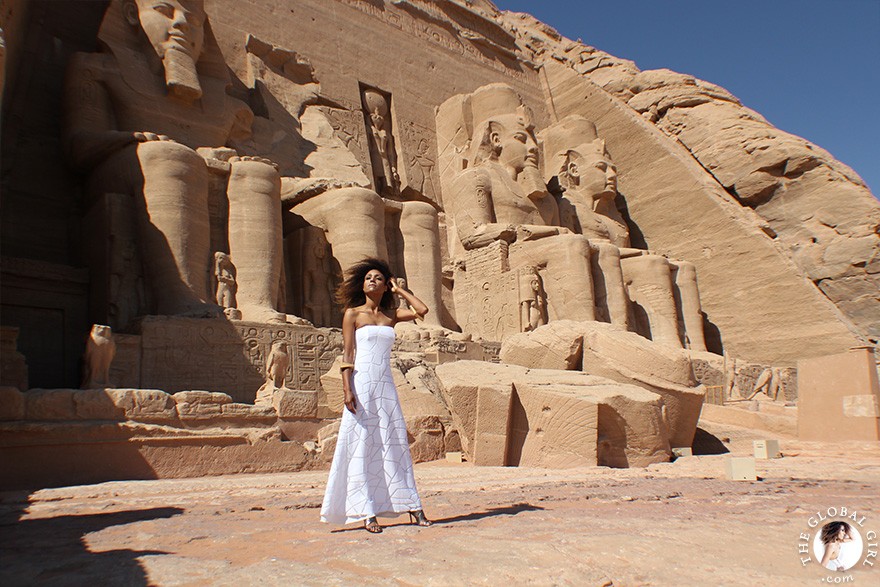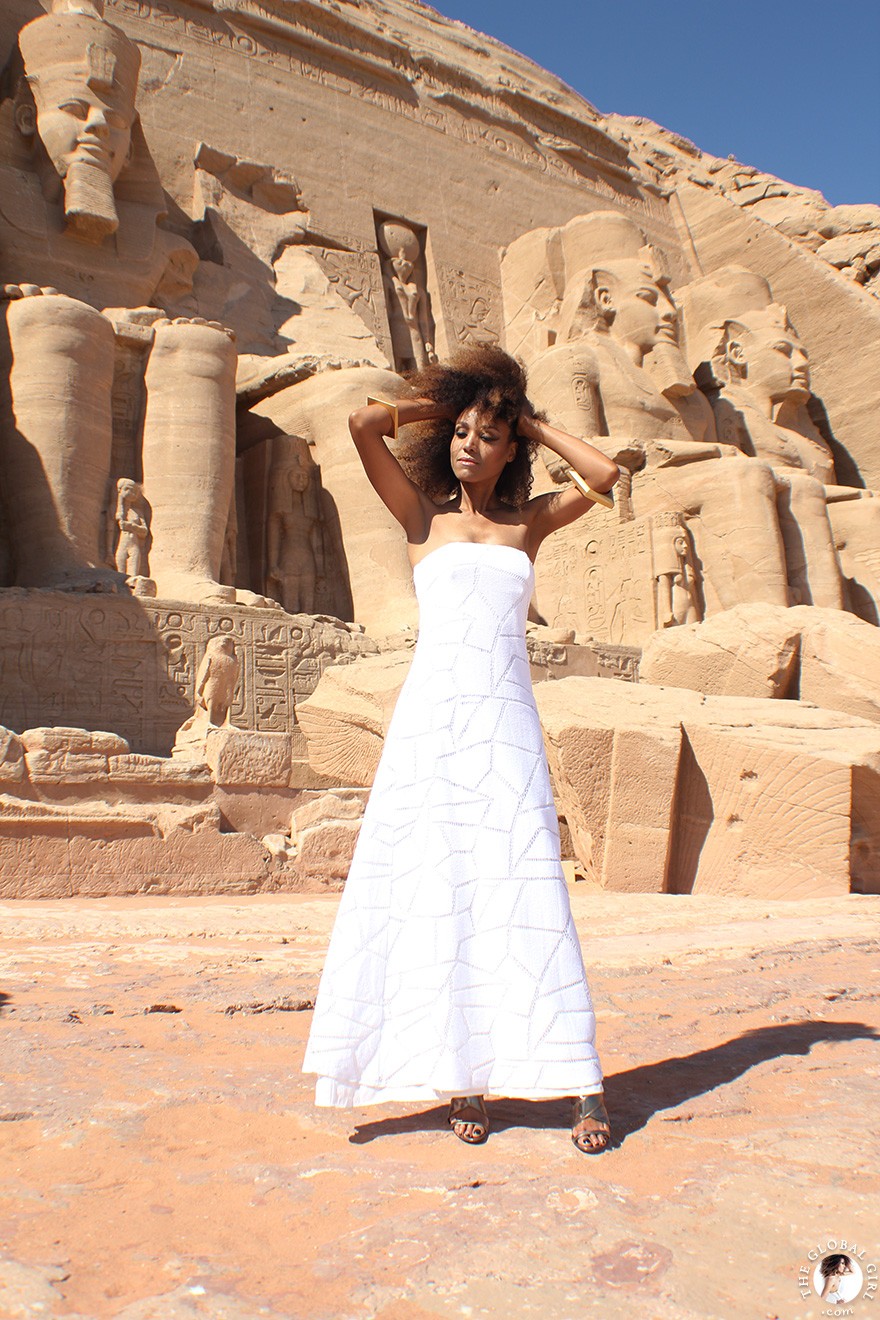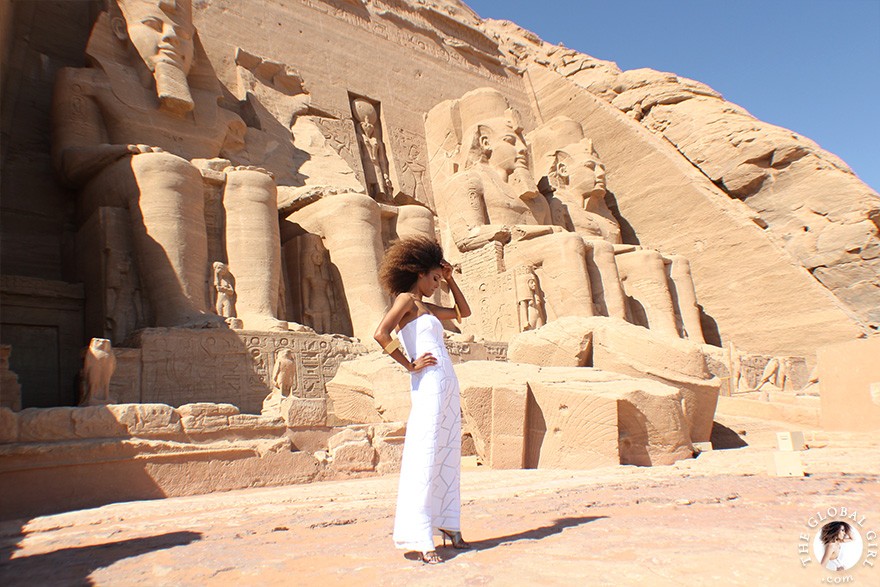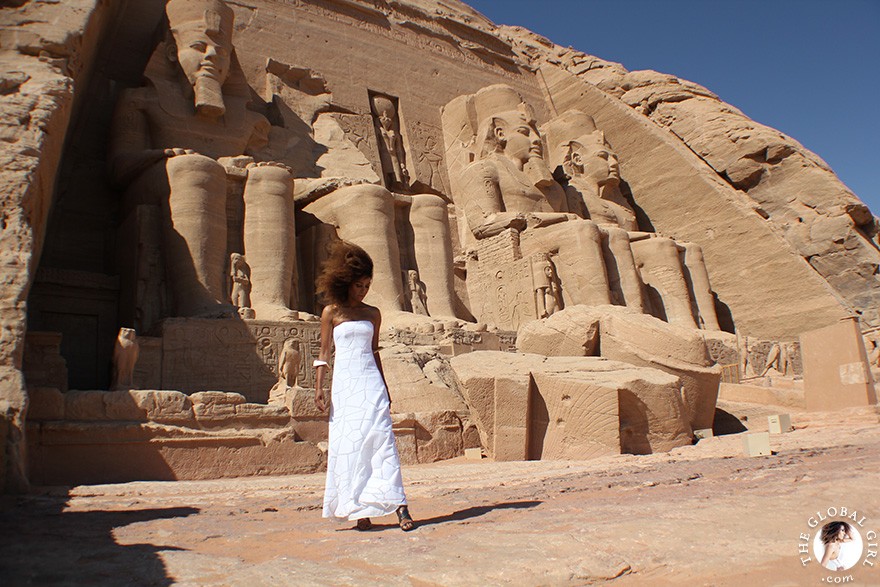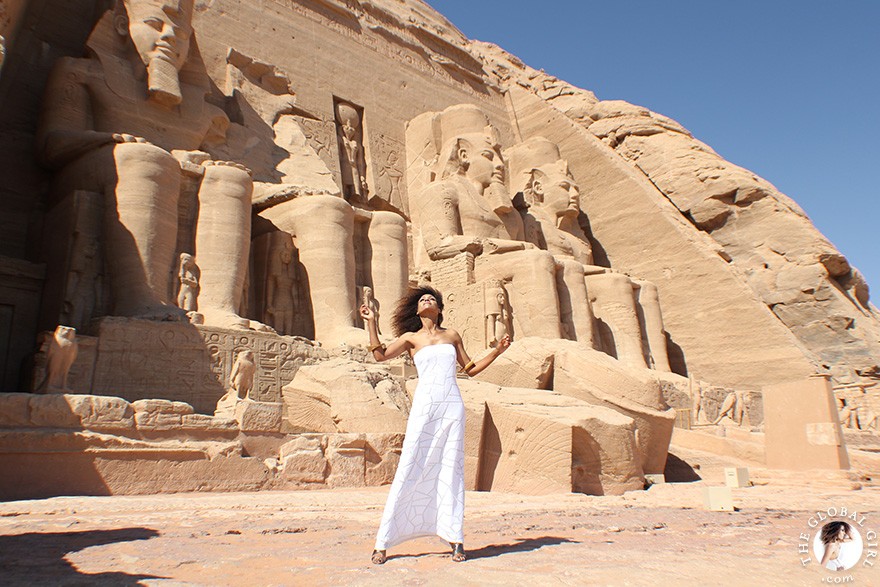 Wearing a white strapless maxi dress by Alexis (similar here and here) with custom geometric bangles (similar here and here) and copper metallic patent leather sandals by Camilla Skovgaard.
Shop THE GLOBAL GIRL
More from my magical journey through beautiful Egypt:
Aswan
Reborn
The Sofitel Legend Old Cataract Aswan
Sharia El Souk, Aswan
Tropical Greens
Philae Temple
Philae Temple
Marsa Alam
Marsa Alam
Dawn at the Red Sea Riviera
Sahara
Saqqara
Saqqara
Luxor
Golden
Print Clash
All White
The Sofitel Winter Palace
1886 – A Princess Moment
Billion Dollar View
Siwa Oasis
Eco-Chic Living at Siwa Oasis
Al-Babinshal: A Desert Hideaway (Part 1)
Al-Babinshal: A Desert Hideaway (Part 2)
Shali Ghadi
Adrère Amellal (Part 1)
Adrère Amellal (Part 2)
Salt of the Earth
Berber