Magical Sunset over the Irrawaddy River, Myanmar. Photography by Ndoema.
---
To me what's most soul enriching about traveling is that it's a wondrous journey of discovery.
It's the joy of capturing the unexpected. The thrill of that spontaneous wonder. The surprise. That fleeting moment of beauty that catches your eye and becomes immortalized through the camera lens.
In travel, as in everything, I have a thing for structure and I love nothing more than planning far away adventures. Prepping is a wonder-filled creative process I genuinely enjoy. That said, once I set foot on that new exciting and unchartered territory, I get the biggest thrill from roaming photography. Wandering – camera in hand – with an expectant eye, at the ready to capture the beauty of unplanned moments, synchronistic encounters and the magic of nature as it enfolds throughout a beautiful day.
Some of my most precious travel memories have been unplanned and serendipitous encounters. From meeting my soul brothers atop Bagan's Shwe Sandaw Paya pagoda, to receiving the gift of empowerment at Yangon's Shwedagon Pagoda, to capturing the grace and divine spirituality of Balinese dancers and worshippers at a surprise Barong Ceremony in Canggu Beach. I truly adore capturing the uniqueness and diversity of human beauty around the world.
But my eye is definitely a lover of beauty in all its forms, from nature to architecture and culture, so my sources of inspiration are endless.
Though, I'm always at the ready to capture the magic of the unexpected (like this magical sunrise on Burma's Irrawaddy River as I was sailing between Mandalay to Bagan), if I had to choose the best setting for the ultimate spontaneous "photo walkabout", it would have to be traditional markets.
I genuinely can't think of anything more thrilling than getting lost in Yogyakarta's maze-like Beringharjo market, Bali's magical Candi Kuning or Aswan's exotic Sharia el Souk. Local markets are a spontaneous photographer's dream. And the best way to dive headfirst into a culture, to capture the unplanned magic of daily life, the explosion of contrasting colors, and above all to meet heart-to-heart a country through the warmth of its people.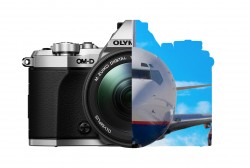 For fellow roaming shooters, Olympus® has released the OM-D E-M5 Mark II, a powered-up but portable camera that's loaded with some pretty amazing features. The 5-axis image stabilization and lightning-fast autofocus are particularly awesome for roaming photography. Perfect to seize that wondrous moment while on the go.
If, like me, you're itching to capture your next life-transforming unplanned moment, grab your new E-M5 Mark II and get ready for the unexpected courtesy of Olympus® with the "Complete the Picture" free airline flight promotion.
How about your favorite go-to environment for roaming photography? Where would you go for a spontaneous "photo walkabout" if you had a free ticket anywhere in the U.S.?
Thank you Olympus® for sponsoring this post.
The post is brought to you by Activate by Bloglovin and its advertiser. All opinions are mine alone.
Powered By: