I've done the burger, here comes the pizza.
The Staples of the Standard American Diet (without the health-devastating side effects). This isn't an "under five minutes recipe" (like most of my raw vegan treats so far) because of the dehydrated crust. I've laid down the "rule" about dehydrated foods, but rules are meant to be broken so here we go!
I haven't made a pizza in years (literally). I made a couple raw vegan pizzas when I transitioned to a raw vegan diet about 5 years ago. There are lots of raw vegan pizza crust recipes out there but most are nut-based and extremely heavy. For my first attempt I did a modified version of Matt Amsden's onion bread from his book RAWvolution: Gourmet Living Cuisine (my favorite transition raw vegan recipe book because the textures and flavors are really nice even though overall it's way too heavy on fats and salt for my taste) but to be honest I've found it rather hard to digest. The nut and seed based crust plus the nut-based "cheese", plus the oily tomato sauce can be a bit much all at once.
So I came up with a low-fat, protein-packed variation for the crust using buckwheat (which isn't a grain and is therefore gluten-free) and Omega-3 laden flaxseeds. Great for people with allergies or gluten intolerance.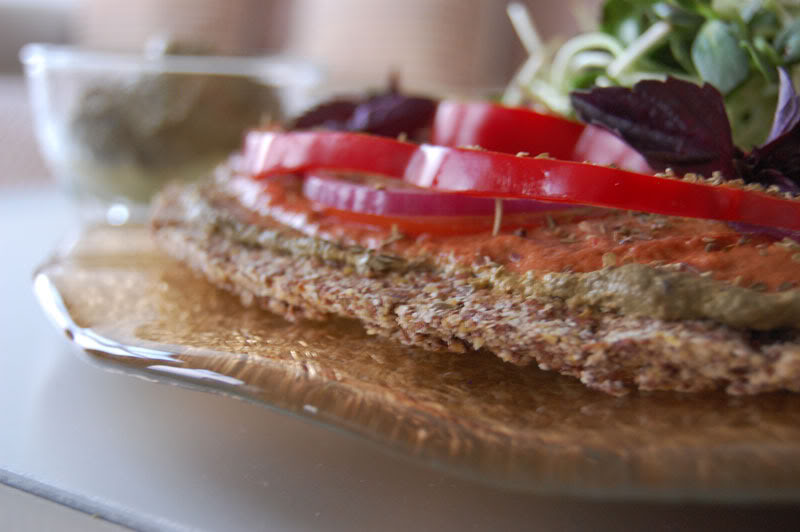 Photography and Recipe by Ndoema
Raw Pizza with Gluten Free Buckwheat Crust
Ingredients
INGREDIENTS

Crust (gluten-free, nut-free, oil-free)

1 cup ground flax seeds
1 cup ground raw buckwheat groats
1 cup of spring water
1 pinch of celtic or himalayan salt (optional)

Tomato sauce (oil-free)

3 ripe vine tomatoes
1 bell pepper
5 sun dried tomatoes (unsalted and oil-free)
1 garlic clove
2 table spoons of diced red onion
1 pinch of Celtic or Himalayan salt (optional)
Instructions
INSTRUCTIONS

Crust

Grind the flax seeds and buckwheat groats (I use a coffee grinder)
Mix all the ingredients and spread on a dehydrator sheet.
Dehydrate for approximately 24 hours. It's a tad crunchy which I like. If you'd prefer a bit softer, you can always grind half the flax seed and soak the rest in spring water until the mixture turns into a firm jelly. The crust will take a little longer to dehydrate though.

Tomato sauce

That's super easy! Throw all the ingredients in a Vitamix and blend until you achieve a smooth consistency.
The last step is the most fun. Layer the goodies. For the toppings, I love juicy tomatoes, red onion and bell pepper over the tomato sauce and a couple heaping tablespoons of my insanely delish raw sunflower ricotta cheese. It's totally dairy free but totally addictive! I came up with it while improvising a gluten-free raw pizza crust alternative (sans buckwheat) and it's become one of my most popular raw Italian recipes. I share this new pizza recipe (and six other scrumptious Italian raw dishes) in my newly released eBook, A Week's Worth of Raw Italian!
Buon Appetito!