Blazing sunset over Mandalay, Myanmar. Photography by Ndoema.
---
Though the thrill of discovering new lands, people and cultures is by itself immensely gratifying, I admit I get an extra dose of excitement capturing the beauty of the World, as I see it, through my camera lens. Celebrating, capturing and sharing the beauty I marvel at during my journeys around the world are nothing short of exhilarating. It truly makes my heart sings.
For me, when it comes to travel, the farther the better. I love nothing more than planning far away adventures, flying to the other side of the world. Stretching my vision. Expanding my mind.
Though the destination is the reward, the journey itself starts months before hopping on a cab to catch my flight or stepping foot on an airplane. Planning is a wonder-filled creative process I genuinely enjoy. It usually starts with an image flashing in my mind or a synchronistic event of sort. The thought of taking my first trip to Dharamsala, India was spurred by a Tibet-themed issue of Paris Vogue, featuring The Dalai Lama, which I came across at a news stand on my way home from college (in the days I called the "City of Love" home).
First, I have to get that spark of inspiration and then I dive head first into the preparation. My itinerary usually centers on soul-stirring landmarks, more often than not powerful sacred sites. I'm a nature lover and self-professed sun worshiper so for me nothing beats natural light. I'm a minimalist when it comes to equipment as well. I need that freedom to explore unencumbered but at the same time know that I can rely on the perfect tool that will help me realize my creative pursuits.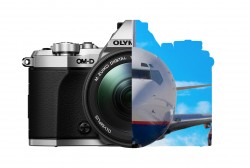 For fellow creative shooters, Olympus® has released the OM-D E-M5 Mark II, a powered-up but portable camera that's loaded with some pretty amazing features. I personally love the 40 Megapixel High Res Shot Mode and the awesome weatherproof design (the metal body is sealed for splashproof, dustproof and freezeproof protection). It's perfect when shooting in the middle of sand dunes, sailing, or dealing with challenging temperatures.
If, like me, you're itching to explore a new destination, pack your suitcase, your new E-M5 Mark II and get there courtesy of Olympus® with the "Takes You There" free airline flight promotion.
How about your favorite destination and travel style? Where would you go if they had a free ticket anywhere in the U.S.?
Thank you Olympus® for sponsoring this post.
The post is brought to you by Activate by Bloglovin and its advertiser. All opinions are mine alone.
Powered By: