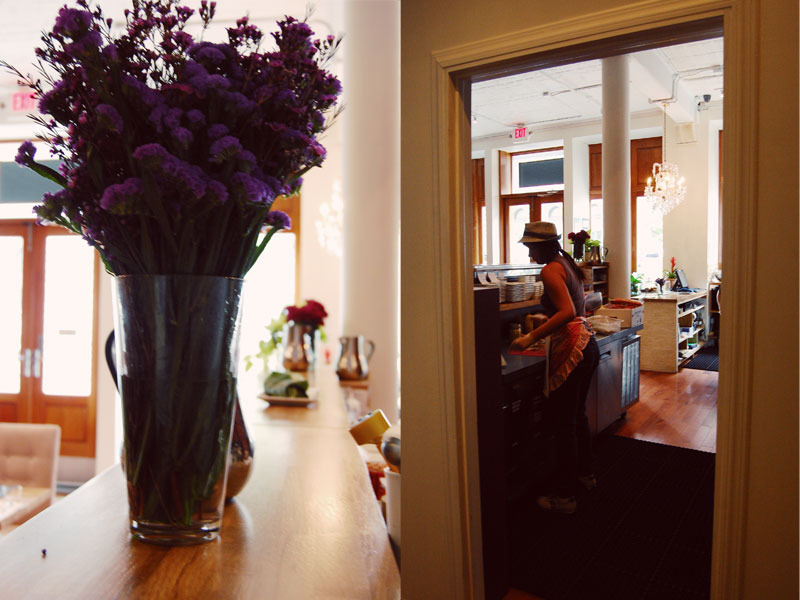 I was planning on discovering a brand new bunch of raw vegan eateries while in New York during Fashion Week, especially in and around my former neighborhood down in Soho where quite a few of them have mushroomed in the last few years. Well, that was wishful thinking, I later learned. I quickly found out that eating is not on the menu during the shows. I survived mostly on the daily bowl of pineapple chunks I'd pick up at the end of each day at the Columbus Circle Wholefoods market right across from my temp NYC apartment (I didn't even get the chance to go for a stroll in Central Park).
Luckily, I landed in New York a couple days before Fashion Week to attend the IFB and Lucky Mag FBB Conferences and was able to squeeze in a visit to Rawlicious, a sweet raw vegan restaurant tucked in between Broome & Grand in the Village.
I started the meal with a big glass of beet juice and the Nacho Platter, the eatery's classic trio of guacamole, sour cream and salsa with green olives, green onions & nacho chips. Then gave the raw pizza a bite (a sprouted buckwheat and flax seed crust topped with cashew nut cheese and tomato marinara sauce). And finished off with the "rawitch", an onion bread sandwich with guacamole, tomatoes, cucumbers & alfalfa sprouts. It was tasty though I discovered that my attraction to "gourmet" raw foods (never that strong to begin with) has reached a new low since I completed my second 92-day juice fast. I love my fruits (and veggies) plain and simple! The raw food and juicing lifestyle is a fascinating journey. There's no telling what my next New York raw-scapade will be like!