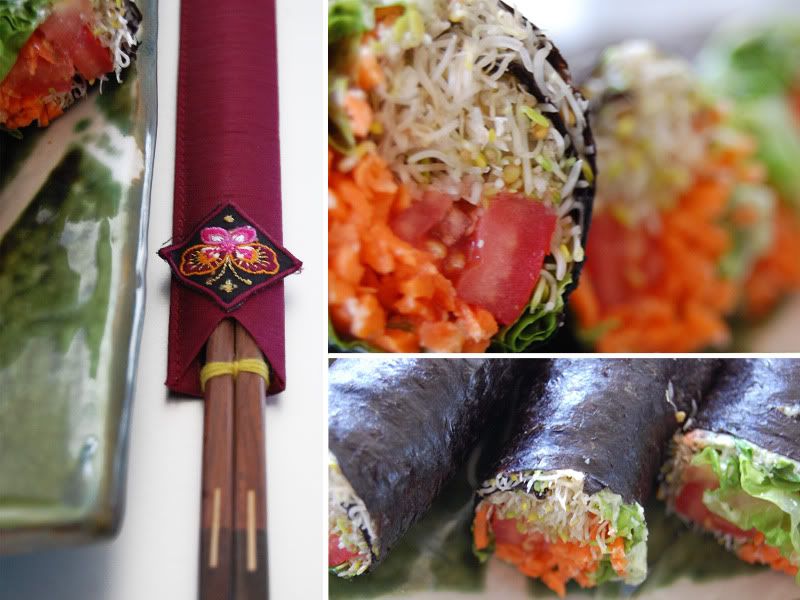 In the kitchen I'm every bit the global girl. I love mixing flavors and continents in one appetizing dish. This favorite snack of the moment is no exception. I'm combining the quintessential Japanese nori with the oh-so-Italian basil and spicy Mexican jalapeño!
Currently I'm sushi obsessed. You might as well know it. I'm a seaweed fiend. I'll wolf down a pack of dulse leaves the way some do chocolate chip cookies or potato chips. I was a macrobiotic vegan for years, so sea vegetables in all their glorious shapes, colors and flavors have been (and continue to be) one of the staples of my diet. My Japanese friends in college used to look at me in disbelief when I'd serve them homemade hijiki and arame dishes they swore tasted "just the way mom makes them". Don't ask. I don't know myself what's going on there. Anyways, I'm digressing…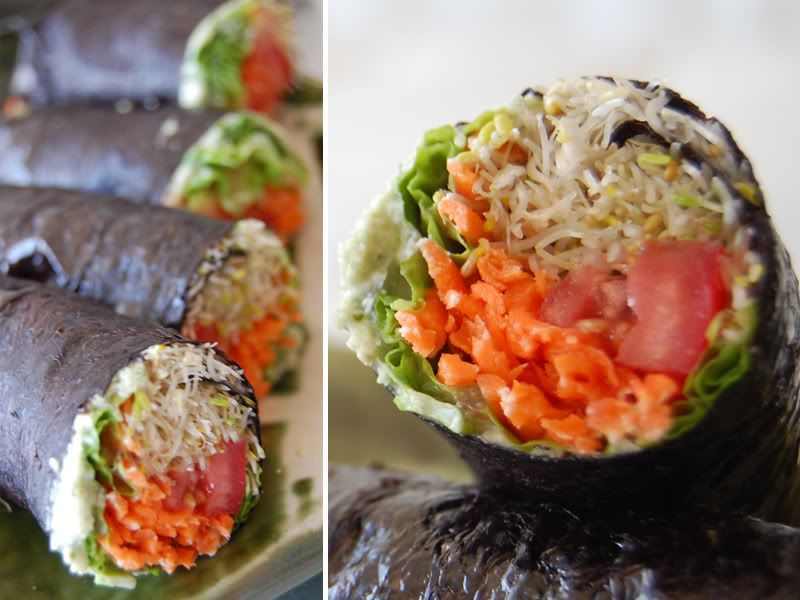 I'll wrap just about anything up in a nori sheet. I always eat "raw" nori rather than "toasted" to maximize on the nutritional benefits. This sushi is pretty much a classic: lettuce, tomato, carrot and red clover sprouts. I love to add avocado and kimchi as well. I always pre-wash my veggies and prep a batch of shredded carrots so making fresh meals is fast and easy.
The dip, which I am using here in the sushi itself, is super tasty. It's very versatile and tastes better after sitting for a few days in the fridge, so I can make a lot of it in advance. It's a time saver for those of us who live in the fast lane. I use it in my sushi, as a dip with veggie sticks (bell pepper, mushrooms, cauliflower, carrots), as a sauce on my zucchini pasta or kelp noodles, to make raw ravioli…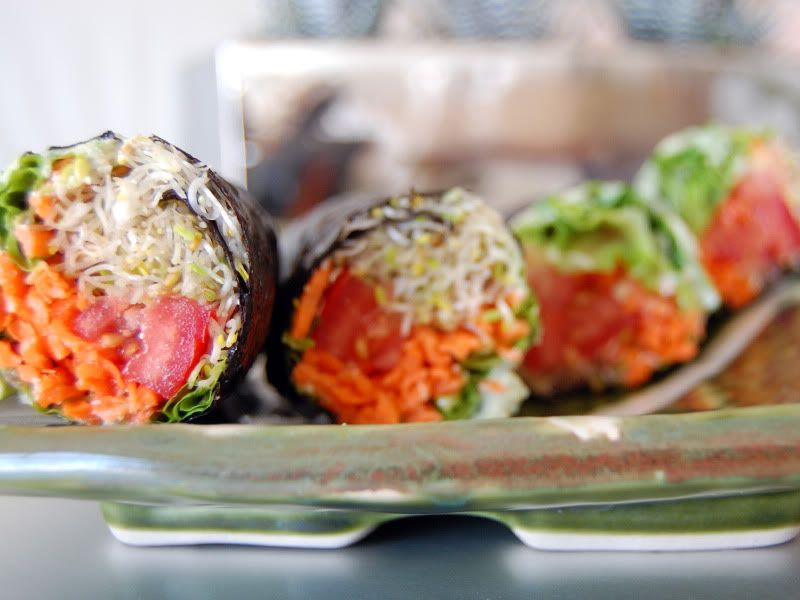 Photography and Recipe by Ndoema
INGREDIENTS
5 sheets of raw (not roasted) nori sheets
1/2 cup of shredded carrots
1/2 cup for clover sprouts
1/2 cup of cubed tomatoes
5 large green lettuce leaves
Raw Cashew Dip
2 cups of unsalted, raw (unpasturized) cashews
3 bunches of fresh basil
1 garlic clove
Juice of 1 lemon
Pinch of salt
1 or 2 slices of jalapeño (to taste)
1/2 cup of spring water
INSTRUCTIONS
Start with the dip. Put all the ingredients in a food processor, add a little more water if needed. Blend until nice and smooth.
Assemble the sushi starting with the lettuce, then add the carrots, sprouts, tomatoes and finish off with a tablespoon of cashew dip.
Roll up and enjoy!
http://theglobalgirl.com/raw-vegan-recipes-no-rice-vegan-sushi-clover-sprouts-basil-jalapeno-cashew-dip/