As I recently mentioned in this post, a few days ago I completed my fifth extended juice fast.
Exactly five years ago I embarked on my first 92-day juice fast, and it's been the most astonishing and rewarding journey of transformation. I have explored many a powerful transformational tool in my never-ending quest for self discovery and empowerment, from breathwork to retiring to a remote ashram in India for a full year of meditation, chanting and contemplation. However, I have to say extended juice fasting has had an unprecedented impact in my life and year after year I keep coming back for more…
I'm awed and genuinely thrilled by the skyrocketing interest in juicing and I promise to try my best and continue to answer the avalanche of juicing questions I receive on a daily basis so you too may receive the enumerable benefits this wonderful practice has to offer.
Over the years, I've build for myself a solid and winning juicing plan complete with a great set of tools to support me along the way. Here is my little army of fave juicing companions which have all greatly contributed to the ease with which I have been able – year after year – to successfully complete these monthslong juice fast marathons.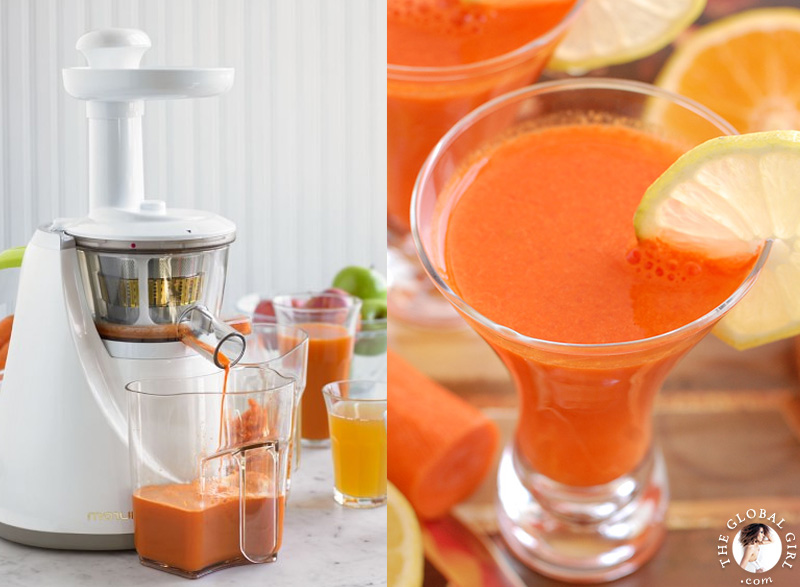 The Hurom was my first big purchase when I embarked on my first 92-Day juice fast five years ago. I've found it to be the best "masticating" option (beside the $2000 Norwalk juicer 😉 and I've been using it every single day of every single fast! It never overheats. It extracts amazingly well (the pulp is always so tight and dry) and it's incredibly sturdy. Keeps going on no matter what! Another major plus is that I can use it to make my own wheatgrass juice (yes, I grow my own grass!) and not all juicers are wheat grass friendly. So there you have it, my Hurom masticating slow juicer (don't get fooled by the name, it's a super fast machine) is definitely my number one juice fast essential.