I've introduced you to my new boyfriend, now meet my old best friend. I confess I've got some pretty fancy bags and clutches cluttering my overstuffed closet. And I looove them all. But this good old Linea Pelle leather tote has lately emerged as a regular companion on my many work and leisurely outings. Size has definitely got something to do with it. It does take a girl an extra dose of effort and dedication to make the micro mini bag work and in most instances it just doesn't cut it. Blame it on my cross-continental nomadic lifestyle but I have the undeniable propensity to want to carry around at least half my weight in extraneous stuff. But the catch is, I don't ever want to look like I do. Well, my Linea Pelle tote to the rescue. It's large enough for me to throw in a couple cameras, a set of extra lenses and all my usual unnecessary essentials without the slightest bulge. It's slick. Utilitarian. Got the right amount of pockets all in the right places and its color goes with absolutely everything.

Left: It's all in the details. Loving the soft textured leather and grommet accents.
Right: Great with a head-to-toe denim look. On my way to meet with the creative team behind the East meets West jewelry line Samsara (also featured here and here).

Left. Tomboy perfect. Heading to Hollywood-based Fashion PR company No Such Agency for their LA Open Press Day.
Right: Looking right at home in my zen, bright-white living room.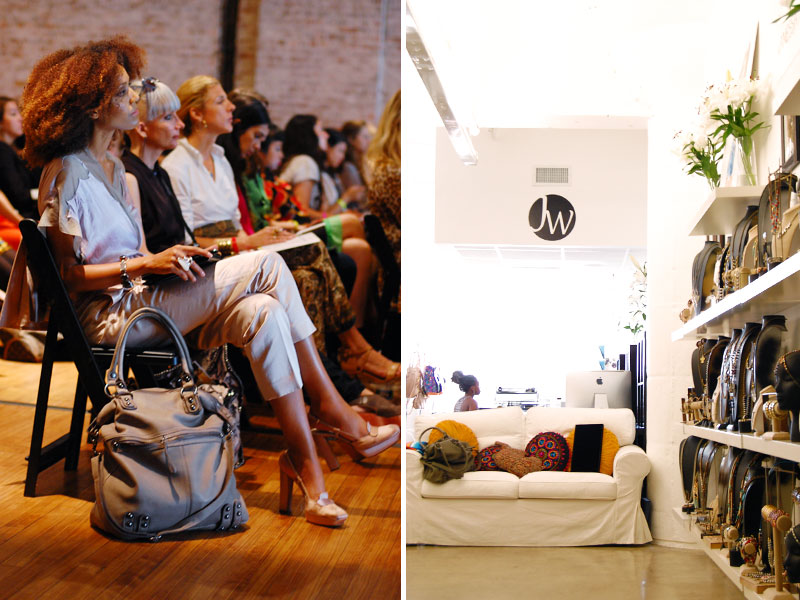 Left: Sitting pretty by my side at the Independent Fashion Blogger's Conference in NYC.
Right: Patiently waiting for me (on a comfy sofa) at the Jena Weir Showroom while I'm busy drooling over fab jewelry and snapping photos.

Left. Lady for a Day. Looks fab with a puffy skirt and cropped jacket à la Jackie O. Entering the New York Times building for the Lucky FABB Conference in NYC.
Right: Not a bad life. Getting the front row view of my raw vegan lunch at Rawlicious in New York's Little Italy.
1. Worn with: Dolce and Gabbana cropped denim jacket, G-Star Raw skinny jeans, Chloé sunglasses.
2. Worn with: Stella McCartney jeans, Jean-Paul Gaultier shirt, Gucci Belt, L.A.M.B. platform sandals.
3. Worn with: Donna Karan pant suit, Stella McCartney blouse, Prada satin pumps.
4. Worn with: Vintage puffy skirt, James Galanos cropped jacket, BCBGMaxAzria gladiator sandals.