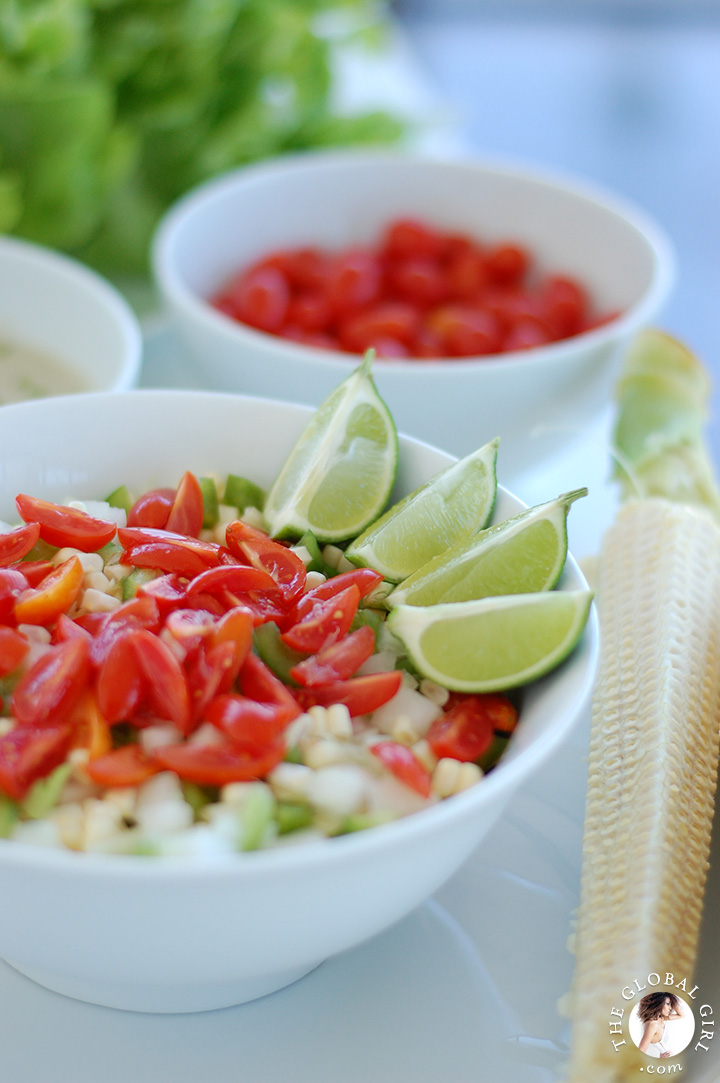 It's officially corn season!
I've been drooling over all the eye popping corn that's been cropping up everywhere I look lately, so I couldn't wait to whip this delish raw corn salad (and devour it!).
When I first transitioned to the raw food lifestyle and The Man suggested giving raw corn a try, I won't hide that I was skeptical at first. I'm not sure why. Goes to show you just how conditioned we can be about food preferences and even what can (or cannot be eaten) in its raw and natural form, and not even realize it.
Well let me tell you I've turned into the ultimate raw corn lover!
Combined my raw corn adoration with my budding Mexican love affair (I'm planning a trip back to this wonderful country soon!) and you've got the makings of an all-time favorite in The Global Girl's Kitchen.
The oil-free creamy dressing is a new fave. I love to add fresh dill to my salads, dips, salsas and dressings. It adds an instant Mediterranean flavor that's so festive!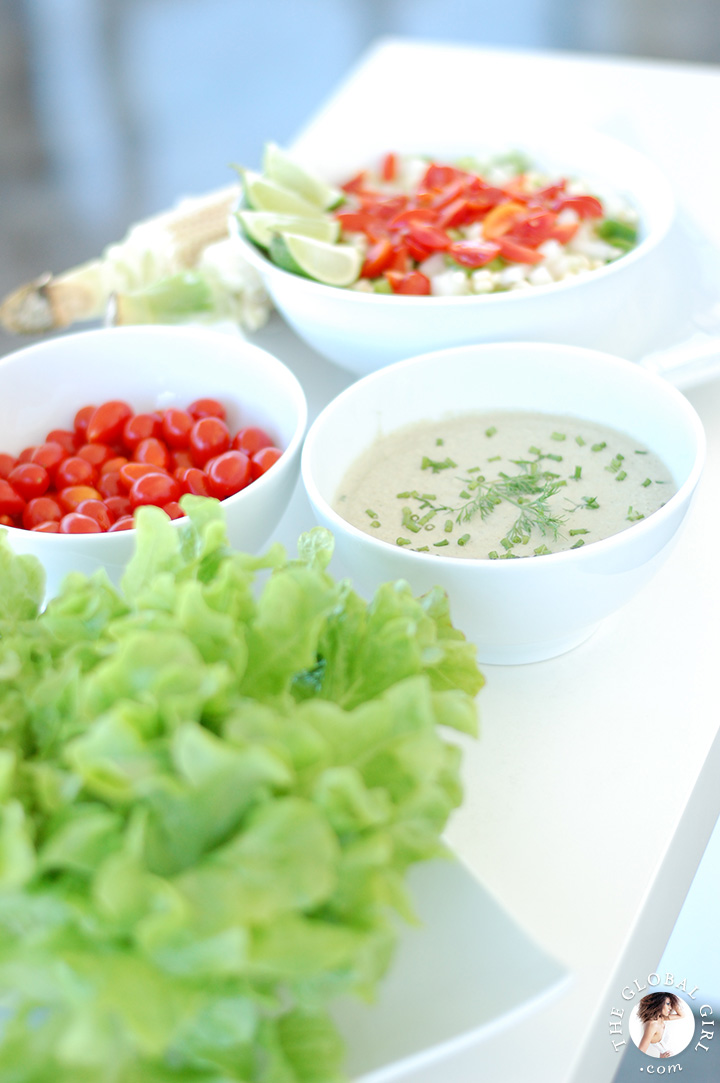 Need I say? Please. Please. Please. Buy your corn organic. Unfortunately it's an absolute must these days. Corn has become one of the most genetically messed-up with crops out there (kinda scary). Flavor is important but taking proper care of our bodies by feeding it only the best quality produce is paramount.
Photography and Recipe by Ndoema
Crunchy Corn Salad with Creamy Dill Dressing
Ingredients
INGREDIENTS

CORN SALAD

2 fresh corns
1 large bell pepper
1 tablespoon of chopped red onion
2 cups of cherry tomatoes
1 head of curly leaf lettuce

CREAMY DILL DRESSING

2 cups of raw pumpkin seeds (soaked overnight and drained)
Juice of 3 limes
Pinch of Celtic Salt
1 cup of loosely packed fresh dill
2 garlic cloves
Dash of cayenne (optional)
Instructions
INSTRUCTIONS

Place all the dressing ingredients in a Vitamix and process until you get a nice and creamy consistency. Refrigerate.
Unfortunately that smooth consistency isn't really happening with a regular food processor or blender. So If you don't have a Vitamix, I suggest adding a 1/4 cup of macadamia nuts or cashews to help add a bit more creaminess to the dressing. I personally prefer seed-based dressings and dips to nut-based (it's lighter and easier to digest) but it's still oil free which is awesome.
Cut the corn kernels off the cob. Then slice the cherry tomatoes, chop the bell pepper and red onion and sprinkle on top.
Sprinkle your corn salad on top of a bed of fresh lettuce and finish off with a couple tablespoons of dressing.
Enjoy!