---
Here are some of the high points of the bi-yearly fashion bloggers' must-attend grand gathering.
---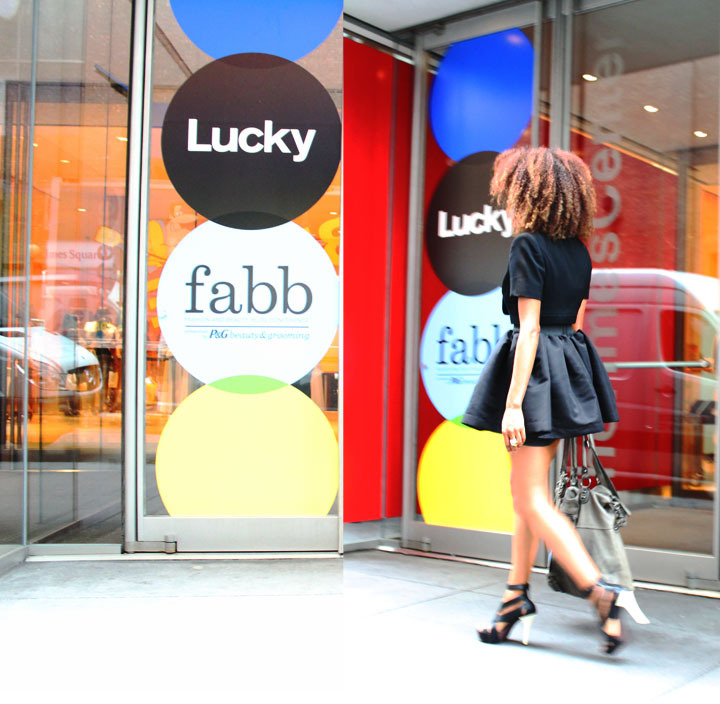 While we've all been feverishly awaiting the unveiling of New York Fashion Week's official schedule, I've been reminiscing about some of the best moments from last September. I have to say I had a memorable time, and The Lucky Fabb Conference was definitely one of the highlights of my fashion-fueled NYC escapade.
Here are some of the high points of the bi-yearly fashion bloggers' must-attend grand gathering.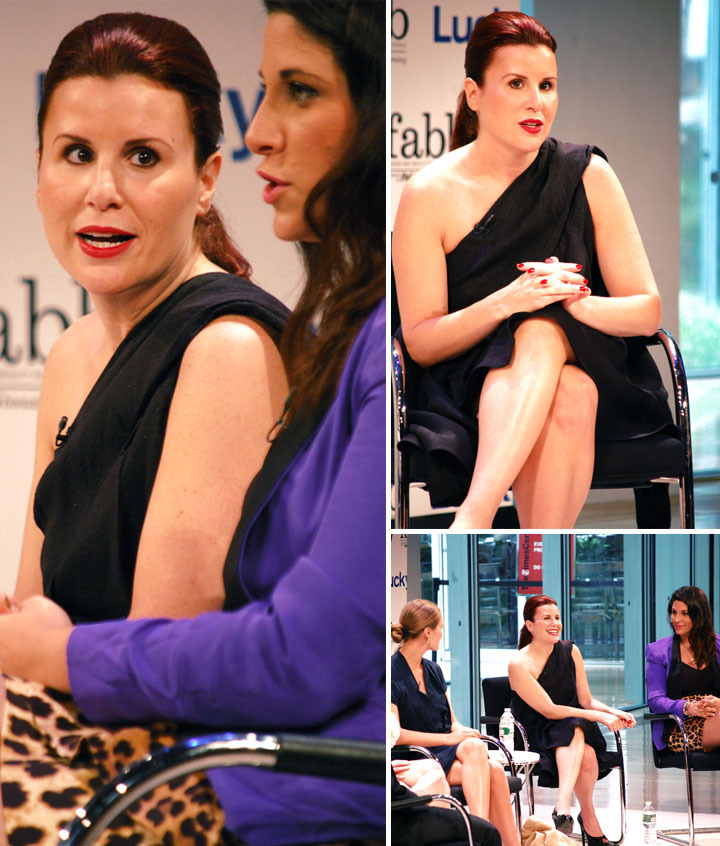 Meeting in the flesh Fashion PR's First Lady, Aliza Licht aka DKNY PR Girl, was a moment to remember. The witty, glowy and uber stylish social media queen gracefully glided into the room in the most divine urban goddess one-shoulder garb. I know I know, I've tweeted my utter adoration for the look ad nauseam but every time I press that replay button in my mind's eye, I get that same thrill all over again.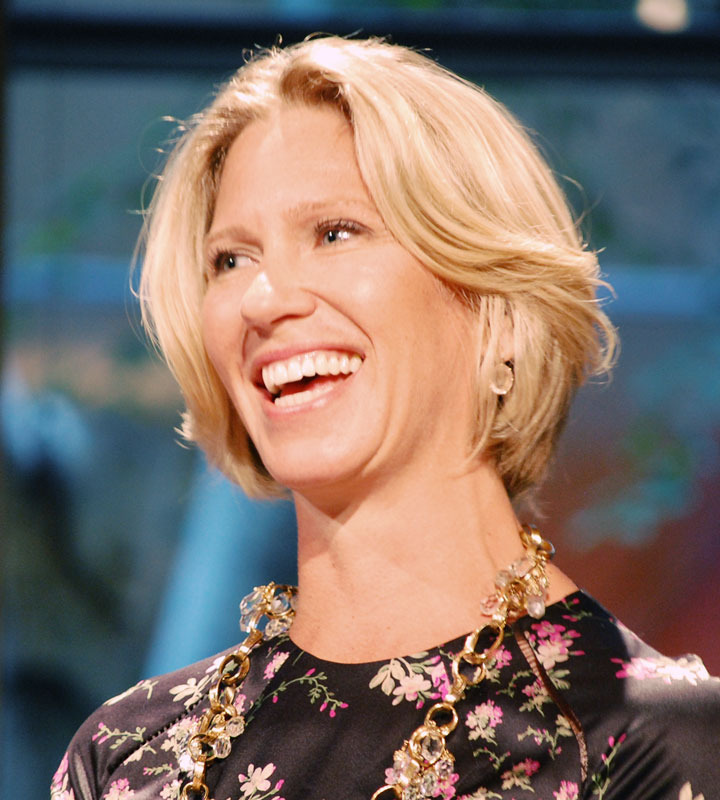 Brandon Holley, Lucky's Editor in Chief and our hostess for the day, filled the room with her contagious laughter and joie de vivre. How could you not feel happy (and lucky) to be there!
As you'll see (more down the page), it was a million-dollar-smile kinda day. Though the issues Lauren Bush Lauren was addressing, hunger and malnutrition, aren't exactly on the lighter side, she couldn't help sharing in the joyous spirit.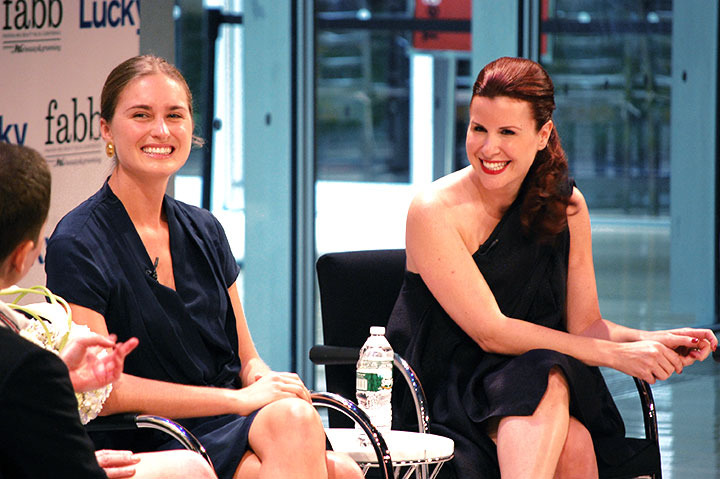 Lauren and Aliza talked about Donna Karan's collaboration with FEED Projects to fight global hunger. Proof, if need be, that fashion isn't as superficial as it seems.
Anna Sui discussed her inspiration-seeking and Pinterest-ready mood boarding ways as well as her pragmatic, business-focused approach to design.
Anna and Barney's Simon Doonan shared great stage chemistry and unrivaled wit. I'm sure we all felt a little sad to see them go (I know I did).
I practiced intermittent leopard gazing during the talks. Aren't these stilettos swag!
To foresee the evolution of Digital Media, we were treated to a high powered panel: CFDA's CEO Steven Kolb; Mitch Grossbach, Head of Fashion and Beauty Division at Creative Artists Agency; Federico Marchetti, Founder and CEO of YOOX; and Shana Fisher, Managing Partner of High Line Venture Partners.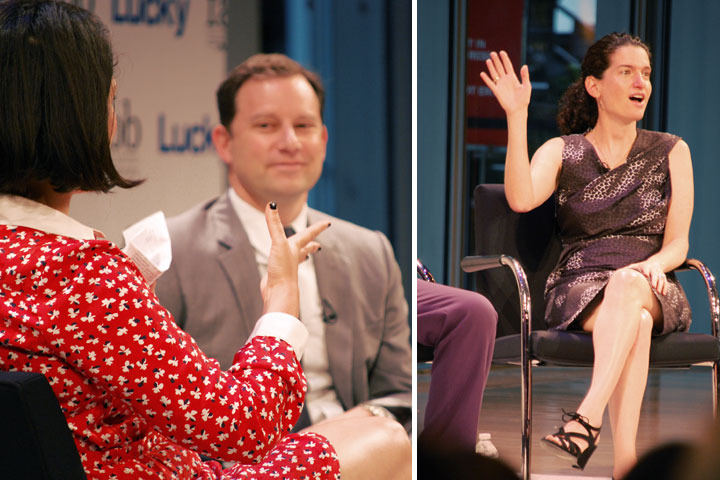 CAA's Mitch Grossbach in conversation with Lucky's Lauren Sherman, and Shana Fisher in conversation with the crowd!
A brief fashion interlude before getting back to the more pressing issues on the agenda. Now, that's some arm swag. And the oversized neon ring. Hello! I want.
Ok. I've had my fashion intermission. I'm all ears now. You were saying?
Susan Lyne, Chairman of Gilt Groupe, and Deb Schwartz, Lucky's Executive Editor, talking about … is it just me or I'm seeing leopard everywhere?
Lucky Digital Editor John Jannuzzi was pure delight to meet. Accessible, funny and relaxed in the midst of what seemed like a terrifyingly massive endeavor.
Team Smiley. Oh yes, did I mention I was awarded Lucky's Best Skirt Award? I've got the Instagram to prove it.
Last minute surprise. I ran into Eugenia Chien, Blogger Marketing Manager at Polyvore. As the saying goes, you never know who you'll get to know.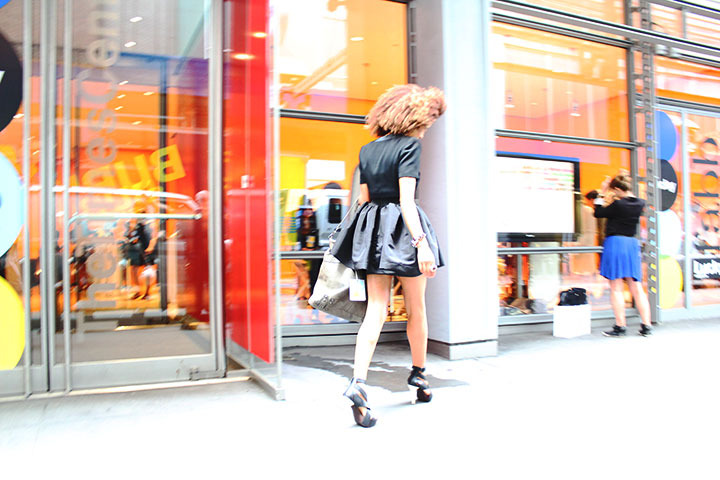 It's a wrap. All good things come to an end. But not for long! See you there.