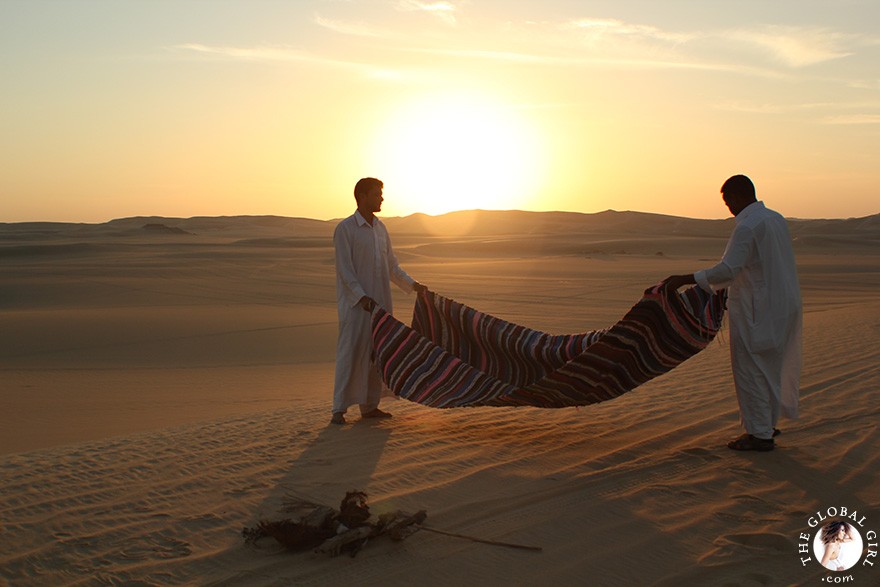 After adrenaline-inducing sand-dune riding in the Libyan desert, awe-inspiring explorations of The Great Sand Sea and soaking in the healing sulfurous waters at Bir Wahed, I was treated to an amazing traditional Berber tea ceremony against the blazing North African sunset.
Just when I thought my Siwa adventure couldn't possibly be more special, I was in for a surprise.
The Siwan hospitality is totally off the charts. Off all the places around the world, there is something so incredibly pure and genuine about Siwa and its people… It takes your breath away.
Mohammed, my driver and partner in crime on this unique desert safari (pictured in the image above on the right), was a wondrous combination of the kindest most loving heart and the ultimate daredevil, adventurous spirit. I was taking in all the details and beauty of Mohammed's sunset tea ceremony when his fabulous collection of traditional palm leaf and pom pom baskets caught my gaze (take a closer look in the photographs below). I was immediately anxious to get my greedy paws on one of these beauties, so I asked Mohammed where they could be purchased. To my chagrin, I learnt that these gorge traditional baskets were lovingly handmade by his family and not offered for sale. I consoled myself with the surreal beauty of the sun as it set on the sand dunes and headed back to Al-Babinshal for a good night's rest.
I was literally getting ready to kiss the day goodbye, when Salama (our wonderful hotel manager) knocked on my door. As I let him in, he handed me the most gorgeous handmade traditional pom pom basket with a large grin splitting his face. My heart literally skipped a beat. Unbeknown to me, Mohammed had come back to the hotel to hand deliver one of his family's own Siwan baskets as a good bye gift.