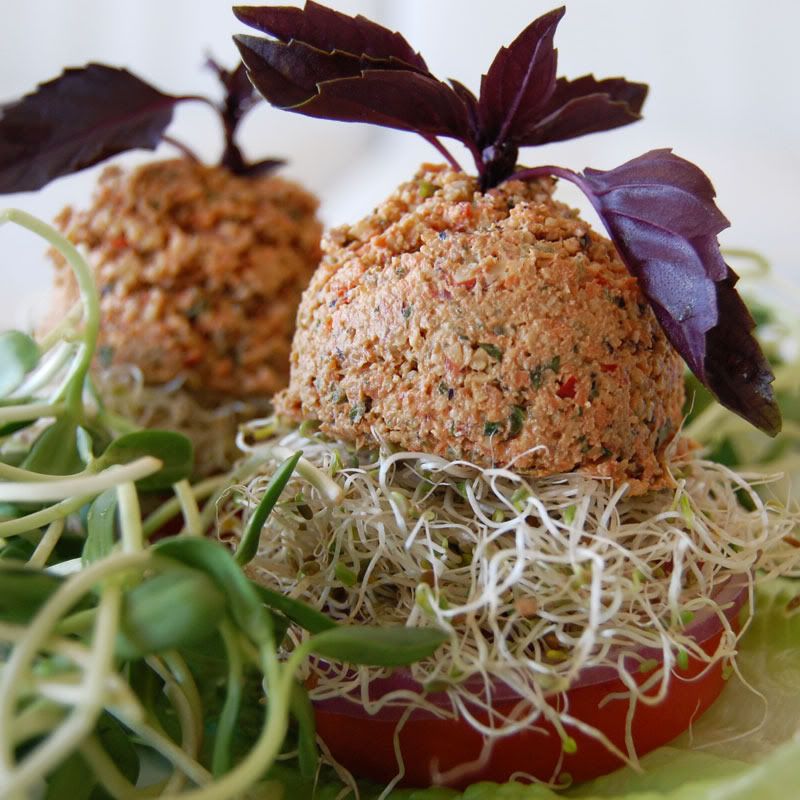 Photography by Ndoema
Burger time! (You may have noticed my culinary adventures have been on a hiatus. I've been slightly distracted by Fashion Week. But I'm back with a vengeance and an appetite to match!)
Funny but my acquired taste for burgers coincided with my transition to a raw vegan diet. I know it may sound rather unorthodox but growing up between Africa and Europe (not exactly burger cultures) might have something to do with that… This is my own raw vegan version of the traditional juicy and sloppy burger (which I have to confess I've never had) that's nourishing yet refreshing and does not require any dehydrating. It's less time consuming, there's no need for fancy equipment and it's ultimately healthier.
Dehydrated foods are great transition foods. Let's face it. Without them I would have found it harder (psychologically) to transition to an uncooked, grain-free diet. Plus I love fancy, gourmet fare! I adore marveling at and coming up with pretty and sophisticated concoctions. That being said I don't make it a habit to eat dehydrated breads and such on a regular basis because I simply don't feel my best after eating them. The fact is one of the main benefits of adopting a raw vegan/fruitarian lifestyle is all the wonderful water we intake from uncooked fruits and vegetables and dehydrated foods kind of rob us of that benefit. I really need all the hydration I can get so most of the time I use veggies in place of breads and crackers. I found that sun ripened tomatoes for the burger buns are absolutely fantastic!
Raw walnuts are the perfect base for the patty. They have the ideal consistency and can be easily formed by hand or with an ice cream scoop. The trimmings are really a personal preference. I've tried to stuff in as many of my favorite foods as I reasonably could: avocado, red bell pepper, red onion, purple basil and sprouts!
The sauce is the same I'm using in my no-rice raw vegan sushi recipe.
For the patty you'll need:
2 cups of raw unsalted walnuts
1 cup of shredded carrots (or half a medium size carrot)
1 garlic clove
1 bunch of basil
1 small red bell pepper
1 pinch of celtic salt
Put all the ingredients in a food processor and pulse until the consistency is slightly sticky. I like to eat my burger open faced with a lettuce leaf or for a sloppier effect sandwiched between two tomato halves.
Bon Appétit!