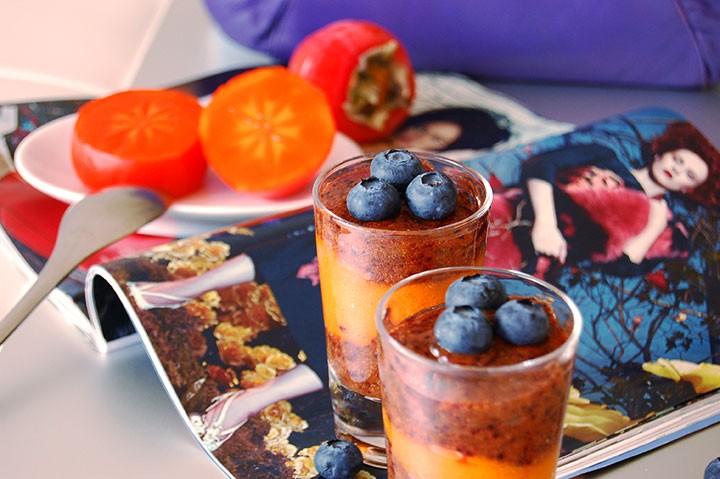 Photography by Ndoema

Pfeww! It's been one hectic beginning of 2013! Haven't had a minute to kind of take in the transition into the New Year. It's been a fast-paced and thrill-packed couple weeks filled with a succession of wonderfully unexpected gifts. Talking about gifts, did you see the Lucky Magazine feature!? Wow, my jaw literally dropped. I was blurry-eyed from the lack of sleep after working for countless hours putting the finishing touches to The Global Girl's new site when the article popped in front of my eyes. I went from deliriously exhausted to ecstatically invigorated. I needed a celebratory treat that could be whipped in minutes as my strength was slowly but surely failing me. I opened my fridge for a quick scan and a spark of inspiration. There laid a tantalizing bowl of plump, ripened to perfection hachiya persimmons sitting next to a fistful of vibrant blueberries… This parfait star was born!
This is fruit porn at its finest (fat-free, sugar-free, dairy-free, gluten-free to boot). 100% pure fruit goodness. Nothing added (that would be anathema). The sweetness and deliciousness of hachiya persimmons is simply divine and combines surprising well with the blueberry. So all you'll need for this sumptuously healthy parfait is 5 large, ripe persimmons and a 12 oz basket of blueberries.
Hachiya persimmons are so soft that peeling them can be a challenge so I like slicing them in half and spooning the flesh out. Place them in a Vitamix (for that fab whipped cream consistency), remove half of the mixture and put away in glass bowl. Add the blueberries (keep a couple for decoration) to the other half and process until nice and smooth. Alternate layers of pure persimmon and the persimmon/blueberry combo into a parfait glass and enjoy!